Akatsuki works on anime production as a prime contractor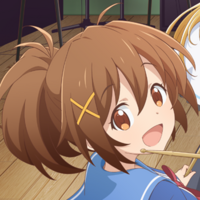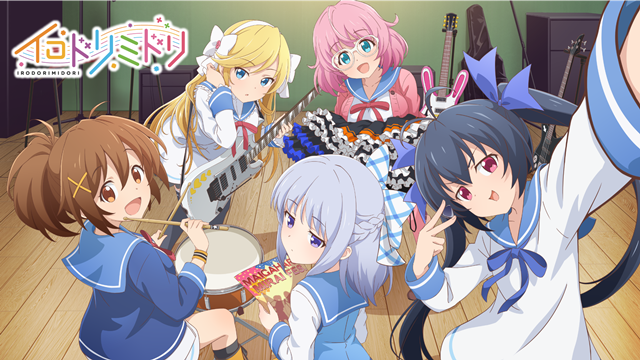 The official website for IRODORIMIDORI, a short TV anime series inspired by a high school girl rock band of the same name born from SEGA Interactive's arcade rhythm game franchise CHUNITHM, has announced that it is set to premiere on TOKYO MX on January 4, 2022, then on AT-X two days later.
The game was officially released in Japan on July 16, 2015, and the band IRODORIMIDORI also started its mixed-media development based on the music used in the game, such as radio drama, manga, manga short movies, and live concert events. The band's original five main voice cast members in the game are confirmed to reprise their roles in the anime as well.
Akatsuki, a Tokyo-based anime production company previously joined the production of High School Fleet (2016), Clockwork Planet (2017), and Hina Matsui (2018) as a sub contractor, works on anime production as a prime contractor. The compan has produced the band's anime music videos, "Session High⤴" and "Still."
---
IRODORIMIDORI members:
Serina Akesaka (vocal/drums): Emi Nitta (Honoka Kouska in Love Live!)
- She is a reckless, cheerful, and energetic mood maker. She has an extremely positive character that loves to have fun, and looks for fun even in things that are not fun. Once she gets an idea that sounds fun, she can't stop doing it. When she gets interested in something her friends are doing, she says, "I'll do it too!," and pokes her head in one after another.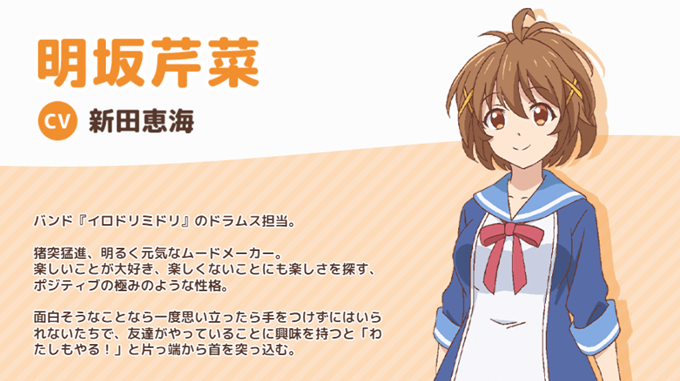 Aliciana Ogata (vocal/guitar): Ayaka Fukuhara (Rin Shibuya in The [email protected] Cinderella Girls)
- She always acts (or wants to act) gorgeous and cool, and has a older-sisterly nature. She is a caring and responsible person, and unlike everyone else, she has good grades and is quick-witted. She accepts to take care of business easily without much thought when she is flattered, and asserts herself too much at times.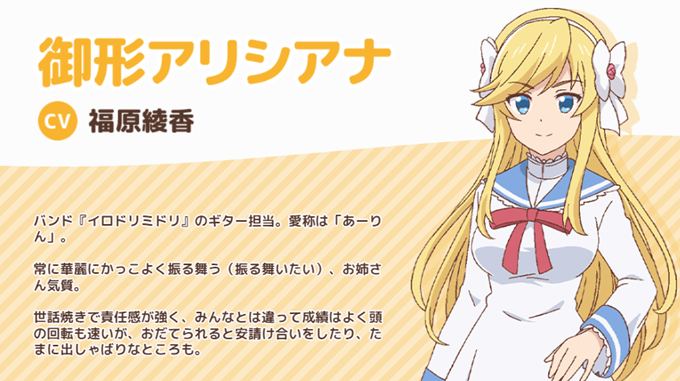 Nazuna Tennozu (vocal/guitar): Ayano Yamamoto (Shiki in SENRAN KAGURA SHINOVI MASTER)
- She is shy, always reserved and appears to be in a daze, but is a hard working person who is on fire inside. Whether it is because of her lack of physical strength or her personality, she always moves slowly. She seems to be a slow learner, but she is more determined than anyone else.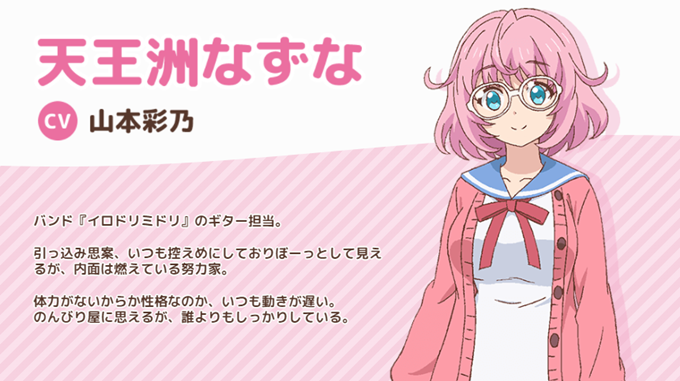 Nagi Kobotoke (vocal/keyboards): Kaoru Sakura (Eru Amami in _CIDE TRAUMEREI THE ANIMATION)
- Cool and intelligent, but she is a bit weird "actual" sub-leader. She is usually quiet and expressionless. She does not show any emotional ups and downs. In spite of her young appearance, she is always observing her surroundings calmly, and when she opens her mouth, she speaks harshly.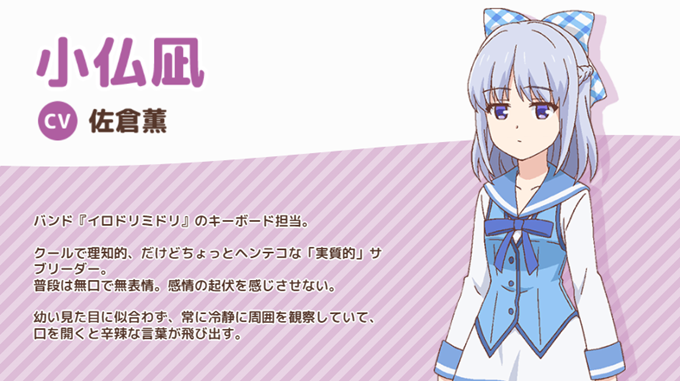 Naru Hakobe (Vocal/bass): M.A.O (Saki Nanakago in Platinum End)
- She may be small, but she is a trickster with full power. She talks a lot, moves a lot, and loves to play pranks and mess with people. She is always restless and impatient like a child. Her sense of style is outstanding, and she seems to embody the saying, "There's a fine line between genius and something else."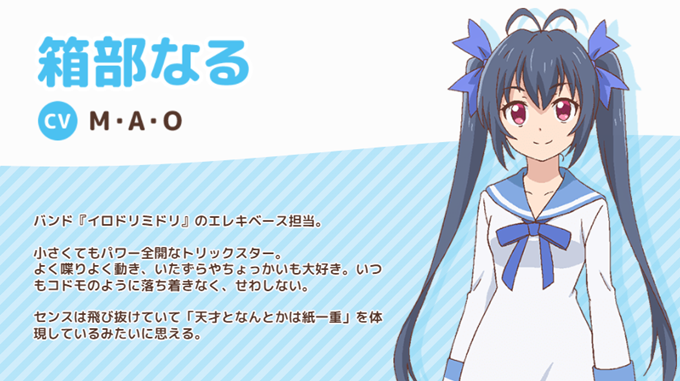 ---
Teaser PV:
Story introduction:
The story takes place at Maigahara High School attached to Maigahara College of Music, also known as "Maimai". At this school, where students aspiring to become musicians gather, there is a rumor whispered by some students that they will receive a mysterious score by giving their best performance at the school festival. The source of the rumor is unknown, but students whose grade are not so well before the festival mainly participate. Like the other students, IRODORIMIDORI also decided to make their much-awaited appearance at the festival.
Main staff:
Director: Chihaya Tanaka
Series Composition: Chihaya Tanaka, Rei Ishikura
Character Design: Kenji Sato, Kaori Goto
Art Director: Wei Si Man (St. PILZ)
Color Designer: Hitomi Ikeda
Director of Photography: Tomoyuki Ishiyama
Editing: Keisuke Yanagi
Sound Director: Hiroki Nishiyama
Music: D.watt (IOSYS)
Design Support: Keita Sato (SEGA)
Animation Producer: Eizuki
Anime Production: Akatsuki
Producer: Jun Koshimizu (SEGA), Yasuhiro Atobe (Frontwing)
Assistant Producer: Yukiko Uemura (SEGA), Ryuji Ishizaka (Frontwing), Reo Kouno (Frontwing)
Production and Advertising: SEGA, Front Wing
Production: IRODORIMIDORI Newspaper Club
㊗️ショートアニメ『イロドリミドリ』
1月4日からTV放送開始決定!!

????TOKYO MX
毎週火曜25:00~
????AT-X
毎週木曜22:00~

????Amazon Prime Video
等各種配信サイトでも順次配信決定です!

????公式サイトもオープン
ON AIR、STORY、CHARACTER、CAST&STAFF情報を公開しました!https://t.co/gvnbXTKUBc pic.twitter.com/oUUAi91ghQ

— イロドリミドリ新聞部@2022年ショートアニメ化決定 (@irodorimidori5) December 10, 2021
Anime MV "Session High⤴":
Anime MV "Still":
---
Source: Bushiroad press release
©SEGA