Butler battles begin next week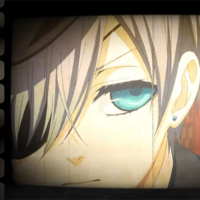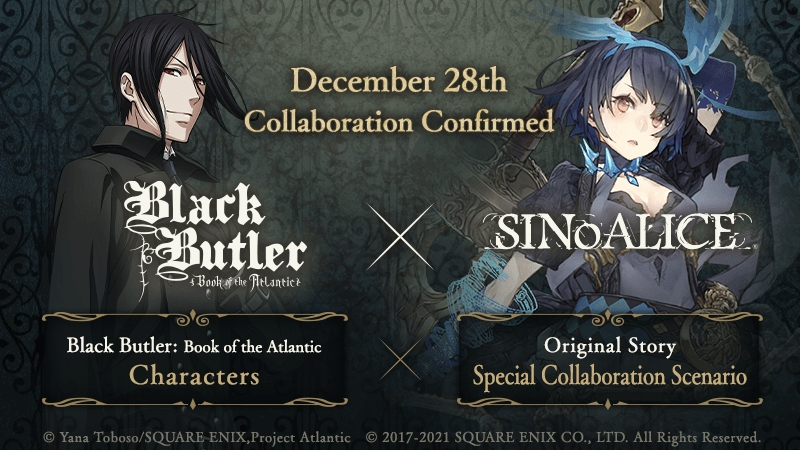 Sebastian Michaelis is one hell of a butler... but how does he stack up against a team of disgruntled storybook characters? We'll find out next week!
SINoALICE, Yoko Taro's dark fairy tale mobile game, will be crossing over with Black Butler: Book of the Atlantic. The 2017 film adapted the manga's popular Luxury Liner arc. The game, meanwhile, brings together storybook characters from fairy tales, folklore, and public domain children's stories in a massive battle royale.
Between the aesthetic, the supernatural elements, and the demonic elements hiding in plain sight, the two titles feel like a perfect match. Which is probably why the new Sebastian/Mage character looks right at home. You'll get him just for logging in during the event, so you can add him to your party of fictional fighters.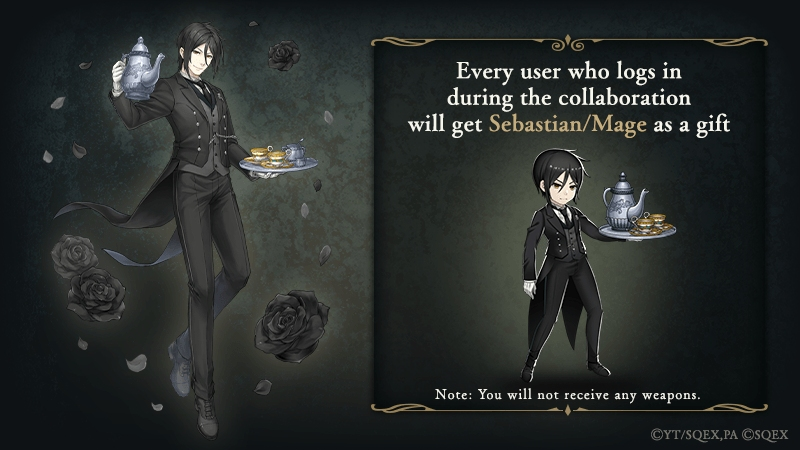 Also present in the collaboration will be young master Ciel Phantomhive, his fiancée Elizabeth Midford, the laughter-loving Undertaker, and fan-favorite chainscythe-have Grell Sutcliff. It hasn't been established yet which of these characters (if any) will also be available in the gacha pool.
The event will guide players through a newly-penned story, for which the game offers this Prologue:
One day, Ciel receives a letter ordering him to investigate a certain Baron. It's said the man in question was known to be kind, but began behaving erratically after coming into the possession of two rather unsettling puppets...
With Sebastian in tow, Ciel sets off to investigate only to encounter Snow White and Aladdin at the manor, in the person of the Baron's two butlers. A competition ensues between the butlers as Ciel endeavors to learn the truth of what's been happening. Will he manage to finish his investigation unscathed? Or...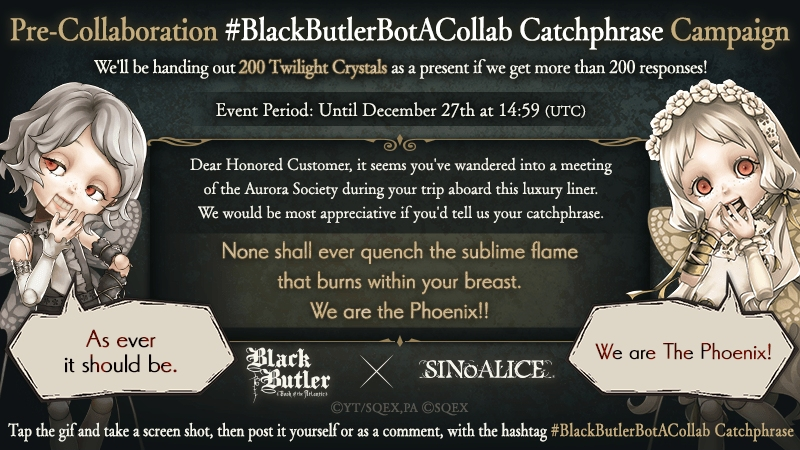 A pre-collab event is also underway, with in-game currency up for grabs. Head to this tweet, screenshot the gif to find your personal catch phrase, and share it with the official account. If they get 200 or more participants, we get 200 Twilight Crystals.
The SINoALICE x Black Butler: Book of the Atlantic collaboration kicks off December 28.
Source: SINoALICE.Global