Hashimoto: "This film was my biggest action challenge ever."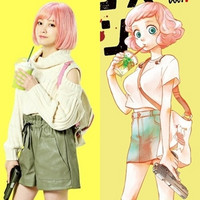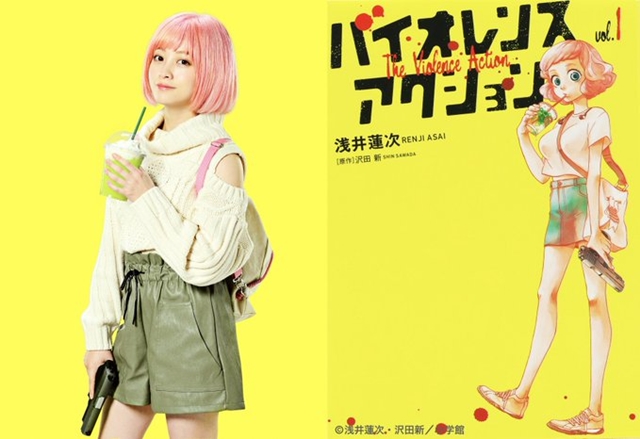 Today on February 3, her 23rd birthday, it was announced that Kanna Hashimoto (Kagura in the Gintama live-action series) is starring a live-action film adaptation of Shin Sawada (story) and Renji Asai's (arts) action manga series Violence Action. The film directed by Toichiro Rutou (Ossan's Love) is set to be released in Japan in the summer of 2022, and the shooting was already wrapped up in February 2021.
The manga has been serialized on Shogakukan's Yawaraka Spirits website since April 2016 and has released six tankobon volumes so far. Over 500,000 copies of the tankobon books have been printed and and online access has exceeded ten million PVs.
Its story centers on the protagonist with a short pink bob, Kei Kikuno, who is working hard at a part-time job while attending a vocational school in order to obtain her Level 2 Nissho Bookkeeping Certificate. Her part-time job is as an assassin by appointment only, and Kei is a very skilled assassin who boasts the highest appointment rate. She is unafraid to kill her target, no matter who it is. And one day, she receives the worst request in her career...
"I was genuinely happy when I received this offer because I had read the original manga before and really liked it," Hashimoto says. "This was my biggest action challenge ever, with many flashy action scenes. Action films are my favorite genre to watch and act in, so it was very rewarding for me to play the role. The shooting was really tough, and there were scenes where I couldn't even stand up afterwards because I couldn't move my body as I wanted to. But I think it was worth it, because the film is very fast-paced and full of exhilaration."
The film's official website and Twitter have posted Hashimoto's first photo as the protagonist Kei.
▛▞▞ 映画公開決定???????? ▞▞▟
▛▞▞ 『#バイオレンスアクション』 ▞▞▟

ゆるふわ専門学生の過激な日常は
バイトで殺し屋=ヒットガール????????

この夏、超人気コミックが#橋本環奈 主演で実写映画化‼️

橋本さんのお誕生日に解禁しちゃいます????@H_KANNA_0203 pic.twitter.com/PLD7zfzpgF

— 映画『バイオレンスアクション』公式 (@VAmovie_JP) February 2, 2022
---
Source: "Violence Action" live-action film official website / Twitter
© Shin Sawada, Renji Asai, Shogakukan/"Violence Action" Productuion Committee