Creators of SPY x FAMILY, Kaiju No. 8, and more share drawings to cheer on entrants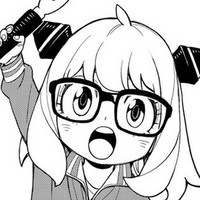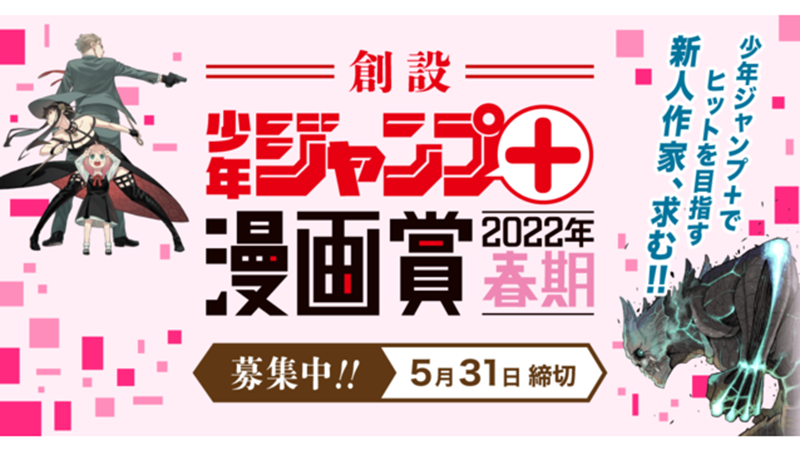 Some of the hottest manga today, like SPY x FAMILY and Kaiju No. 8, got their start on Shonen Jump +. The website serializes a long list of titles from Shonen Jump, other Shueisha publications, and many running exclusively on the site. And starting right now, they're looking for the next big talent for their website!
The Shonen Jump + Manga Award will run four times a year (once per season) as a permament fixture on the site — meaning there will always be a deadline to shoot for. They're looking for Japanese-language one-shots of any length (though the page does gently guide readers toward a list of one-shots for a general idea of their page counts), in black and white or color, submitted digitally or by post. Professional and amateur artists are welcome to apply, so long as the one-shot itself has never been published professionally and isn't entered in any other competitions. Manga previously published non-commercially on websites or social media are permitted.
Also (and importantly), artists retain the copyright to their entry, so you don't run the risk of forfeiting the right to your own work by entering. (Be sure to check the award page for further information on copyright and distribution for winning entries.)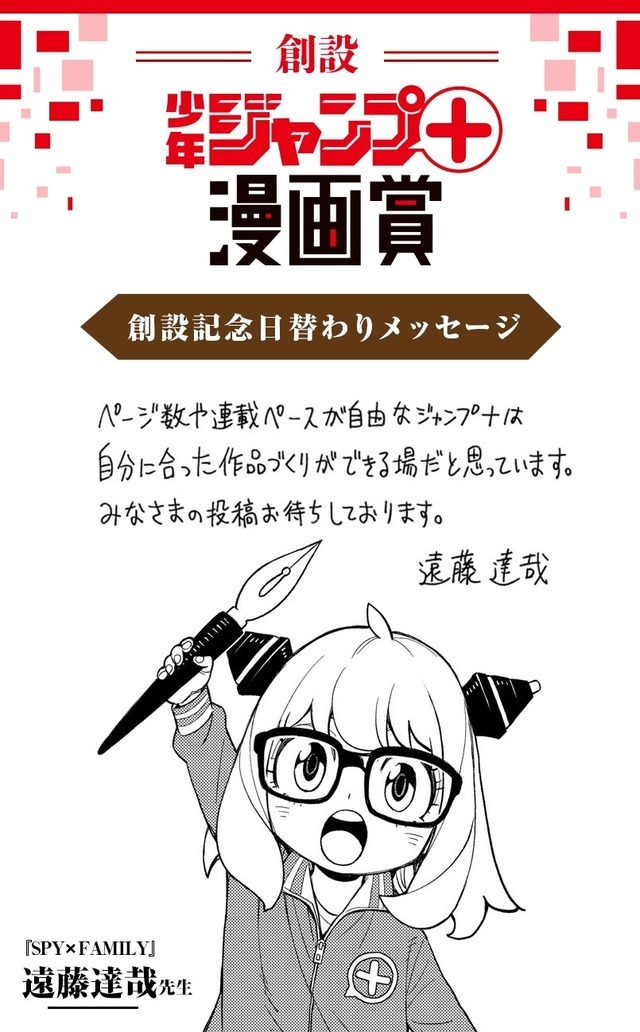 In the lead-up to the first competition, Jump+ manga artists will be sharing art of their own to cheer on entrants. Kicking things off is a piece from Tatsuya Endo of Anya Forger from SPY x FAMILY. Check out the site for this and two more, with another unlocking every day up to the end of the month.
Three winning one-shots will be chosen each season and published on the Shonen Jump+ website, as well as prizes of one million yen, 500,000 yen, and 300,000 yen for first, second, and third place. Finalists will receive 100,000 yen.
The first Shonen Jump+ Manga Award deadline is May 31, with any late entries rolling over to the next season's competition. The next three deadlines fall on August 31, 2022; November 30, 2022; and February 28, 2023.
Source: Anime! Anime!