Series to receive Hidive simulcast and future home video release.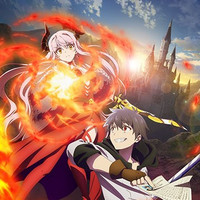 Sentai Filmworks has announced that it has acquired the I'm Quitting Heroing TV anime adaptation, being based upon the light novel by Quantum with original character designs from Hana Amano. The series will be simulcast via Hidive and be made available in North America, Australia, New Zealand, the United Kingdom, Ireland, South Africa, the Netherlands, Scandinavia and Nordic Countries, Spain, Portugal, Central and South America, the Middle East and North Africa. A home video release is planned following the simulcast and.Sentai Filmworks describes the series:
After saving humanity from the despicable Demon King, Leo Demonhart does not earn a hero's standing. Instead, he is regarded with suspicion and hostility by those he fought to protect. Treated as a pariah with nowhere else to turn, exiled Leo seeks a position in the army of his former nemesis! But the army is not what it once was before its defeat at Leo's hands, so to maintain his new position, Leo must whip the forces back into fighting shape.
SOURCE: Sentai Filmworks