"I want to give it my all so that people don't feel that I am an idol."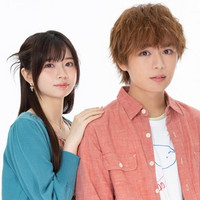 A live-action TV drama adaptation of Reiji Miyajima's romantic comedy manga Rent-A-Girlfriend is confirmed to be aired in Japan in July 2022, the same time as the second season of the TV anime adaptation. The drama will be aired every Sunday on ABC TV's "Drama L" programming block, directed by Daisuke Yamamoto (Ossan's Love) on scripts by Kumiko Aso (Wakako Zake).
Ryusei Onishi, a 20-year-old member of Johnny & Associates' boy idol group Naniwa Danshi, is cast as the male protagonist Kazuya Kinoshita. He describes his impression of the original manga, "I found each and every one of the characters to be unique and very charming! The speed at which the story progressed was very pleasant, and the world was a place I had not yet experienced. Before I knew it, I was captivated by Rent-A-Girlfriend."
Regarding his acting policy, he says, "I want to play the role genuinely, looking the characters in the eye and paying close attention to their conversations. Kazuya's cuteness is in the way he becomes shy and flailing around in front of girls, and in the way he easily gets paranoid. So I want to give it my all so that people don't feel that I am an idol."
Meanwhile, 19-year-old fashion model / actress Hiyori Sakurada, best known as Shizuno Takakamo in the Saki Achiga-hen episode of Side-A live-action series, is cast as the main heroine Chizuru Mizuhara. She says, "Although filming is still in the early stages, we are working together with the staff and cast to create the best drama possible. I hope you will pay attention to the dialogue between Kazuya and Chizuru, as well as to the characters with strong personalities!"
放送決定▼
7月期ドラマL『彼女、お借りします』

⋰
主演 #大西流星(#なにわ男子)
ヒロイン #桜田ひより
⋱

ダメダメながらもド直球な優しさをもつ
主人公と超絶美女なレンタル彼女との
"レンタルからはじまる恋模様"を描く
ラブコメディがこの夏開幕????????#彼女お借りします#ABCテレビ #テレビ朝日 pic.twitter.com/ty0q9BBZFm

— ドラマL『彼女、お借りします』【公式】7月スタート (@kanokari_drama) May 12, 2022
RELATED: Naniwa Danshi Member Shunsuke Michieda to Star in The Kindaichi Case Files New Live-action Drama
---
Source: "Rent-A-Girlfriend" live-action TV drama official website / Twitter
©ABC