The Princess Gala is back, plus a brand new story event and guild!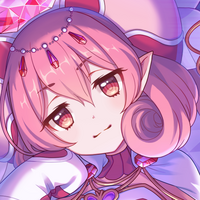 Heyas, Knights! Hold on - are we seeing double? No, that's just the sights and sounds of a very special Princess Gala heading your way in Princess Connect! Re: Dive! It's doubling season as we've got plenty of special news, characters, and new story events to share with y'all. Don't get duped by any fake news: let's dive right on in!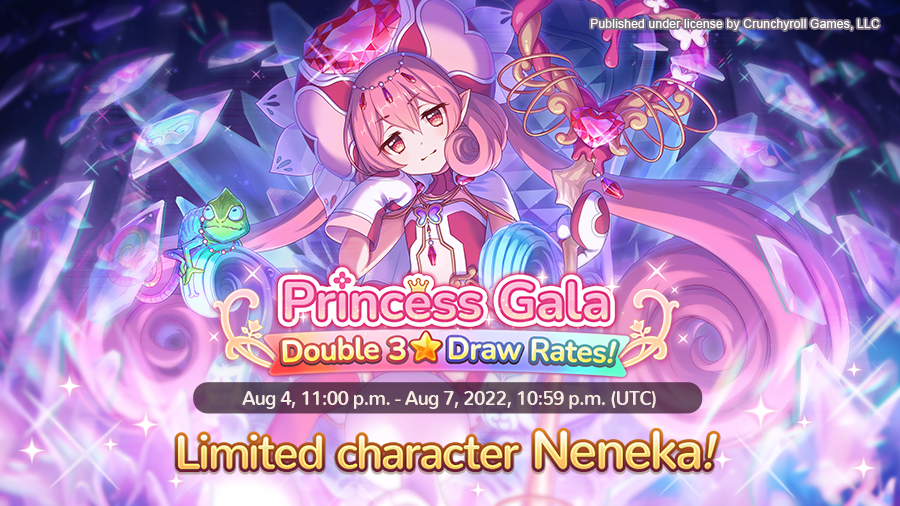 Join us as we give the spotlight to the brand new limited character Neneka, one of the Seven Crowns and an absolute force to be reckoned with! If you've been following the main story, you know just how powerful Neneka's powers are: now it's time to add her as an ally and see those powers in action on the battlefield! Neneka's main specialty is her Union Burst, Mirror Mirror, which summons a clone of herself onto the battlefield, doubling her skill and damage output. Combine that with skills that deal magic debuffs and a good chunk of magic damage, and you've got an arsenal that can't easily be duplicated!
Speaking of doubles, Neneka takes center stage during a Princess Gala, which means you'll enjoy double the 3★ draw rates while the Princess Gala Gacha is active. Tack on the return of other Princess Gala-exclusive characters Muimi and Christina, and you've got a short-term gacha that you won't want to miss. While all three characters will be available for redemption via character points, they won't be available after the Princess Gala ends, so plan accordingly!
The Princess Gala will be live for 72 hours, from 8/4, 23:00 UTC to 8/7, 22:59 UTC. This also means there'll be a short window of time where you can use your daily free 10-Draw on this Princess Gala, too. Afterward, our attention turns to…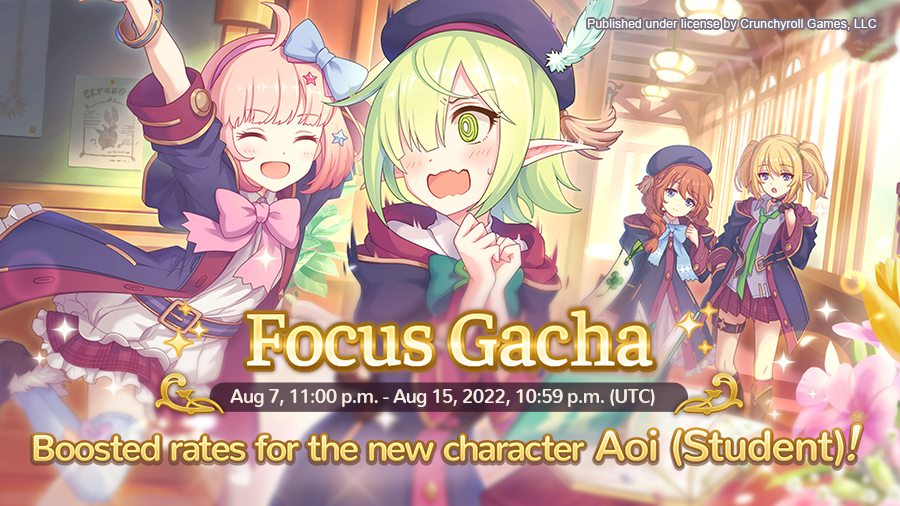 Welcome to St. Theresa's Academy for Girls, a premier school for academics inside the continent of Landosol! You can learn more about this new setting in the brand new event below, but what you need to know right now is that Aoi's turning over a new leaf in the form of Aoi (Student)! This elven archer has transferred to St. Theresa's Academy, and is ready to hit the books and study some academics (or maybe study how to make a couple of friends). As a backline character that provides physical defense debuffs while also dealing damage through poison and toxicity, Aoi (Student) is opening the school year with a bang.
The Aoi (Student) Focus Gacha runs for eight days, from 8/7, 23:00 UTC to 8/15, 22:59 UTC. She's not a limited character, which means that she'll still be included in the main Premium Gacha afterward; however, the Focus Gacha is your best opportunity to obtain her, given that you'll enjoy boosted draw rates and the ability to redeem character points for her if necessary.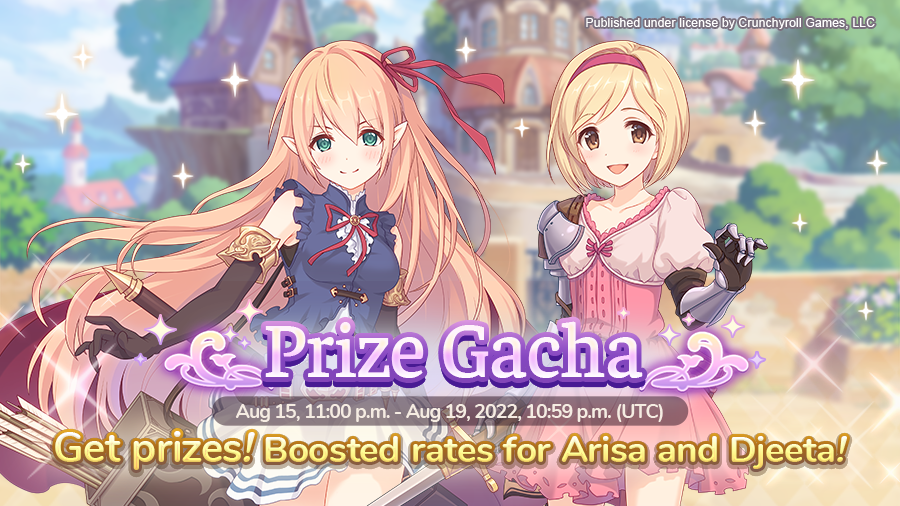 Finally, after the Aoi (Student) Focus Gacha comes another Prize Gacha, this time focusing on some crossover units in Arisa and Djeeta. For the unfamiliar, when performing draws on a Prize Gacha, you'll first pick one of the highlighted units in question - then, every time you perform a draw, you'll also get an additional entry into an additional gacha that can reward you with more Divine Amulets, Memory Shards of the chosen character, and other rewards! Plus, the characters in question will have increased draw rates, making this a great opportunity to round out your boxes (and your resources!) if necessary.
The Arisa and Djeeta Prize Gacha runs for four days, from 8/15, 23:00 UTC to 8/19, 22:59 UTC.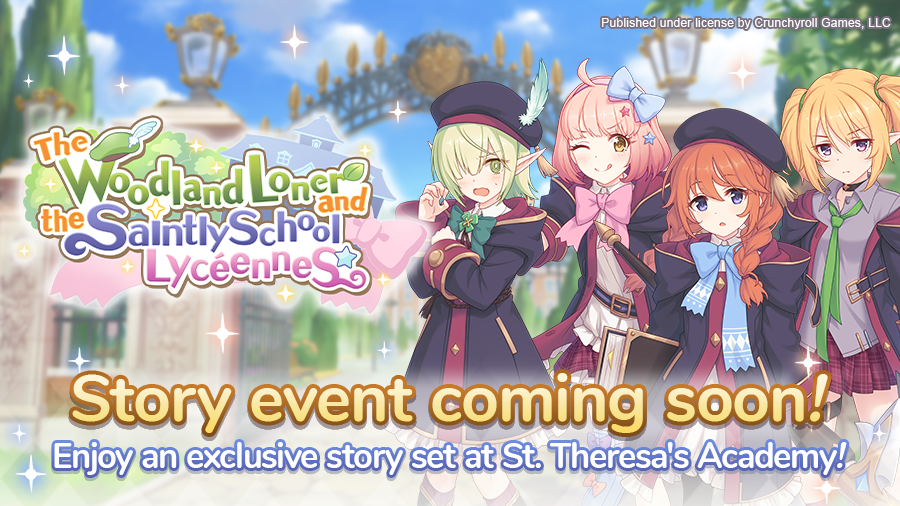 The heralded halls of St. Theresa's Academy for Girls, the most lauded girls' school in the land - a perfect mismatch for Aoi's personality. Fortunately for her, the trio of girls from the Friendship Club–Yuni, Chloe, and Chieru–are here to help her survive and learn the basics of what life at St. Theresa's Academy is like! Enjoy friendly bicker and banter as Aoi tries to fit in with the crowd.
Whether you're out looking for friends or just want to meet some new people, you know St. Theresa's Academy is waiting for you. This event features unique, exclusive boss battles, where you can test your skills in three varying difficulties: Normal, Hard, and Very Hard. Very Hard is set to be the toughest of the bunch, and is only clearable once per day. If you're craving even more of a challenge, we've also prepared another Special difficulty Boss, with unique challenges and mechanics that will challenge you in new ways across three different modes. Of course, for each boss you best, you'll earn various rewards for your troubles, such as Victory Medals, equipment, and more.
In order to fight the bosses, though, you'll need to spend Boss Tickets. These Boss Tickets can be obtained by clearing event stages, as well as from login bonuses while the event is active. If you don't successfully defeat a boss on your first attempt, don't sweat it - you can retry as many times as necessary, and non-lethal damage dealt to a Boss carries over between attempts.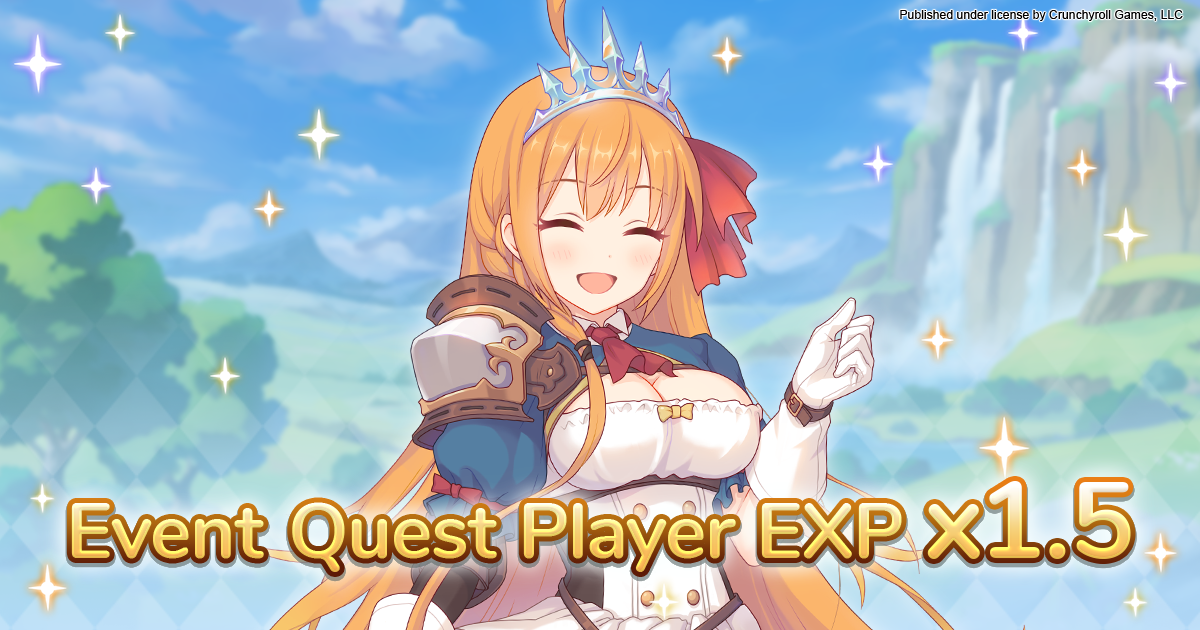 With the introduction of St. Theresa's Academy, you know you'll be in for a fun school adventure. To better prepare you for classes, we're also increasing the experience gain rates for completing Event Quests. During the event, clearing Event Quests will give 1.5x times the normal experience points, in addition to the normal Mana, items, and Boss Tickets that these quests give out. Clear stages to complete this unique event-exclusive story.
The Victory Medal Gacha also makes its scholastic return for the event! Clearing event stages, event missions, and defeating the previously mentioned bosses will earn you Victory Medals, which can be exchanged for a plethora of goodies. There's a predetermined series of reward lineups, each featuring a key reward - once you roll the current lineup's key reward, you'll have the opportunity to either reset the rewards and move ahead to the next lineup, or hold off on resetting to clear out all the possible rewards. Here are the key rewards you should be looking out for!
Lineup 1: Aoi's Memory Shard x 20
Lineup 2: Ruka's Memory Shard x 25
Lineup 3: Aoi's Memory Shard x 30
Lineup 4: Ruka's Memory Shard x 40
Just remember - once you've gone through the four initial lineups, you won't be able to reset the active lineup until you've obtained all the possible rewards from the current active lineup. Good luck!
The Woodland Loner and the Saintly School Lycéennes story event will be available from 8/4, 23:00 UTC to 8/18, 22:59 UTC.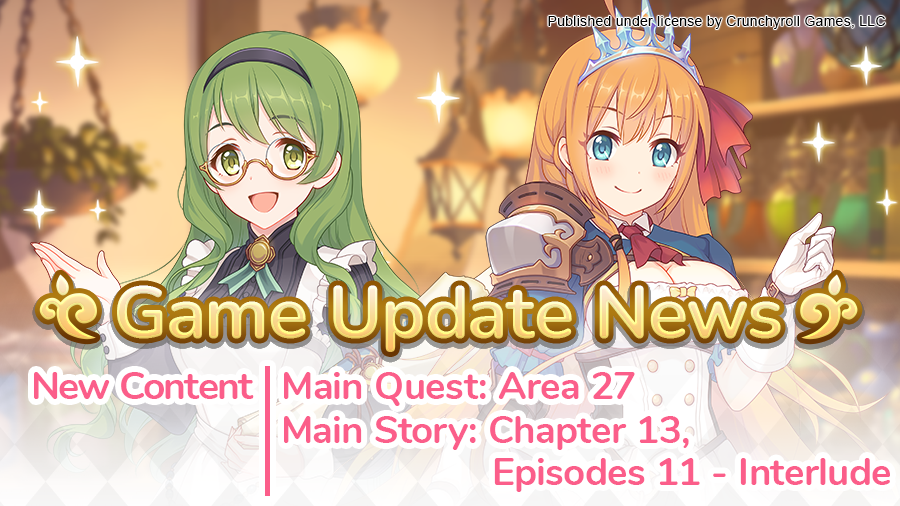 To kick off the month of August, we're making a bunch of announcements regarding new content drops as well. Continue charting a path through the trees in Petro Forest (East), featuring new enemies, new challenges, and new rewards for your troubles. Here, you'll find new equipment that can raise your characters to a maximum of 5 equips at rank 14, as well as new Hard Quest nodes for Lima, Shinobu, and Grea. Making your way through Area 27 will also unlock the remainder of Chapter 13 of the Main Story.
We'll also be increasing the level cap from 139 to 142. The summer action continues with all this new content coming, so you'll want to start saving up Mana and EXP potions as soon as possible! In addition, new BGM will be added to the Memorial Jukebox for further customization.
The August content drop lands on 8/4 at 13:00 UTC.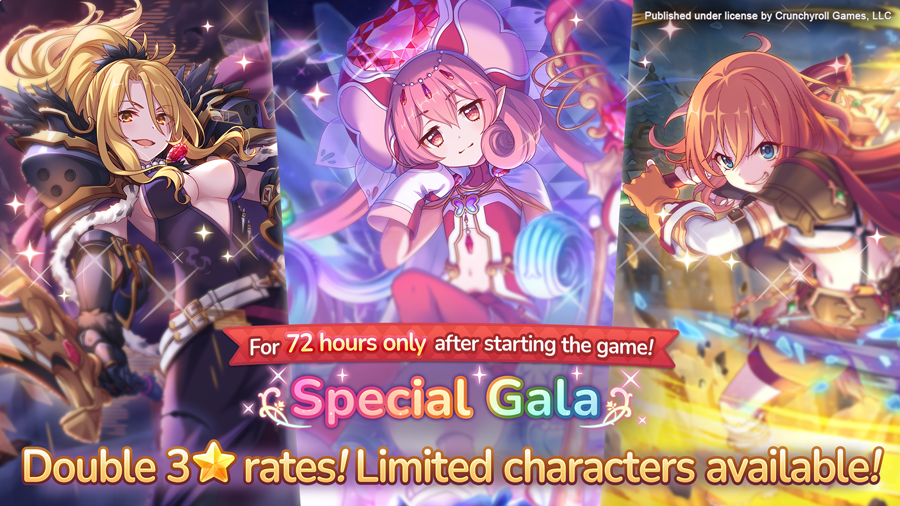 For new players, we're also introducing a brand new Special Gala starting on 8/7, featuring Christina, Neneka, and Muimi. For the first 72 hours after you start the game, a time-limited Special Gala will be available for 1500 Jewels. The rates of 3★ characters are doubled and can also include Princess Gala characters such as Christina, Neneka, and Muimi. This banner will be available to new users and will activate immediately after Main Quest 1-2 is cleared. How's that for a fresh start, Knights? This feature will be available starting on 8/7 at 23:00 UTC.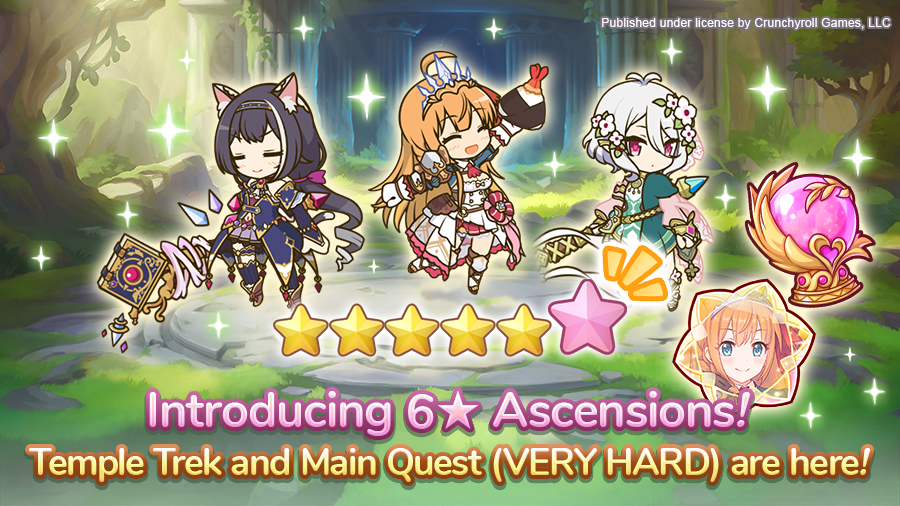 You didn't think that was the only update for August, did you? We're very happy to announce the introduction of 6★ ascensions! You can now make your favorite characters even more powerful with the ability to further ascend them.
First, you'll need to collect Princess Orbs from the Temple Trek which will be unlocked on the Expeditions. In addition, you'll also need to collect Pure Memory Shards for characters from the brand new Very Hard Mode under Main Quests. *Note* This process cannot be reversed.
The first batch of 6★ ascensions will feature the Gourmet Guild characters:
Very Hard Main Quest stages, Temple Trek, and 6★ ascensions will be unlocked on 8/4 at 13:00 UTC.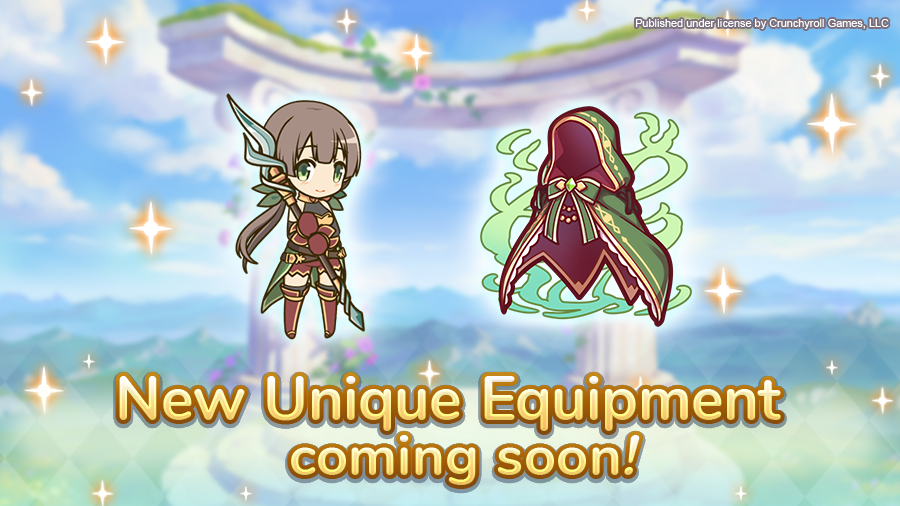 To further bolster up your favorite heroines, we're also releasing new Unique Equipment in August. Ayumi might not stand out all the time, but we've got Unique Equipment made just for her. Ayumi's Unique Equipment will be unlocked on 8/4 at 9:00 UTC.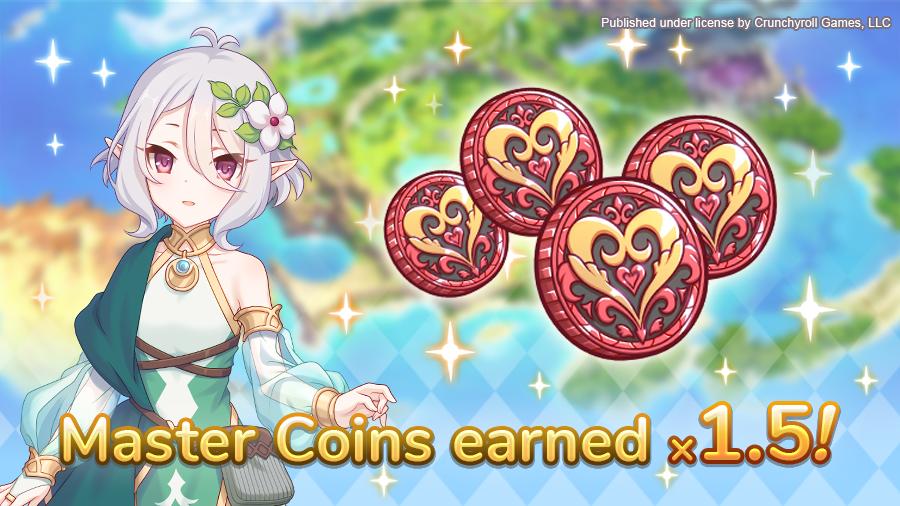 Just when you thought August couldn't get any better. It does, as we give players more opportunities to earn Master Coins. During the Master Coin 1.5x Drop Campaign, not only will you earn 1.5x the normal number of Master Coins, but you can also increase the weekly cap you can earn. The cap will be increasing from 9,000 up to 13,500 during the campaign period.
The Master Coin 1.5x Drop Campaign runs for four days from 7/31, 13:00 UTC to 8/4, 12:59 UTC.
At the same time, double drops will also be heading into the Normal Quests. During the Normal Quest Double Drop Campaign, you will obtain double equipment, Mana, and other items when completing Normal Quests during the campaign period. Talk about value!
The Normal Quest Double Drop Campaign runs for four days, from 7/31, 13:00 UTC to 8/4, 12:59 UTC.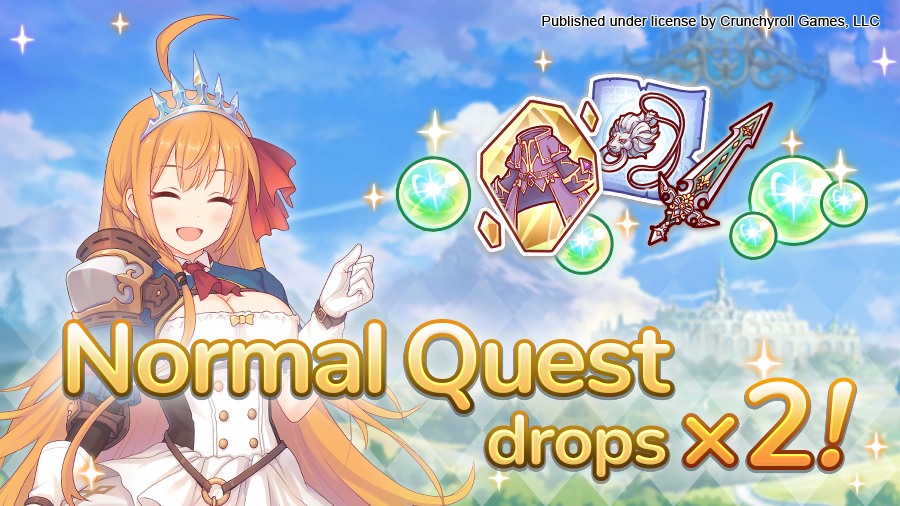 We're also bringing back "grot-two" in the month of August. We know you've been waiting to collect more Mana and EXP Potions. Now you can do exactly that since, during the Grotto Quest Double Drop Campaign, you'll obtain twice the Mana and twice the EXP Potions when completing Grotto Quests. Make sure to collect all you can!
The Grotto Quest Double Drop Campaign runs for six days from 8/4, 13:00 UTC to 8/10, 12:59 UTC.
With the introduction of new Unique Equipment and 6★ ascensions, we know you want to fill up your stash with Princess Hearts and Princess Orbs. We've got you covered since during the Sanctum Survey & Temple Trek Double Drop Campaign, you'll obtain double the Princess Hearts, Princess Orbs, and other items when completing Sanctum Survey or Temple Trek stages.
The Sanctum Survey & Temple Trek Double Drop Campaign runs for nine days from 8/9, 13:00 UTC to 8/18, 12:59 UTC.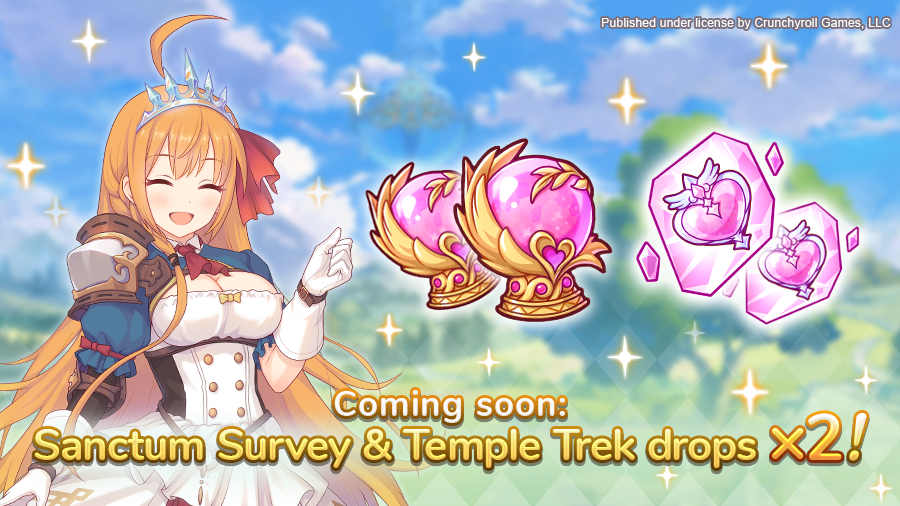 For easy reading and accessibility, included below is a summarized version of all the updates announced today. Thank you for playing Princess Connect! Re: Dive, Knights! These special promotions wouldn't be available without all of your support. We hope you continue to enjoy Princess Connect! Re: Dive!
See you in Astraea, Knights!
— Crunchyroll Games
*Note: All event details may be subject to change. Please check the in-game notifications at the start of the events for the full details.
Neneka Princess Gala (8/4 23:00 UTC to 8/7 22:59 UTC)

Boosted rate-up for Neneka, also available for redemption via character exchange points.
Doubled draw rates for 3★ characters in the Neneka Princess Gala.
Christina, Muimi, and Neneka are limited units and will only be available during the Princess Gala period.

Aoi (Student) Focus Gacha (8/7 23:00 UTC to 8/15 22:59 UTC)

Boosted rate-up for Aoi (Student) within the Focus Gacha.
Aoi (Student) will also be available for redemption via character exchange points.

Arisa & Djeeta Prize Gacha (8/15 23:00 UTC to 8/19 22:59 UTC)

Boosted rates for Arisa and Djeeta, also available for redemption via character exchange points.
Obtain special prizes including Divine Amulets and Memory Shards when pulling this Prize Gacha.

Story Event: The Woodland Loner and the Saintly School Lycéennes (8/4 23:00 UTC to 8/18 22:59 UTC)

Event missions give 1.5x experience.

August Content Update (8/4 13:00 UTC)

Main Quest Area 27 unlocked.
Level cap increased from 139 to 142.
Character equipment cap increased from 14-4 to 14-5.
Chapter 13 of the Main Story fully unlocked.
Main Quest Very Hard mode unlocked.
Temple Trek unlocked.

Special Gacha (After 8/7 23:00 UTC)

Available to all new players for 72 hours after clearing Main Quest 1-2.
Features doubled draw rates for 3★ characters in the Special Gala.
Christina, Muimi, and Neneka are limited units and will be available during the Special Gala period.

6★ Characters Release (After 8/4 13:00 UTC)

Pecorine, Kokkoro, and Karyl can now have their 6★ character unlocked.

*Note* Once a character is upgraded to 6★, you can not reverse the process.

Unique Equipment (After 8/4 9:00 UTC)

Unique Equipment added for Ayumi.

Master Coin 1.5x Drop Campaign (7/31 13:00 UTC to 8/4 12:59 UTC)
Normal Quest Double Drop Campaign (7/31 13:00 UTC to 8/4 12:59 UTC)
Grotto Quest Double Drop Campaign (8/4 13:00 UTC to 8/10 12:59 UTC)
Sanctum Survey & Temple Trek Double Drop Campaign (8/9 13:00 UTC to 8/18 12:59 UTC)