Ichiro Sakaki (Scrapped Princess, Chaika - The Coffin Princess) serves as writer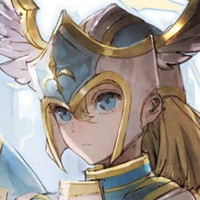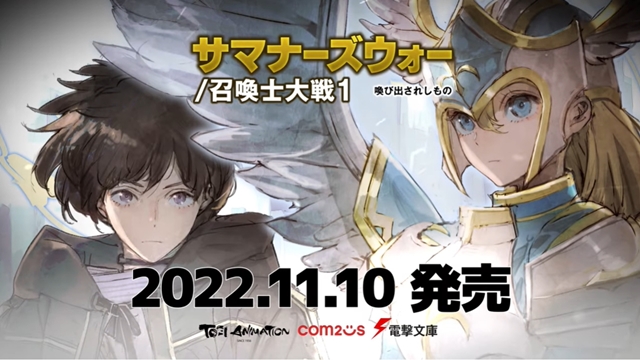 Japanese animation production company Toei Animation and South Korean mobile and online game development company Com2uS have teamed up to launch a new collaboration project based on the latter's internationally popular mobile game Summoners War: Sky Arena.
As the first content of their joint project, the first volume of the light novel series, which depicts a completely new character story based on the game, was published from KADOKAWA's light novel imprint, Dengeki Bunko, on November 10. The title is "Summoners War: /Summoners' Great War 1 -The Summoned One."
PV:
The author is Ichiro Sakaki, whose many hit works have been adapted into anime, including Scrapped Princess, Shinkyoku Soukai Polyphonica, Chaika: The Coffin Princess, and Outbreak Company. According to his statement on Twitter, he was given the authority to add many original elements. He wrote, "Although it is based on a game, the original game's production side asked me to write it as if I were making a new original work. 'You don't have to use the worldview of the game as it is, or rather don't use it.' "
ついでに言うと、今日発売の『サマナーズウォー』はコレまた特殊な例で。

ゲームが元になってるけど、原作側から『ゲームの世界観をそのまま使わなくても良い、と言うか使うな、オリジナルの新作作るつもりで書いてくれ』的な要請を貰ったので、ぶっちゃけ、

— 榊一郎@漫画『聖戦勇戯』(原作脚本担当)連載中! (@ichiro_sakaki) November 10, 2022
Synopsis:
Hugo Verns is a gifted summoner, but his teacher, Emilia Almas, has forbidden him to use his powers without her permission. This is because he is the son of Ouma Verns, a powerful summoner who brought misfortune to the town of Brodrick. Fourteen years have passed since that incident. Although it left a scar on people's hearts, it seemed that peaceful days had returned, when the town of Brodrick was once again attacked by a group of armed men led by Ouma. Yugo fights hard and meets his father, Ouma, for the first time in the battle, but is defeated. Ouma then leisurely takes away the relics stored in the town...
The adventure story begins from here. Along with his are Liselle, a summoner abandoned by Ouma, their chaperone, Morgan, and the summoned beasts of Hugo and Liselle. The group heads for the royal capital as their first destination. The Summoners War begins--.
1st volume cover: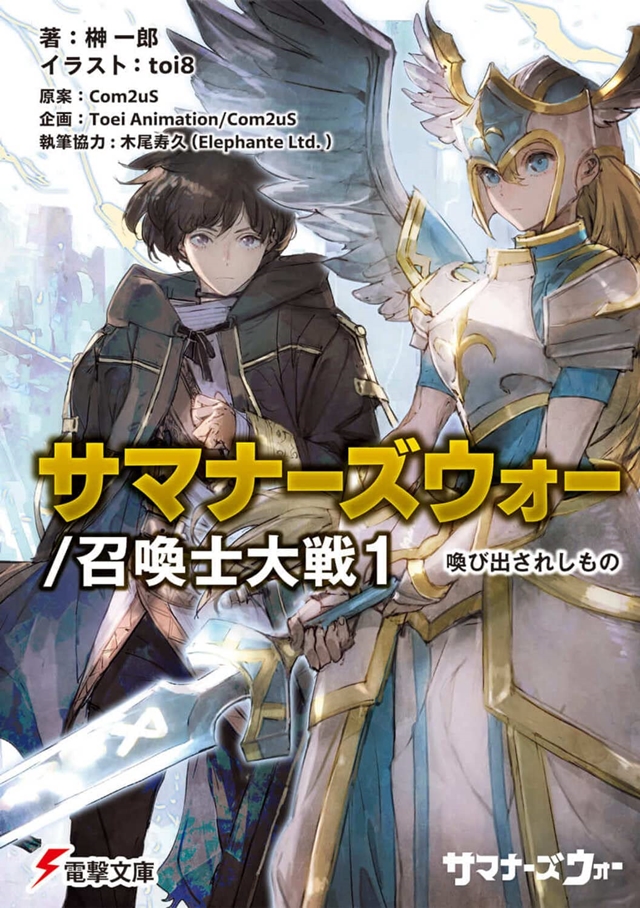 ---
Sources: Toei Animation press release, Ichiro Sakaki Twitter
©️ Com2uS・Toei Animation