More holiday goodies including free 10-draws, Clan Battle, and a special event leading to the conclusion of the first act of the main story!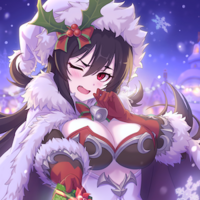 Heyas, Knights! It's beginning to look a lot like the holidays, with festive cheer and a race for becoming Santa Claus. Y'all know by now that Landosol doesn't take the holiday season lightly: we've got plenty more special events planned for the rest of November leading into December. Oh, and the whole "climax of the main story" thing, too. That's important, I guess.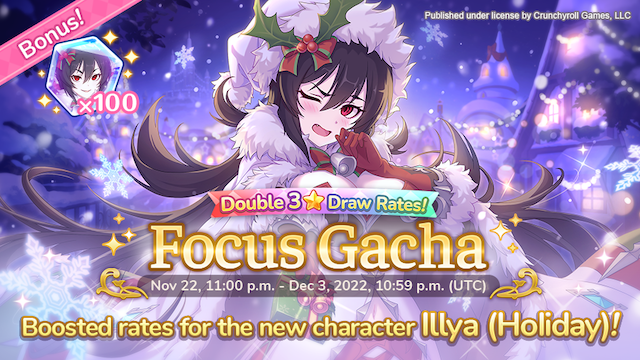 Dressed for the season, Illya (Holiday) is ready to ring in the holiday cheer! Illya's toolkit has always revolved around manipulating her HP - and that doesn't change with her new festive variant. Illya still deals a massive amount of magic damage, but this time her skills get more powerful the closer her HP is to being fully depleted. Unlike her regular version, though, there's no built-in way for Illya to recover her HP by herself - so balancing her health and her damage output will be the key to success.
Unlike Christina (Holiday) before her, Illya (Holiday) isn't a limited character, which means that she'll still be included in the Premium Gacha rotation after her Focus Gacha ends. However, the Focus Gacha will be your best opportunity for obtaining her, given the increased draw rates and the ability to redeem character points for her. Mark your calendars accordingly.
The Illya (Holiday) Focus Gacha runs for 11 days, from 11/22, 23:00 UTC to 12/3, 22:59 UTC.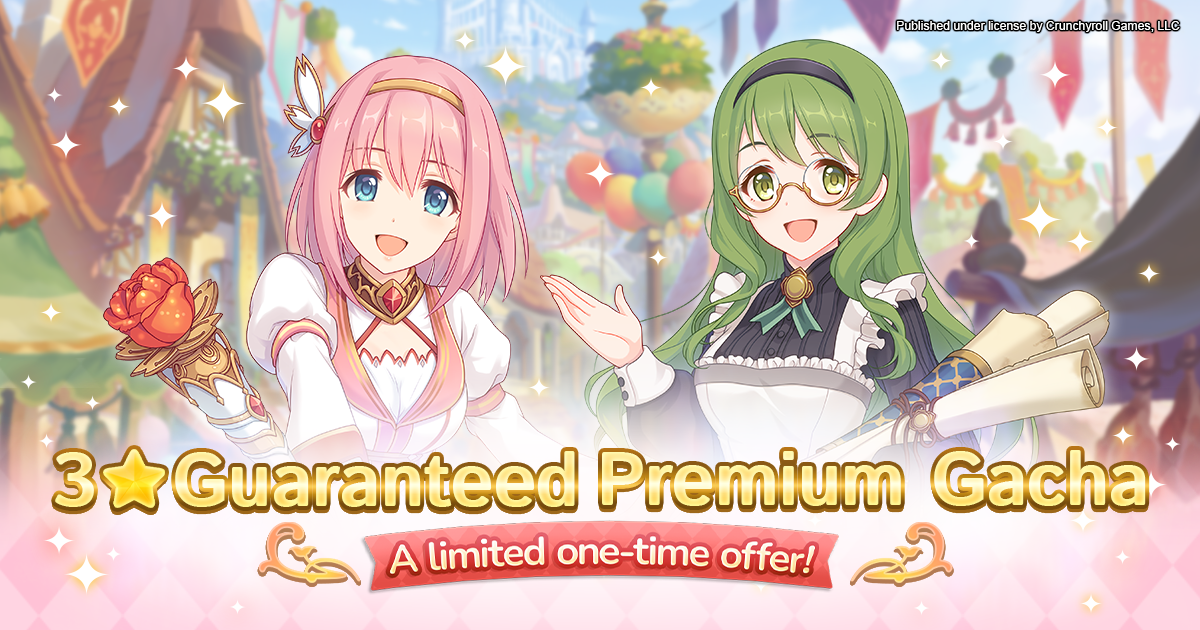 You are standing at the end of a road before a small brick building. Around you is a forest. A small stream flows out of the building and down a gully.
> east
You are inside a building, a well house for a large spring.
There is a pamphlet on the ground.
> read the pamphlet
You read the pamphlet. "The Return of the 3★ Guaranteed Premium Gacha!" is written on it in large letters. It seems to describe a special gacha that can be performed once during the campaign period with Premium Jewels where you're guaranteed to receive a 3★ character.
> wow
Right? The 3★ Guaranteed Premium Gacha will be available from 11/22, 23:00 UTC to 11/28, 22:59 UTC.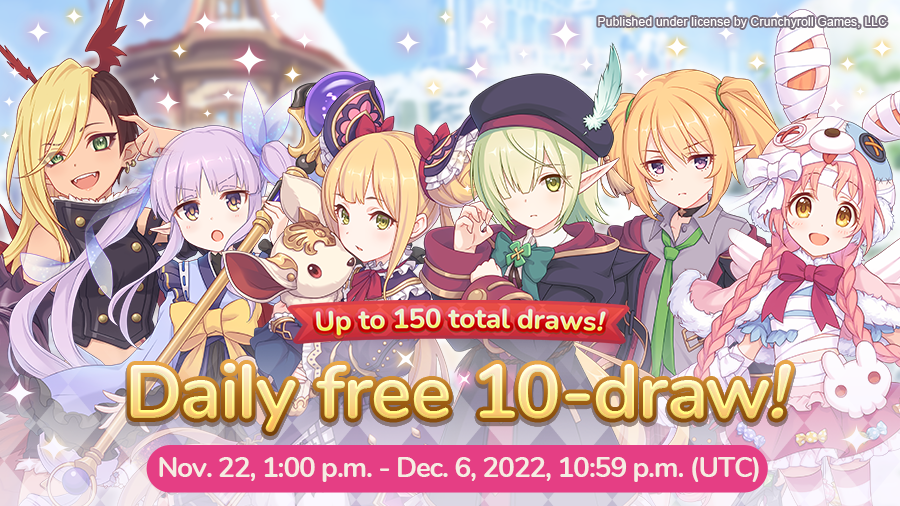 Nothing makes it feel like the holidays more than sending and receiving gifts. To help bring in the festive cheer and the spirit of giving, we're bringing back the Daily Free 10-Draw Campaign. From 11/22, 13:59 UTC to 12/6, 22:59 UTC, you'll be able to make a 10-draw for free once daily up to a maximum of 150 draws. This makes for a great opportunity to acquire Illya (Holiday) and ring in some holiday cheer! Be sure to log in daily to not miss out on this exciting holiday special.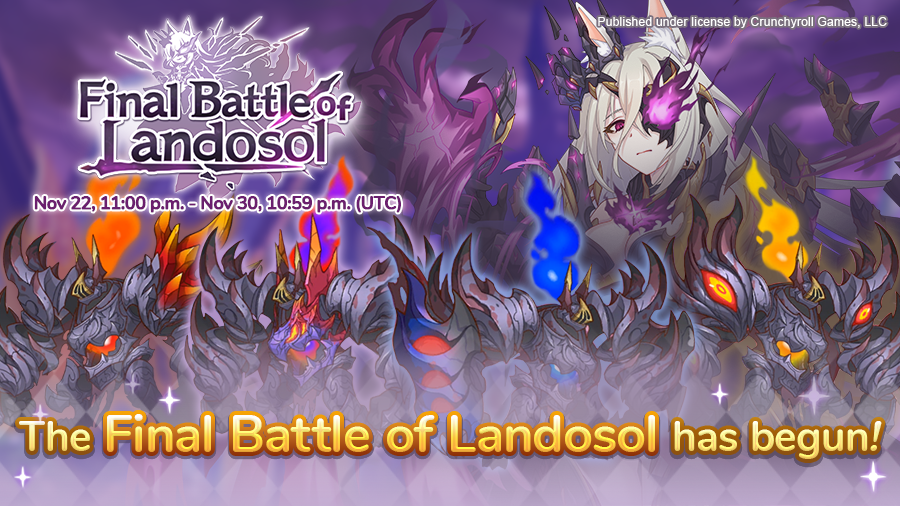 As dusk falls upon Landosol, the mastermind behind all of the machinations so far reveals her true face and intent: Omniscient Kaiser, dead-set on claiming the throne for herself once and for all, and molding the world to how she sees fit.
This special story event isn't like anything we've seen before. To start, you'll need to have read up to Chapter 15, Episode 6 of the Main Story. Doing this will ensure your eligibility for this event, since… you know, plot reasons, spoilers, etc.
Knights all around the globe will combine their forces to defeat special, incredulous servants, summoned from the intersection of the weft and warp of the world itself. These servants are a special kind - not only are they incredibly tough to beat, but players will need to defeat multiple of them to bring down a game-wide health bar for each servant. As they draw power from the Omniscient Kaiser herself, each one you collectively best will weaken the monarch ever so slightly. What's more, you'll be restricted in what characters and team compositions you'll be able to use for each servant. Each servant will test your creativity and team-building skills - and to help with this, you'll be able to use multiple support characters for helping your team comps.
You'll receive a limited number of "attempts'' at besting these servants at the beginning of the event, and will receive more throughout the event period. Continue defeating these boss servants, even after they revive over and over again, and you might discover an opportunity to attack a weakened Omniscient Kaiser directly. Unlike the servants beforehand, this is a solo fight between you and her - make your last stand and defeat the Omniscient Kaiser to save Landosol.
If "saving the world" wasn't reward enough, you'll receive rewards for each time you best a servant. In addition, you'll also receive rewards when a servant is fully defeated by everyone collectively beating enough of them. Finally, your clash with the Omniscient Kaiser also bears its own reward, as well as unlocking the rest of Chapter 15 of the Main Story.
Welcome to the Final Battle of Landosol. The fate of the world is in your hands, Knights. Godspeed.
The Final Battle for Landosol Special Event runs for eight days, from 11/22, 23:00 UTC to 11/30, 22:59 UTC. For Knights that join the game after the event period ends, or for Knights that don't participate in the timed version of this event, the fight against Omniscient Kaiser will be available afterwards, to unlock the rest of the Chapter 15 of the Main Story.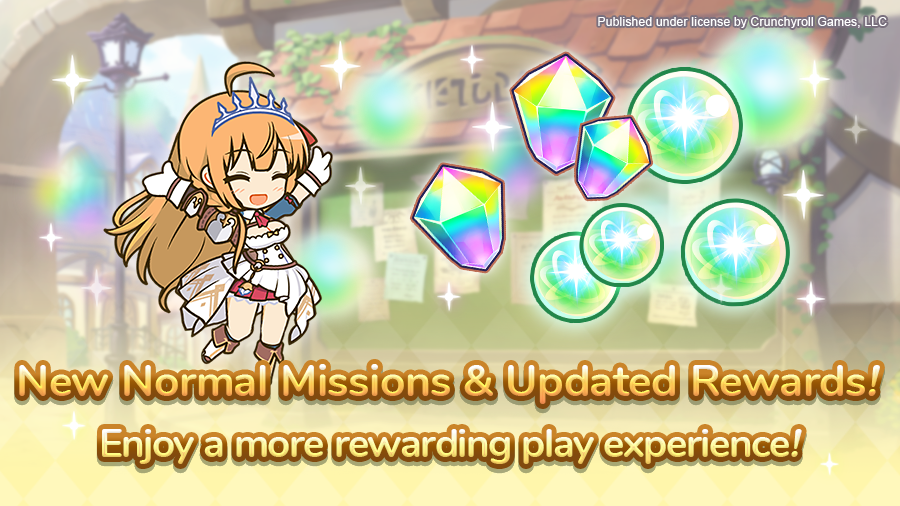 To top it all off, we're also adding new Normal Missions and updated rewards, including Jewels, Mana, and more. Just for achieving goals such as placing furniture, raising character ranks, reaching player levels, and recruiting characters, you'll get access to a pile of new rewards including much-coveted Jewels to tide you through the holidays.
These new Normal Missions and their associated rewards will be available from 12/1 starting at 14:00 UTC.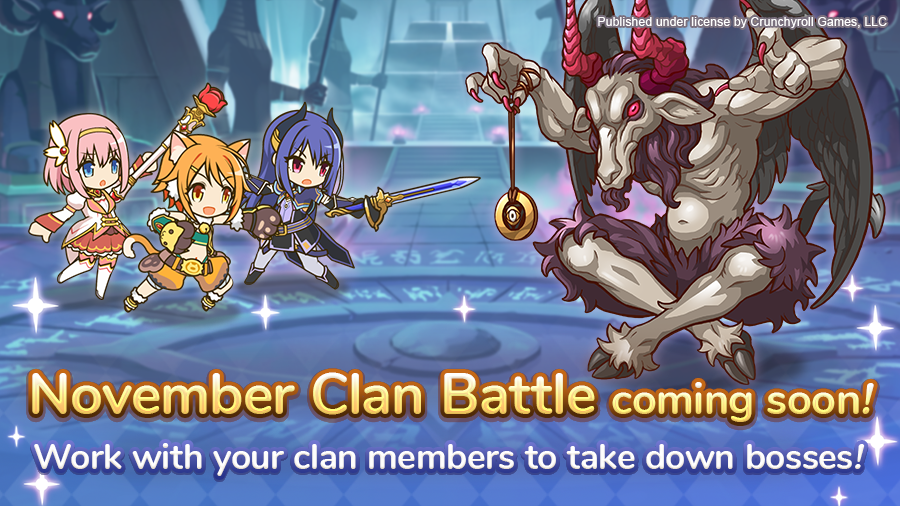 Algedi is back in mesmerizing form and prepared to face you once again! Get your teams ready to fight the Starbeast of Capricorn. Rally your allies, plan out your teams, and start practicing those timelines, because the November Clan Battle is coming soon! Work with the aid of your fellow clan members to take on monsters too powerful for adventurers to handle alone. The November Clan Battle features a gauntlet of five bosses, and you'll be able to perform up to three clashes a day on whatever boss your clan's currently on, earning a clash attempt for every 300 stamina spent. After the event is over, you'll earn precious Memory Shards, Clan Coins, and Jewels, depending on how well your clan did! The reward structure is the same as before, but you'll earn Io Memory Shards this time around.
The November Clan Battle is around for five days, from 11/25, 13:00 UTC to 11/30, 07:59 UTC. Don't forget to get in those hits three times a day! Your Clan mates will truly appreciate it.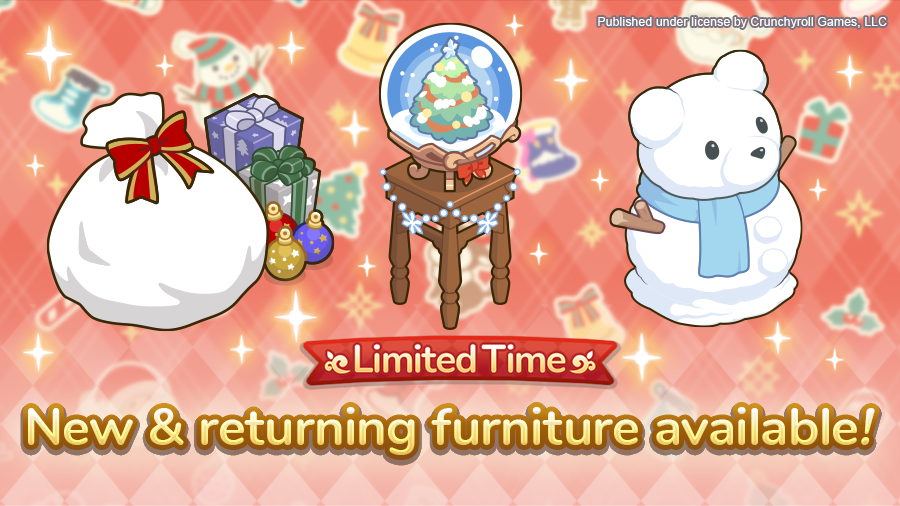 We're also ringing in the holidays once again with our new and returning festive-themed furniture set. Decorate your guildhouse by decking out your halls and filling the place with presents, snow globes, and much more.
The new furniture added to the set is as follows:
Snowbear
Festive Snow Globe
Festive Background
To add to the holiday goodies, we'll also be increasing the maximum level of special furniture in the guildhouse. The following furniture will have their max level increased from 15 to 16:
Karin's Table
Snack Table
Potion Creation Device
Mana Creation Device
This new max level for the furniture will take effect on 11/24, 9:00 UTC, and the release of the festive furniture will take effect on 11/22, 23:00 UTC.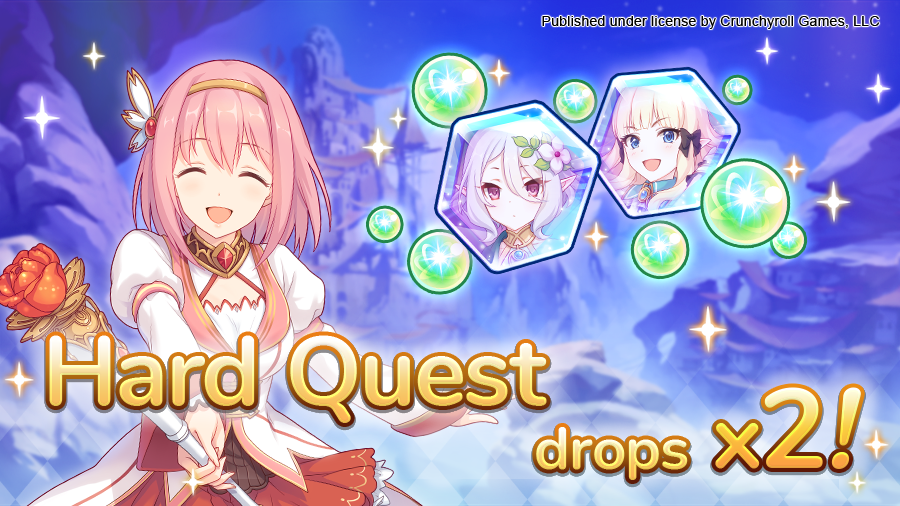 Don't get ghosted with not enough resources to spare as we head into the holiday season. Fill up during our exciting set of double-drop campaigns.
First off, get double the Mana during the Dungeon Double Drop Campaign. This resounding opportunity runs from 11/19, 13:00 UTC to 11/26, 12:59 UTC.
To make sure you're collecting even more goodies, we're also bringing back the Hard Quest Double Drop Campaign. Get double the Memory Shards, equipment, Mana, and other items when completing Hard Quests during the campaign period. Double up during the campaign period running from 11/26, 13:00 UTC to 11/30, 12:59 UTC.
Lastly, double drops will move into Sanctum Survey and Temple Trek. Stock up on items from here to help unlock and refine your characters' maximum potential through their Unique Equipments and 6★ Ascensions! You'll be able to do so while doubling up on drops in Hard Quests as the campaign will also run from 11/26, 13:00 UTC to 12/1, 12:59 UTC.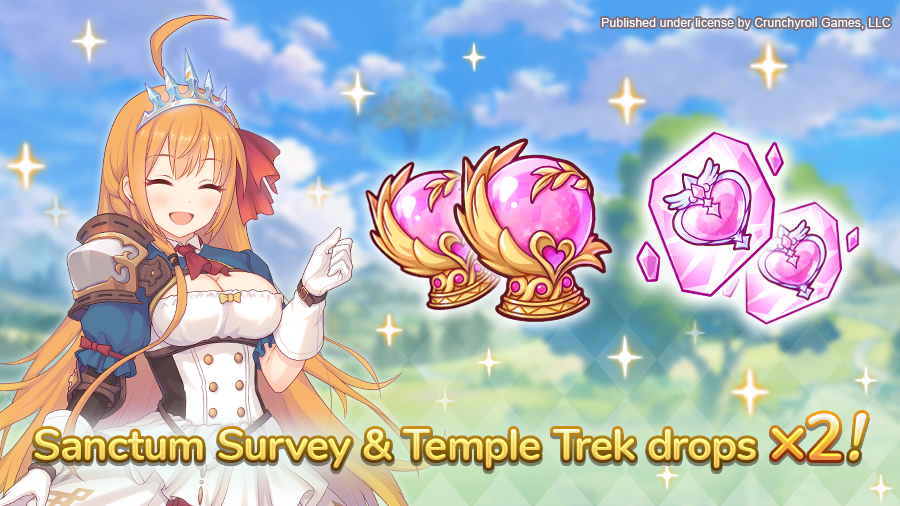 For easy reading and accessibility, included below is a summarized version of all the updates announced today. Thank you for playing Princess Connect! Re: Dive, Knights! These special promotions wouldn't be available without all of your support. We hope you continue to enjoy Princess Connect! Re: Dive!
See you in Astraea, Knights!
— Crunchyroll Games
*Note: All event details may be subject to change. Please check the in-game notifications at the start of the events for the full details.
Illya (Holiday) Focus Banner (11/22 23:00 UTC to 12/3 22:59 UTC)

Boosted rate-up for Illya (Holiday), also available for redemption via character exchange points.

3★ Guaranteed Premium Gacha (11/22 23:00 UTC to 11/28 22:59 UTC)
Daily Free 10-Draw Campaign (11/22 13:00 UTC to 12/6 22:59 UTC)
Final Battle of Landosol Special Event (11/22 13:00 UTC to 11/30 22:59 UTC)
New Normal Missions and Updated Rewards (After 12/1 14:00 UTC)
Guildhouse Updates

New and returning limited-time furniture added to the Guildhouse Shop arriving on 11/22 after 23:00 UTC.
Special Guildhouse furniture maximum level increased to 16 on 11/24, 9:00 UTC.

November Clan Battle (11/25 13:00 UTC to 11/30 07:59 UTC)
Dungeon Double Drop Campaign (11/19 13:00 UTC to 11/26 12:59 UTC)
Hard Quest Double Drop Campaign (11/26 13:00 UTC to 11/30 12:59 UTC)
Sanctum Survey & Temple Trek Double Drop Campaign (11/26 13:00 UTC to 12/1 12:59 UTC)