The author: "You can fully enjoy the beauty of Suzu Hirose in this film!"
A live-action film adaptation of Rettou Tajima's award-winning manga Mizu wa Umi ni Mukatte Nagareru / Water Flows Toward The Sea is set to be released in Japan in June 2023.
Tetsu Maeda (And, the Baton Was Passed) serves as director on a screenplay by Satomi Oshima (Raven of the Inner Palace). Suzu Hirose (Chihayafuru) stars as Chisa Sakaki, a 26-year-old, somewhat cold, not smiling, office worker.
Teaser trailer:
Teaser visual: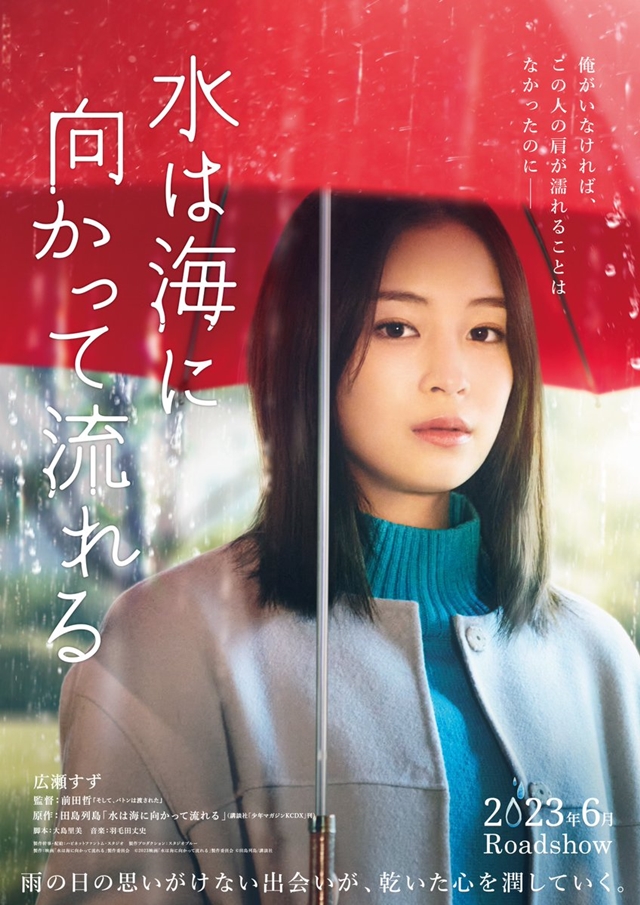 The original manga was serialized in Kodansha's Bessatu Shonen Magazine from 2018 to 2020, then compiled in three tankobon volumes. With this work and a short story collection book Goaisatsu, she won the New Creator Prize of the 24th Tezuka Osamu Cultural Prize in 2020.
The film's official website describes its story as below:
Naotatsu is staying at his uncle's house to commute to high school. However, on the pouring rainy day, he is they are picked up at the nearest station by a grim-faced adult stranger, Sakaki-san. The house he was taken to was a strange share house where Sakaki and the other residents were all eccentric. While living together, Naotatsu begins to have a faint crush on Sakaki-san, who spends her days in an indifferent manner. However, there is an unexpected fate between himself and Sakaki-san, who declares that she is "not interested in romance." --An unexpected encounter on a rainy day moistens their dry hearts.
Meesage from the manga author Rettou Tajima:
My work will be made into a film, and when I heard that they were offering the lead role to Suzu Hirose-san, who is younger than Sakaki-san, I thought that I could entrust her with the film without any worries because she is a terrific actress, who has been loved by films. As a Japanese film fan, I honestly wanted to see the film. The finished film was...cute! You can fully enjoy the tone of colors, the cats, the boys and girls, the cuteness of middle-aged men (including Naotatsu's father), and the beauty of Suzu Hirose in this film! What impressed me was the last scene, which I didn't understand when I read the script. I was surprised at the emotional feeling that only visual images can create when combined with music, which can't be expressed in manga.
⠀⠀⠀
 俺がいなければ
  ̄ ̄ ̄ ̄ ̄ ̄ ̄
 この人の肩が濡れることはなかったのに
  ̄ ̄ ̄ ̄ ̄ ̄ ̄ ̄ ̄ ̄ ̄ ̄ ̄ ̄ ̄ ̄ ̄ ̄#水は海に向かって流れる
ティザービジュアルも到着☂️

主演 #広瀬すず 監督 #前田哲
原作 #田島列島
2023.6 ???????????????? ???????????????? pic.twitter.com/NUnoThq6bu

— 映画『水は海に向かって流れる』 (@mizuumi_movie) November 16, 2022
Manga tankobon 1st volume cover: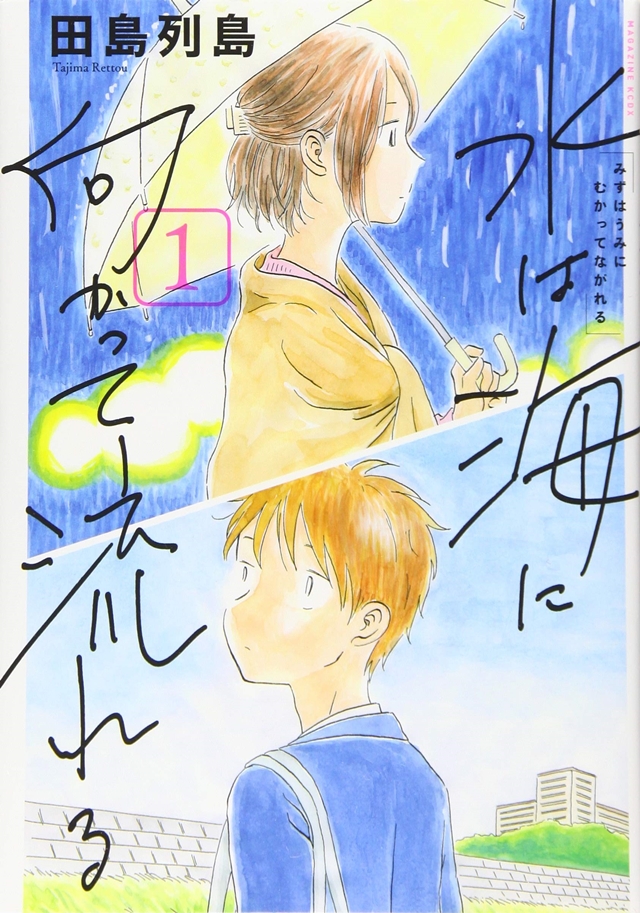 ---
Source: "Water Flows Toward The Sea" live-action film official website / Twitter
©2023 Movie "Mizu wa Umi ni Mukatte Nagareru" Production Committee ©Rettou Tajima/KODANSHA