Bandai Namco Pictures-animated 13 episodes are available on Crunchyroll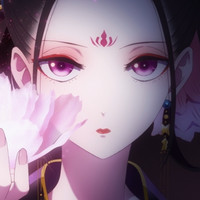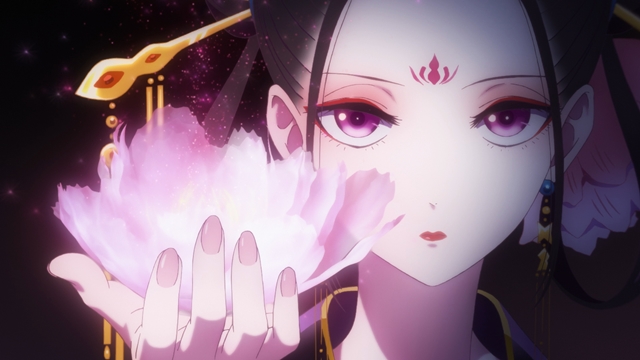 After the broadcast of the final 13th episode in Japan, Kouko Shirakawa posted a message of thanks to the staff of the TV anime adaptation of her Raven of the Inner Palace historical fantasy light novel series. The Bandai Namco Pictures-animated adaptation was aired for 13 episodes in Japan from October 1 to December 24.
---
I could talk about the anime forever, but if I were to put it simply, I would say "thank you." I don't know where to begin and how to say, but from the beginning to the end, I am filled with gratitude.
From the very first time I saw the proposal, I got the impression that the people who came up with this project had read my novel carefully and treated it with great care, which I later felt from the director and everyone else's attitude, and it was something that made me most happy and grateful. So I was able to trust them completely and hand them my work.
I told them at the beginning that I wanted to see "Raven of the Inner Palace" that was unique to the anime and not a copy of the novel, that was also because of my trust in them (even so, they let me know every detail that would be different from the original novel, and I was very impressed by their attitude).
As a result, I am truly glad that I entrusted the project to them because they created a work that was beyond my imagination and expectations. In the end, I am still filled with the word "thank you." I would like to thank everyone who was involved in the anime, and I would also like to thank all the readers of the original novel and anime viewers who watched the anime through to the end.
アニメに関しましては語りだすと終わらないのですが、端的に言うなら「感謝」の言葉に尽きます。何からどう言ったらいいかわかりませんが、最初から最後までほんとうに感謝でいっぱいです。一番最初に企画書を拝見した段階で、この企画を考えてくださったかたは作品をちゃんと読んでくださっているし→

— 白川紺子アニメ放送中&新刊発売中 (@koukoshirakawa) December 28, 2022
大事に扱ってくださる感じを受けまして、それはのちのちも監督さんはじめ皆さんの姿勢の端々から感じたことで、それがまず何より嬉しく、ありがたく思ったことでした。なので私は全面的に信頼してお任せすることができました。最初に「小説をなぞるのではなくアニメならではの後宮の烏が見たい」と→

— 白川紺子アニメ放送中&新刊発売中 (@koukoshirakawa) December 28, 2022
お伝えしたのですが、それも信頼感あってのことでした(それでも原作と違う演出になるところはどんな細かいことでも逐一確認してくださって、そんな姿勢にも感激しておりました)。結果として私などの想像以上、期待以上の作品を作ってくださって、お任せしてよかったと心から思いました。→

— 白川紺子アニメ放送中&新刊発売中 (@koukoshirakawa) December 28, 2022
最終的にやはり「感謝」という言葉でいっぱいになります。アニメに携わってくださった皆様に感謝したいのと、アニメを見てくださった…といいますか最後まで見守ってくださった、見届けてくださった原作読者の皆様やアニメ視聴者の皆様、ほんとうにどうもありがとうございました。

— 白川紺子アニメ放送中&新刊発売中 (@koukoshirakawa) December 28, 2022
---
All 13 episodes of the TV anime Raven of the Inner Palace are available on Crunchyroll for its members in North America, Central America, South America, Europe, Africa, Oceania, the Middle East and CIS.
Synopsis:
What is the true identity of the solitary Raven Consort? The Raven Consort is a special consort living deep in the inner palace who, despite her title, does not perform nighttime duties for the emperor. Some who have seen her say she has the appearance of an old woman, while others describe her as a young girl. The Raven Consort's name is Shouxue. She has the ability to use mysterious arts and will accept any favor asked of her, whether it is to find something lost or to curse someone to death. The current emperor, Gaojun, visits her one night to ask a favor. Their meeting exposes a secret that will turn history on its head...
Trailer:
Key visual: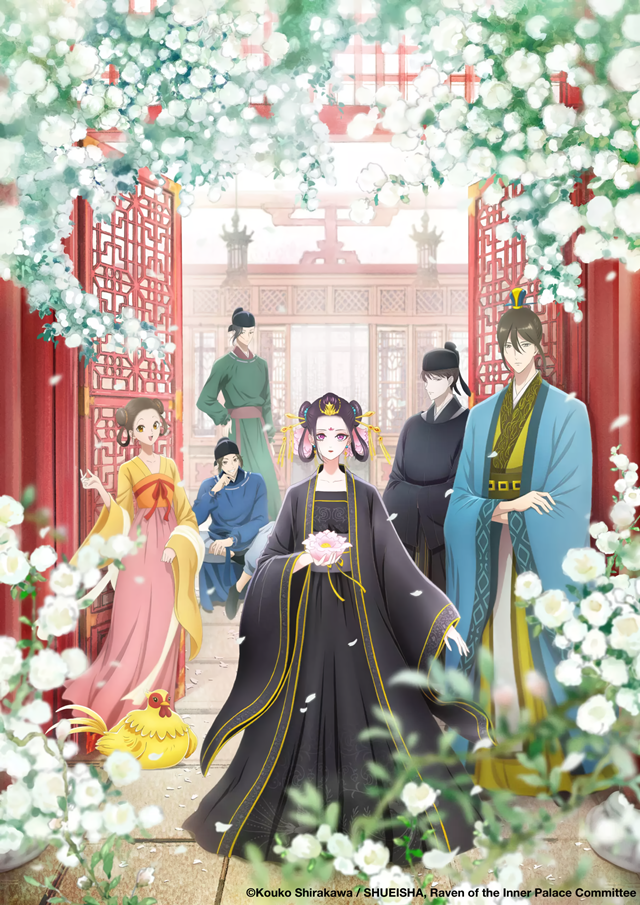 ---
Source: Kouko Shirakawa Twitter
©Kouko Shirakawa/SHUEISHA, Raven of the Inner Palace Committee