NIS America announce delay of game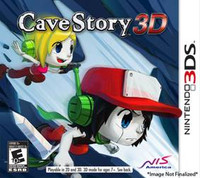 Santa Ana, Calif. – NIS America announces today that its first Nintendo 3DSTM title Cave Story 3D will be released on Nov 8, 2011 due to additional game improvements.
"We are currently undergoing improvements to enhance gameplay. Changes are in the small details, but in order to satisfy both the fans and the new players we need to make sure the game is done right. Please look forward to it this holiday season. Cave Story 3D will be a blast," says Jack Niida, producer at NIS America, Inc.
ABOUT CAVE STORY 3D
Cave Story 3D is a side-scrolling action/adventure game inspired by the fan-favorite 2D original. Now in a full 3D world, Cave Story takes the proven 2D action exploration into stereoscopic awesomeness. You wake up in a cave with no idea who you are or where you came from, but you know you must help a cute race of rabbit-like creatures beat the crap out of some crusty old doctor. Our hero wakes up in a cave with no idea who he is or where he comes from—what he does know is that a cute race of rabbit-like creatures called Mimigas is in mortal danger at the hands of a maniacal scientist, and he's the only one who can save them!
As you advance through the game, you'll learn the origin of the Mimiga world, as well as your own. Like the critically acclaimed Pixel masterpiece, Cave Story 3D is a combination of high-speed shooting action scenes with an emphasis on platforming, exploration, and light puzzle solving, as well as an engrossing storyline.
For more information please visit www.nisamerica.com/games/