This quirky and light-hearted show prepares to turn the slice of life genre on its head this winter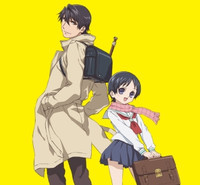 San Francisco, Calif. (January 3, 2012) – Crunchyroll continues with its winter simulcast announcements with the simulcasting of RECORDER AND RANDSELL, which will be available every Thursday starting on January 5, at 9:30 am PST for its members. More information can be found on www.crunchyroll.com/recorder.
RECORDER AND RANDSELL will be available worldwide, except Japan.
Crunchyroll's senior brand manager Michelle Hwang said, "It's exciting to see anime shorts make a comeback, as Takeshobo has a knack for creating these warm-hearted, amiable series. Following suit with MORITA-SAN WA MUKUCHI, RECORDER AND RANDSELL will undoubtedly support the turn of phrase: sometimes big things come in small packages!"
"On the surface it seems as if Atsushi is an adult, but really he's just an elementary student! However, he is paired with a second-year high school student Atsumi, whose height is just the opposite of his. These two together create an unusual relationship and will undoubtedly instigate some comedic antics in this slice of life comedy!"
Episodes can be accessed from Crunchyroll.com, the free iPad and iPhone application, the Android application, Roku, Boxee, Vizio VIA, WD TV Live and additional set-top channels, and affiliate partners.
Crunchyroll premium members will have access to the largest anime and drama selection, same-day access for simulcasted titles, no advertisements and can be viewed in 480p-to-720p quality on selected titles. More information about the Crunchyroll membership plan can be found at: http://www.crunchyroll.com/freetrial/
About Crunchyroll, Inc.
Crunchyroll is a leading global video network and developer of social media applications for Japanese anime and Asian media. Through applications like Crunchyroll for iPhone, iPad, Android, TV set-top boxes, affiliate websites and its own streaming website, Crunchyroll delivers officially-licensed content from leading Asian media producers directly to consumers.
Crunchyroll has offices in San Francisco, Calif. and Tokyo, Japan, and is a member of the Association of Japanese Animations (AJA) and Licensing International Merchandisers' Association (LIMA). Founded in 2006, Crunchyroll is funded by leading venture capital firm, Venrock, Japanese entertainment giant TV TOKYO, digital publishing leader Bitway and a group of angel investors representing some of the brightest and most successful entrepreneurs in Silicon Valley. More information can be found at http://www.crunchyroll.com.