Two Full Length POKÉMON Films Packaged as a Special 2-Disc DVD Set!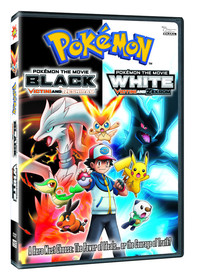 San Francisco, CA, April 3, 2012 – VIZ Media, LLC (VIZ Media), the largest distributor and licensor of anime and manga in North America, has announced the release today of a special POKÉMON movie double feature set, including the latest POKÉMON films, POKÉMON THE MOVIE: BLACK—VICTINI AND RESHIRAM and POKÉMON THE MOVIE: WHITE—VICTINI AND ZEKROM. The 2-Disc DVD set is now available under the company's VIZ KIDS imprint and carries an MSRP of $19.97 U.S. / $19.98 CAN. Both movies are rated 'A' for All Ages.

When Ash and his friends enter a battle competition in Eindoak Town, they meet the Mythical Pokémon Victini, who becomes their newest friend. But disaster strikes when the misguided wanderer Damon seizes Victini for his own plans! Can Ash prove himself a hero and earn the help of the Legendary Reshiram – or Zekrom – to rescue Victini and save Eindoak Town? Two legends and two versions of the story!
"This special release includes the latest POKÉMON feature films that will thrill fans with exciting new adventures from the Pokémon Black & White story arc," says Lyn Johnson, Senior Animation Marketing Manager. "We look forward to fans of all ages enjoying twice the POKÉMON adventure in this fun new release from our VIZ Kids imprint!"
POKÉMON is one of the most successful international kids' brands. The Pokémon Black Version and Pokémon White Version video games for the Nintendo 3DS and Nintendo DS family of systems launched in 2011 and have sold more than 13 million copies worldwide. POKÉMON animated series are licensed for broadcast in more than 160 countries and 30 languages. The newest season of the POKÉMON animated series – Pokémon: BW Rival Destinies – recently debuted in the United States on Cartoon Network.
For more information on VIZ Media's POKÉMON manga and anime titles, please visit www.VIZ.com/Pokemon/.
About VIZ Media, LLC
Headquartered in San Francisco, California, VIZ Media distributes, markets and licenses the best anime and manga titles direct from Japan. Owned by three of Japan's largest manga and animation companies, Shueisha Inc., Shogakukan Inc., and Shogakukan-Shueisha Productions, Co., Ltd., VIZ Media has the most extensive library of anime and manga for English speaking audiences in North America, the United Kingdom, Ireland and South Africa. With its popular monthly manga anthology SHONEN JUMP magazine and blockbuster properties like Naruto, Bleach and InuYasha, VIZ Media offers cutting-edge action, romance and family friendly properties for anime, manga, science fiction and fantasy fans of all ages. VIZ Media properties are available as graphic novels, DVDs, animated television series, feature films, downloadable and streaming video and a variety of consumer products. Learn more about VIZ Media, anime and manga at www.VIZ.com.
###
© 2012 Pokémon. © 1997-2011 PIKACHU PROJECT. TM, ®, and character names are trademarks of Nintendo.