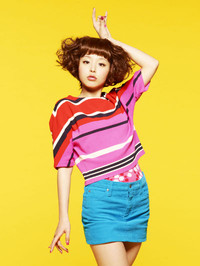 Baltimore, MD (June 6, 2012) – Otakon is proud to announce that Aya Hirano, voice actress and vocalist, to appear and perform at Otakon 2012 as our Sunday musical guest.

Born in Aichi Prefecture, Aya Hirano began acting as a child in Japan, and as an adult had her big break in the The Melancholy of Haruhi Suzumiya for which she provided many songs, including "God Knows." She went on to perform the ending theme for other anime, such as Hyakko, and "Motteke! Sailor Fuku" for Lucky Star.

As an actress, Ms. Hirano has had featured roles in shows such as Haruhi, Death Note, and Lucky Star, and has become a prominent figure in the anime world. A versatile performer, she can play an entire spectrum of roles ranging from a young child to a sexy woman, and even a boy. Other popular roles include Lumière from Kiddy Grade, Lucy in Fairy Tale, and Mamori in Eyeshield 21.

Whether it's in the field of music, narration, stage, or TV drama, Aya Hirano will continue to do great works in the future. Otakon 2012 will be held July 27 – 29 at the Baltimore Convention Center in Baltimore, Maryland.

ABOUT OTAKON AND OTAKORP, INC.: Now entering its nineteenth year, Otakon is an annual celebration of Japanese and East Asian popular culture, and also one of the largest gatherings of fans in the United States. Otakon celebrates popular culture as a gateway to deeper understanding of Asian culture, and has grown along with the enthusiasm for anime, manga, video games, and music from the Far East. Since 1999, Otakon has been held in Baltimore, Maryland; currently, Otakon is one of Baltimore's few large, city-wide events, drawing over 31,000 individual members for three days each year (for a paid attendance of over 85,000 turnstile attendees). Otakon is a membership based convention sponsored by Otakorp, Inc., a Pennsylvania-based, 501(c)3 educational non-profit whose mission is to promote the appreciation of Asian culture, primarily through its media and entertainment. Otakorp, Inc. is directed by an allvolunteer, unpaid staff – we are run by fans, for fans.

For more information about Otakorp, Inc., see http://www.otakon.com/otakorp/index.asp
For more information and the latest news on Otakon 2012, see http://www.otakon.com/