Prepare to take your character drawing to a whole new level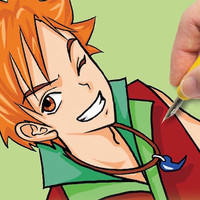 "Good characters are a key to good manga. If you've been trying to draw them, but still feel as though your drawings don't look very manga-ish, this is a great book, with lots of good hints and idea templates with which to practice. Kudos to Danica Davidson and Rena Saiya for providing something very useful!" -- Frederik L. Schodt, author of Manga! Manga! and Osamu Tezuka's English interpreter
"Danica Davidson has done a fantastic job of expanding on Manga Art for Beginners in this lovely how-to guide, illustrated beautifully by Rena Saiya. It provides all the essential steps for the budding manga artist. Easy to understand explanations provide details on popular manga archetypes, giving the reader the tools they need to create their own dynamic manga characters."―Robert McGuire, Publisher, One Peace Books
"If you want some help with your character drawing, this may be just what you need. American author Danica Davidson and Japanese artist Rena Saiya give step-by-step guidance on drawing a range of characters with tips you can use for your own work. Saiya is a lovely artist and her work will appeal to a big audience." – Helen McCarthy, author of The Anime Encyclopedia
Manga Art for Intermediates, the sequel to the #1 Amazon bestseller how-to-create-manga Manga Art for Beginners, is here to take your character drawing to a whole new level.
Created by author and manga journalist Danica Davidson and Japanese mangaka Rena Saiya, this book not only shows detailed steps on how to draw a variety of characters, but it also gives insider information on how Japanese mangaka work and what Japanese publishers look for. Opening pages discuss what pens mangaka prefer, how to paint hair with brushes, what products to apply if mistakes are made, the steps to attaching screentones, and what to look for when deciding on manga-creating software.
From this starting pointing, readers can then draw a series of characters inspired by common manga archetypes. Rather than rushing people through steps in a few intimidating pages, the characters come alive in an average of 15-30 steps, letting artists really see all the details. Manga Art for Intermediates is already getting praise from experts in the industry, and, with its hundreds of drawings, artists will be shown how to draw:
Shonen Hero
Shojo Girl
Gothic
Bride & Groom
Seme & Uke
Nekojin
Yokai
Victorian Man
Female Warrior
And more!
With Saiya's insider information from working for top Japanese publishers and Davidson's knowledge of the American manga market, this book offers a unique opportunity for artists to better understand the creative and business side of drawing manga characters. Aimed for both those wanting to draw for fun and artists interested in pursuing their passion professionally, Manga Art for Intermediates is unlike anything else on the market.
About the Authors
Danica Davidson is the author of Manga Art for Beginners in addition to novels and comics for children and young adults. A longtime manga fan, her work on manga has been published by MTV, CNN, The Onion, Otaku USA, Publishers Weekly, Booklist, Anime News Network and many others. She has both written the English adaptation and worked on the editing process for numerous published manga works.
Rena Saiya is a professional Japanese manga author living in Tokyo. She also has a background in teaching manga drawing and story development to students in Japan. She has expanded her focus abroad in recent years, making use of her strong background in the Japanese manga industry. She works on international manga projects, and utilizes her English-speaking ability to closely collaborate with her global partners.
Manga Art for Intermediates
By Danica Davidson and Rena Saiya
Skyhorse Publishing paperback, also available as an ebook
On sale: June 12, 2018
ISBN: 978-1510729520
Price: $19.99