From the studio that brought you the international phenomenon, Your Name, comes a three part anthology about love, youth, and food!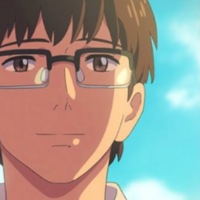 Netflix unveiled their latest additions to their growing anime collection at Anime Expo this year, and while that includes titles like Dragon Pilots: Hisone and Misotan and a second season of Aggrestuko, they also had a world premiere of a three-episode collection, called Flavors of Youth, by the same studio behind the global phenomenon, Your Name. We were very lucky to have gotten a spot and seen not just one episode, but all three! The premiere was then followed up with some Q&A with the director of the second episode, Yoshitaka Takeuchi.
All three episodes are standalones, which means you can watch them in any given order, though there is a cutscene at the end of the third that somewhat draws them all together. The first episode focuses on a young man who lives in Beijing as he recalls his childhood and love for eating Chinese noodles. As expected behind the studio of Your Name, CoMix Wave does a fantastic job illustrating the busy life of a small, rural town. Some of the best animation in the series is featured here, in the form of noodles dropping into thick broth, slicing mushrooms and vegetables, and cooking meat. I personally found myself salivating a little while watching these amazing cuts.
Sadly, I think it's the first episode which is the weakest of the three. The main character monologues consistently, but in a very dull voice, which doesn't lend itself very well to the rich and memorable scenes he's reminiscing of. It results in a very drastic contrast where we get sentimental scenes like him associating noodles with his grandmother and an old crush, but in such an emotionless tone that I felt like I was watching more of a documentary than a walk down memory lane.
Luckily, it only picks up from there. The second episode, which is probably my favorite, focuses on two sisters as they enter the fashion industry. The elder sister is a model while the younger designs clothes while going to college. Living in Guangzhou, they both must find a way to resolve their conflicts with one another while living under the same roof. A major portion of the episode is focused on the elder sister's fears of no longer being valuable as a model as she grows older. While it may not realistically capture the fashion industry as a whole, I found it to be a refreshing breath of air from much of the rose-colored perspective that is predominant in Shinkai's works. I also found the relationship between the sisters to be quite believable, so fans who have any kind of sisterly relationships out there will definitely like this one.
The last episode, which may be the most Shinkai-like of them all, is about an adult reminiscing on his young romance with a good friend when he returns to his hometown, many years later. Themes of regret and nostalgia are powerful in this one, and in my opinion, this episode features some of the best direction of the series. Watching the main character retrace his steps and his past simultaneously on a visual and auditory level was immensely satisfying, and the use of cassette tapes as a motif for miscommunication and understanding was really well done. People who have seen Shinkai's works will automatically detect the flow and motions of this story, but that doesn't necessarily stop the execution from still being very solid. It's no Your Name, but as the episode ended, I heard sniffles here and there across the audience.
Fans of Your Name or any of Makoto Shinkai's works will enjoy Flavors of Youth - it contains many of the same themes, like the growing distance between living in a rural village and living in a modernized city; of displacement and the struggle to maintain sentimental value in an increasingly materialized lifestyle; and of young, naive love and adolescence. Takeuchi came on stage to discuss a little bit about the production process of Flavors of Youth, mentioning that the project took about 5 years to make, and was mainly a collaboration between Chinese directors and animators with Japanese directors and animators. Takeuchi is the only Japanese director on the project. The central theme of the series is a Chinese saying, called yī shí zhù xíng; the basic needs in order for one to live. This is examined through the literal interpretation of the saying, by focusing on each of those needs - food, clothing and housing, and transportation - in three different cities in China (Beijing, Guangzhou, and Shanghai).
Flavors of Youth will be hitting Netflix worldwide on August 4th. If you're into a trip down the memories of being innocent, young, and in love, this series is a walk up your alley, and I'd highly recommend checking it out!
____________________________________________________________________________
When not finding ways to doom all her ships, Natasha can often be found on her twitter as @illegenes, or writing more about anime on the blog Isn't It Electrifying! Feel free to swing by and say hi.