One of the most intriguing anime this year which deserves to win the 2017 Anime Awards!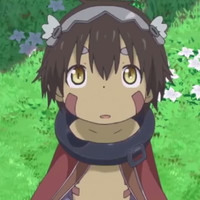 Voting is now open for Anime of the Year and the competition is tough. 2017 has been an incredible year for anime. From the creative assembly of Little Witch Academia, to the action-packed My Hero Academia Season 2, there was an exemplary show for every genre. Therefore, as a fan of adventure series, I was thrilled to be able to watch Made in Abyss, an adventure anime full of mystery and beauty. And so now I will use my platform here on Crunchyroll to recruit help for my campaign to make sure that Made in Abyss wins Anime of the Year!
Thrills and Chills
Made in Abyss is a show that, much like the abyss itself, has layers of mystery. Even when we finally get to the point where we have the same understanding of the abyss as the characters we're following, there are still new discoveries to be made. Even up until the last episode, there is still so much intrigue as to what this world is and how it's being used. World mechanics that feel insignificant at first are eventually brought up later in life defying situations. Things like the Curse of the Abyss seemed like they won't be relevant for a very long time, but Episode 10 showed us that sometime's there's no choice but "up" and it can have devastating consequences.
Watching Made in Abyss in some ways can be masochistic. We know for a fact that they're going to a place with no glory, no safety, and no hope, but the show knows how to draw you in to see them try. The small moments of achievement are always brilliant after episodes of squashing hope and this is no better represented by the concluding episodes of Season 1 with a series of new challenges and new hopeless situations being defeated by hope for a better tomorrow. As the cast set off for a new adventure (that will hopefully be seen in a second season), we're left not just thinking "I hope they'll be okay", but also, "I wonder what horrors the Abyss will inflict on them next".
The Art of Made in Abyss
Made in Abyss is one of the best looking shows of the last year. Even when it was originally announced, the aesthetic of two round faces looking distressed whilst escaping from a monstrosity among some beautiful overgrowth was immediately appealing to me. The amount of effort and thought that goes into the background art of our favorite series are too often overlooked and they're responsible for giving us not only a sense of the world but also the darkness that defines it.
In this case, the backgrounds are directed by former-Ghibli veteran artist and teacher Osamu Masuyama. Within the world of background art, he's regarded very highly, having worked closely with many of the anime industry's greatest artists for years. He works best when being asked to portray nature and landscapes with stunning detail and that's exactly what he achieves within Made in Abyss. Even simple things like which flowers grow in what part of the world and the ways in which twisted trees would grow upside-down are given an extraordinary level of attention.
Penkin's Prodigious Pieces
I am certainly not the first person to say that Kevin Penkin's musical score for Made in Abyss was the best anime soundtrack of the year, but it isn't just great music by itself. The music is a driving force behind the dramatic narrative and represents that feeling of exploration in truly unique ways. In my interview with him for AnimeNewsNetwork, he talked about developing a musical "color" palette that allowed him to create music that represented the visual and story elements being performed on screen.
In this video, he shows the process of composing the soundtrack at the Synchron Stage in Vienna, Austria:
Made in Abyss is one of the best-crafted shows of 2017 and is a true thrill from start to end. Even in the small interludes of quieter life, there's still a lurking horror that always feels like it's out to get them. It's a show that likes to play with its audience's expectations, leading you to never be quite comfortable in many episodes. And for those reasons, it is one of the most fulfilling viewing experiences you can have with anime and deserves to win Anime of the Year 2017 at the Crunchyroll Anime Awards.

Place your vote for Made in Abyss at the Anime Awards here!
---
Callum May is on an unending quest to make the anime industry seem cool and interesting. You can follow his journey on The Canipa Effect Youtube channel or follow his Twitter.