Production I.G works with alternative anime block for sci-fi based outfits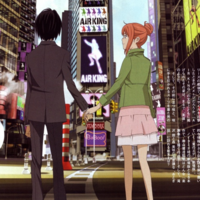 Following the debut of a line of clothes based on Guilty Crown, Fuji TV's noitaminA anime programming block has again worked with Production I.G to present a second collection of attire. Supervised by Eden of the East series creator Kenji Kamiyama, a "Saki Morimi" original custom military jacket and pink dress have been produced based on the outfit worn in the King of Eden movie.
The Saki Mori original custom M65 jacket is described as designed to be "a little girly" and is sized:
18cm Bust:: 99cm collar width 36cm: shoulder width 56cm: Length (29cm): cuff width 34.5cm: sleeve width 59cm: Sleeve length (adjustable) 98cm: hem width
It sells for ¥27,300 ($350)
The Saki Mori dress measures 61.5cm: hem width 45cm: garment width 84cm Length. It sells for ¥13,650 ($175).
Production I.G describes Eden of the East:
November 22, 2010. Monday.
Ten missiles hit the territory of Japan.
However, this unprecedented terrorist act, later to be known as "Careless Monday" apparently did not cause any victim, and was soon forgotten by almost everyone.
Then, 3 months later...
Saki Morimi is a young woman currently in the United States of America on her graduation trip. But just when she is in front of the White House, Washington DC, she gets into troubles, and only the unexpected intervention of one of her fellow countrymen saves her day.
However, this man, who introduces himself as Akira Takizawa, is a complete mystery.
First of all, he appears to have lost his memory.
Secondly, he is stark naked, except for the gun he holds in one hand, and the mobile phone he's grabbing with the other hand. A phone that is charged with 8,200,000,000 yen in digital cash.
Who is Akira Takizawa?
What are the secrets behind his extraordinary mobile phone?
What got lost with his vanished memory?
The previously offered (and in many cases sold out) Guilty Crown items include:
EGOIST [email protected] December 24 '38 t-shirt - available in three sizes and two colors for ¥3,500 ($45)
"Please take out my void" t-shirt - available in three sizes and two colors for ¥3,500 ($45)
NO MORE LOST CHRISTMAS 2029 t-shirt - available in three sizes and two colors for ¥3,500 ($45)
Gai Tsutsugami cross - ¥29,800 ($382) silver and ¥5,800 ($75) brass
Tennouzu High School men's jacket - two sizes available for ¥29,400 ($377)
Tennouzu High School women's jacket - two sizes available for ¥29,400 ($377)
Inori skirt and tunic - ¥28,350 ($334)
(109cm: Hem width 71cm:: 52cm bust: 92cm waist Length / part tunic)
(127cm: Hem 122cm:: 29 +4 cm Waist: 67cm Hip Length / skirt)
Gai Tsutsugami overcoat