Miku gets upgraded for Vita as series sells 1 million units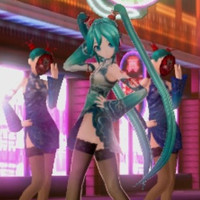 Sega has announced the first details on the next game in the "Project Diva" series, tentatively titled Next Hatsune Miku Project Diva for the PS Vita and PS3. This is the same game that they had both teased last week and had originally announced last christmas.
All the models in the game have been completely redone while most of the features in the game are receiving an overhaul. While the core gameplay remains unchanged with 4 difficulty levels, the PS Vita version will also take advantage of the touch screen and rear touch pad with a new feature called "Scratch" which uses the ☆ symbols primarily during preludes and interludes. Also newly added are "Technical Zones" which give bonus points if the zone is cleared by getting a full combo.
Watch the trailer below:
The PS Vita version of the game will be released in Summer of 2012 and the PS3 version of the game will be released in 2013.
via 0takomu
Image ©Sega ©Crypton Future Media