Local high school girl made her debut as character designer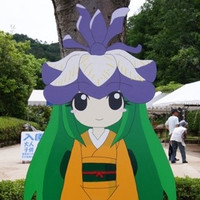 Yuru-Chara stands for "Yurui character", it means "loose character" in Japanese. Many cities and festivals make their own Yuru-Chara to introduce their local specials and to promote their events nowadays. The trend has also created tremendous opportunities for young character creators/designers in Japan. Yuki Fukushina, a 16-year-old high school girl in Jouge high school of Hiroshima Prefecture, must be the youngest lucky one.
Her designed "Ayame-chan" wearing traditional kimono was selected for the official Yuru-Chara of the 39th Jouge Ayame Matsuri. The festival promoting the local specialty flower Ayame (Siberian iris) has been held at Shikinosato Park in Fuchu-city, Hiroshima, from June 16 to July 1. Ayame-chan is featured in various places in the event. How much royalty will the 16-year-old designer get?
Yuki Fukushina and her Ayame-chan
Ayame-chan at the entrance of the festival
Ayame-chan's "Welcome!" POP at the souvenir store
Various Ayame-chan goods on sale
Ayame-chan promotes a music event
Source: Hiroshima News Tabetainger, Sanyo Shimbun