PSP demo hits Japan on September 6th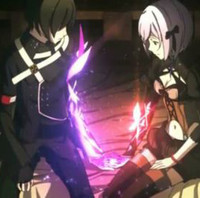 With the demo set to debut on September 6th, Imageepoch has offered a look at opening movie for Sol Trigger - a PSP game that they're suggesting might be the standard bearer for JRPGs. And, with animation by J.C. Staff. (Bakuman), an all star voice cast, and a story by Final Fantasy VII's Kazushige Nojima, it looks like a pretty valid claim.
The game hits Japan on October 4th.
Cast includes
Farel - voiced by Kosuke Toriumi (Naruto's Kiba)
Walter - voiced by Tomokazu Sugita (Gintama's Gintoki)
Emma - voiced by Kana Hanazawa ( Bodacious Space Pirates' Chiaki Kurihara)
Sophie - voiced by Ami Koshimizu (Spice and Wolf's Holo)
Gustav - voiced by Kenta Miyake (the Berserk movies' Zodd)
Cyril - voiced by Aoi Yuki (Dance in the Vampire Bund's Mina Tepes, Horizon in the Middle of Nowhere's Suzu Mukai)
Antagonists
Istvan - voiced by Akio Ohtsuka (Solid Snake, Black Jack, Fate/zero's Rider, Ghost in the Shell's Batou)
Littler - voiced by Miyuki Sawashiro (Mint Blancmanche in Galaxy Angel, Catherine in Catherine, Kurapika in Hunter x Hunter, Suruga Kanbaru in Nisemonogatari).
Fran - voiced by Chiwa Saito (Madoka Magica's Homura)
A special edition features a hard case, soundtrack, drama CD, and special unlock password.
------
Scott Green is editor and reporter for anime and manga at geek entertainment site Ain't It Cool News. Follow him on Twitter at @aicnanime.