See the Free! swimmers when they were 6th grade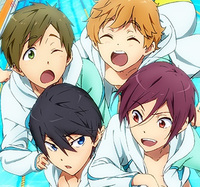 KA esma Bunko, the book division of Kyoto Animation has announced that the prequel novel to the Summer anime, "Free!" will be published on July 8th in Japan. The official site was recently updated with STORY, CHARACTER, GALLERY and SHOP pages.
The novel High☆Speed!, written by Ooji Koji, takes place a few years proior to the anime, when Haruka and Makoto were still in 6th grade, Nagisa in 5th, swimming together at a swimming club. Rin, whose at a different swimming club transferred into their school and because of their shared passion for water, 4 boys started to build friendship and one day, Rin suggested competing in medley as a team.
Rough sketch of the cover art above.
Rough sketch of key illustration to be inserted in the novel above.
Color illustartion "Haruka and Rin" in the novel. All of them look young and adorable.
The novel received Honorable Mention at Second Annual Kyoto Animation Award Novel Division in 2010, with Kyokai No Kanata which was also made into a TV spot commercial by KyoAni. This is the first time High☆Speed! will be published and it will be on sale at selected book stores throughout Japan and online at KyoAni Shop for 650 yen on July 8th. This will be a great read to understand the relationship between the 4 boys before Rei joins in the mix.