Plus "Medaka Box" 1/4 scale Medaka and "Panty & Stocking's" Stocking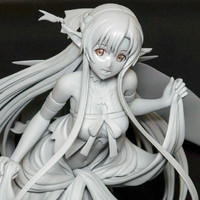 The Miyazawa Model Expo: Autumn is kicking off in Tokyo, which means a lot of lovely ladies are out on display right now. From Plum, Sword Art Online's Fairy Dance Arc Titania Asuna is pretty enough to turn more than a few heads.
Orchid Seed has their prototype of Stocking from Panty & Stocking with Garterbelt on display.
Meanwhile, FREEing's gigantic 1/4 scale Medaka from Medaka Box is getting a fair amount of attention. Love that underboob support bar.
What do you think? Anything you need for your collection?
Via Plastikitty
-------
Amanda Rush is the Associate Editor for Ani.Me and contributor for OtakuCollectionDX. She swears in the middle of the night on Twitter as @TheAnimaven.