The group's latest single is released on the same day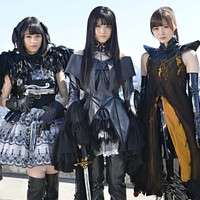 Five members of Japanese female idol group Nogizaka46: Sayuri Matsumura, Erika Ikuta, Mai Shiraishi, Nanase Nishino, and Rina Ikoma are cosplaying as the anime characters in the latest CM for the Blu-ray/DVD of the Puella Magi Madoka Magica: Rebellion film, which is just released in Japan today on April 2. Matsumura and Shiraishi perform as Homura Akemi and Kyoko Sakura respectively. The costumes worn by Matsumura, Ikuta, Shiraishi are now displayed at the Tower Records Shinjuku store.
One of the reasons of this collaboration is the Madoka Magica series and Nogizaka46 have one thing in common in their concepts: "Girls have to fight or compete each other." Also, the disc is released on the same day with the group's latest/8th single "Kizuitara Kataomoi." The CM is directed by Shigeaki Kubo who has worked for the PVs of Namie Amuro, EXILE, DREAMS COME TRUE, and AKB48. It has already started airing in Japan from today, but not yet been posted in the web legitimately.
"Kizuitara Kataomoi" regular edition jacket
乃木坂46がまどマギを実写化し現在TLが修羅場ですが、ここでAKBがまどマギ実写化した時の画像を見てみましょう pic.twitter.com/2d1zxhSO43

— 東雲 タクロウ (@goxfrontia) April 2, 2014
via: Natalie
© Nogizaka46 Steering Committee
© Magica Quartet/Aniplex,Madoka Movie Project Rebellion