Complaint alleges Square-Enix never sought permission for depiction of SNK Playmore characters in Hi Score Girl manga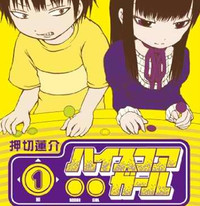 SNK Playmore has filed a criminal copyright infringement complaint against Square-Enix in the video game publisher's home city of Osaka over what it alleges are over 100 instances of of unauthorized depictions of SNK Playmore characters in the Hi Score Girl manga published by Square-Enix.
The Consumer and Economic Crime Division of the Osaka Police raided the local branches and ancillary buildings under the auspices of Square-Enix on Tuesday in order to gather necessary evidence to substantiate the complaint according to a report filed by the Sankei business newspaper. The search and investiagation is also said to involve questioning the manga's author Rensuke Oshikiri and the author's editor regarding the infringement allegations since the complaint was criminal rather than civil in nature.
In a press release released on Wednesday, SNK Playmore elaborated on the reasoning for the criminal complaint, stating that it was necessary after the company was contacted by an animation production studio last year regarding the clearance of copyrighted characters and sound effects for use in the animated adaptation of the manga that was broadcast last year, which is when the company then discovered the manga and the scope of the alleged infringement that led to the initial complaint with Osaka Police.
SNK Playmore also emphasized that it is still seeking the immediate halt of the sale of any and every publication of Hi-Score Girl which includes digital and print publications along with other releases after it says that the company never got a meaningful response from Square-Enix about initially halting sales, which led to the filing of the criminal complaint under Article 119 Section 1 of Japan's Copyright Law, which concerns unauthorized depiction and usage of copyrighted work.
The release goes on to state that SNK Playmore will take firm measures to protect its games and characters from future instances of infringement.
---
Humberto Saabedra is the Owner of AnimeNews.biz, Editor-in-Chief of PhoneNews.com and a part-time recording engineer. He can also be found musing on things (and Nico Robin) at @AnimeNewsdotbiz