To be released in Jan 2015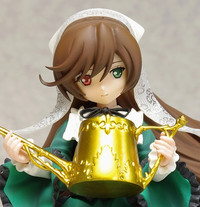 "Maiden", a dreamlike, domestic Gothic fantasy, began as a manga created by the artist duo PEACH-PIT. The comic spawned a successful anime adaptation. Wave's new figurines, based on the previously released "Miki Sakurazaka" figure prototype, are fully articulated models that have received a complete update for the latest anime of 2013. Painstaking artistic attention is paid to the creation of each model for this product line.
Fitting the theme of "sweet and beautiful models brimming with gothic charm", Suiseiseki comes with a "Garden Watering Can", while her sister Souseiseki is ready to serve with a pair of "Gardening Shears". TBS Animation's official online store, Animaru, is also offering a "Rozen Maiden Suiseiseki Garden Watering Can Gold-Plated Version" and "Rozen Maiden Souseiseki Garden Shears Gold-Plated Version".
The price for the Suiseiseki model is 9,500 yen; for Souseiseki, 9,300 yen. Gold-Plated Version Suiseiseki costs 9,800 yen, while Gold-Plated Version Souseiseki is priced at 9,600 yen. The figurines are slated for release in January 2015; the order deadline for the special Gold-Plated models is September 4.
Links:
#3 Doll Suiseiseki
#4 Doll Souseiseki