Home video releases planned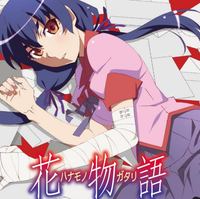 Coming out of this weekend's Katsucon, Aniplex of America has posted English trailers for Hanamonogatari, the adaptation of ninth book of NisiOisin's modern fantasy light novels with the story "Suruga Devil," and the final part of horror movie series the Garden of sinners.
HANAMONOGATARI Blu-ray Set
Blu-ray Specs

Language: Japanese
Video: 16:9 Widescreen
Episode: SURUGA DEVIL Episodes 1- 5
Number of Disc: 2 Blu-ray Discs
Subtitles:English
Total Run Time: Approx. 150 min.
Rating: 16 UP
Bonus Contents

■
Textless Opening

■
Textless Ending

■
Episode 5 (OP/ED alternate version)

■
PV & CM Collections

Bonus Materials & Special Package

■
Deluxe Booklet

■
Pinup Postcard Set

■
Package Illustrated by AKIO WATANABE (character design)
Description
The sixth Arc of the Monogatari Series Second Season!
One morning, Suruga Kanbaru meets Ougi Oshino, who calls himself a nephew of Meme Oshino. He tells Suruga about a rumor of "the Lord Devil" that grants any wish. Suruga is worried that the identity of the Lord Devil is none other than herself because she made a wish on "the Monkey's Paw." The item was left behind by her mother, and turned Suruga into a Rainy Devil and made her try to kill Koyomi Araragi. In order to find out the identity of the Lord Devil, Suruga decides to meet the Lord Devil, but who she sees at the meeting spot is the most unexpected person – Rouka Numachi, Suruga's old archrival…
the Garden of sinners -recalled out summer- Limited Edition Blu-ray Set
Disc Spec:
Spoken Languages: Japanese
Subtitles: English
Aspect ratio: 16:9 widescreen
Episodes: 2 Feature films
(recalled out summer & recalled out summer -extra chorus-)
Garden Of Sinners recalled of summers.
Number of Disc: 2 BD discs
Bonus Contents
■ Pre-show Reminder Video
Bonus Materials
■ 24-page Deluxe Booklet
■ Special Package Illustrated by Takashi Takeuchi
SRP $79.98
Sales Price $69.98



About recalled out summer
August 1998. At this moment, serial bomber Meruka Kuramitsu is certain of victory. Flip a switch. In the ensuing explosion, Shiki Ryougi's body will scatter into pieces. Can Shiki survive the battle against this person with precognitive power?

About recalled out summer –extra chorus–
Shiki ends up keeping a black cat while Mikiya Kokutou is out of town. Meanwhile, Ririsu Miyasuki, a student of Reien Girls' Academy, suffers from the loss of her best friend who committed suicide by jumping off the Fujou Building. When she tries to kill herself, she encounters her classmate Asagami Fujino, who has psychokinetic power.
------
Scott Green is editor and reporter for anime and manga at geek entertainment site Ain't It Cool News. Follow him on Twitter at @aicnanime.