You can't transform into Super Sailor Moon, but you can keep things neat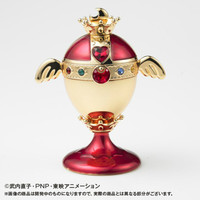 Do you ever find yourself with a mighty need for something classy and anime-related to hold all of your paper clips? No? You just might after seeing the Rainbow Moon Chalice Paper Clip Holder from Sailor Moon. It's the same design we saw earlier this year that was used as a scent diffuser, but this time you can use the piece as storage for office supplies.

This special item is available from Premium Bandai and going for 8,640 yen, which is roughly $72. It's filled with 12 gold-plated paper clips, though if you're spending that money on paper clips you probably may as well just leave them in there so you don't lose them.

It's a gorgeous piece nevertheless, especially if you're a die-hard Sailor Moon fan. Preorder it here and add it to your collection!
[via Anime News Network]
-------
Fueled by horror, rainbow-sugar-pixel-rushes, and video games, Brittany is a freelancer who thrives on surrealism and ultraviolence. Follow her on Twitter @MolotovCupcake and check out her portfolio for more.