Directed by Tatsuyuki Nagai (A Certain Scientific Railgun, Anohana)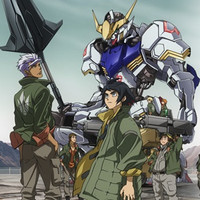 It was announced in the live broadcasted press conference today that Mobile Suit Gundam Tekketsu no Orphans/Iron-Blooded Orphans, the latest installment of Sunrise's long-running robot anime series Gundam, is set for a premiere in Japan on October 4, 2015. It will be aired on MBS/TBS and their 26 affiliates at 5:00 pm every Sunday, the same time block currently airing The Heroic Legend of Arslan.
39-year-old Tatsuyuki Nagai, best known for his directorial works for Toradora!, A Certain Scientific Railgun and Anohana: The Flower We Saw That Day, attaches to direct. His Anohana partner Mari Okada works on series composition, Michinori Chiba (Gundam 00, Gundam AGE) serves as character designer based on original designs by manga artist Yu Ito (Imperial Guards, Shut Hell). Naohiro Washio (Valvrave the Liberator), Kanetake Ebikawa (Gundam 00), Ippei Gyoubu (Gundam Reconguista in G), Kenji Teraoka (Gundam Build Fighters), and Tamotsu Shinohara (Super Sentai, Heisei Kamen Rider)
provide mecha designs.
The story is set 300 years after the big war called "Yakusai-sen (Disaster Festival War)." It follows Mikazuki
Augus, a boy working for private security company on Mars, Chryse Guard Security (CGS), and will become
the pilot of Gundam Barbatos later. After accepting the job to guard a girl named Cuderia Aina Bernstein,
he gets involved in battles, because she is seeking the independence of the city of Chryse from Earth.
More Gundam from each forces will appear in the story.
PV
Main visual
Source: Mantan Web
© Sotsu/Sunrise