130mm pre-painted figure will be shipped in August 2016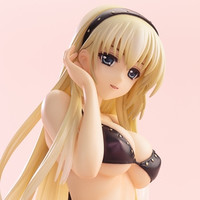 Following the first edition in white bikini released in April 2015, Japanese retailers have started accepting pre-orders for Kotobukiya's upcoming 1/7th scale figure of Irisdina Bernhard wearing black bikini from the ongoing TV anime Schwarzes Marken for an August 2016 release. The company has already listed figures of Katia Waldheim and Liz Hohenstein from the anime based on a spin-off light novel series of the Muv-Luv Alternativeadult game franchise. The price for the 130mm-tall new edition figure is 8,800 yen (about 78 US dollars).
The Schwarzes Marken TV anime is now available to Crunchyroll members worldwide except for Asia.
Katia Waldheim figure (June 2016 release)
Liz Hohenstein figure (July 2016 release)
Source: Kotobukiya press release
© 2011 ixtl All rights reserved.