Commemorate the new "Pokemon" games with a special strategy guide!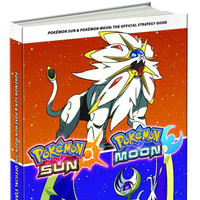 If you're planning on picking up the new Pokemon titles when they debut later this year, you might be interested in also grabbing the special edition guide they're going to be featured in as well.
The guide will be comprised of 350 pages with a standard version available for $25, and a collector's edition that's nearly double the price at $40.
The official description of the guide notes that you'll find all the normal information that can be sought out in a Pokemon guide, whether normal or otherwise, including a pullout map of the region. But the collector's edition will include a special hardcover book along with "special bonus content" available only for those who purchase that one.
As far as what that content is, it's not clear at present. It could end up being some sort of downloadable content or even concept art or something to that effect. Either way, it's an attractive guide, and if you're into Pokemon as a whole, it's probably something you'll want to check out. The games themselves don't drop until this fall though, so there'll still be a bit of a wait.
[via Siliconera]
-------
Fueled by horror, rainbow-sugar-pixel-rushes, and video games, Brittany is a freelancer who thrives on surrealism and ultraviolence. Follow her on Twitter @MolotovCupcake and check out her portfolio for more.