Takahiro Sakurai is cast as an original character Riichi Miura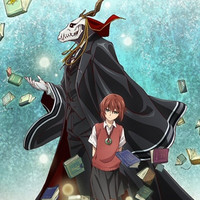 The official website for the upcoming three-episode OAD project inspired by Kore Yamazaki's fantasy manga series Mahou Tsukai no Yome/The Ancient Magus' Bride today posted a main visual and a 70-second trailer for its first part. The OAD is based on the manga author's original story "Hoshi Matsu Hito" (The Person Who is Waiting for Stars), and each episode will be respectively bundled with the manga's 6th volume (September 10, 2016 release), 7th (March 10, 2017), and 8th (September 9, 2017).
The first part tells a prequel story about what happened to the protagonist Chise Hatori when she was 8 years old, long before she meets Elias Ainsworthis. It is also scheduled to get theatrical screenings for a limited time of two weeks from August 13.
First part trailer
First part main visual
【新情報解禁】「魔法使いの嫁 星待つひと 前篇」のメインビジュアルが解禁となりました!チセとエリアスそして幼少期のチセが描かれたビジュアル!(宣伝ひげ) #まほよめ https://t.co/vrG4IRTSfj pic.twitter.com/pjYH66EYwT

— 魔法使いの嫁アニメ化プロジェクト (@mahoyomeproject) June 24, 2016
8 years old Chise
【設定/キャスト】8歳のチセ。他者に見えないものが見えることで周りから訝しがられ、孤立してしまっている。(宣伝ひげ) #まほよめ pic.twitter.com/gIdHwETEYr

— 魔法使いの嫁アニメ化プロジェクト (@mahoyomeproject) June 24, 2016
Original character Riichi Mura voiced by Takahiro Sakurai
【設定/キャスト】そして、新キャラクター三浦理一。幼少期のチセが出逢う謎の青年。演じられるのは櫻井孝宏さん!(宣伝ひげ) #まほよめ pic.twitter.com/BPJ4TMd5Qo

— 魔法使いの嫁アニメ化プロジェクト (@mahoyomeproject) June 24, 2016
---
Grand PV
Main staff:
Director: Norihiro Naganuma (Yowamushi Pedal The Movie)
Scenario: Aya Takaha (Psycho-Pass)
Character Design: Hirotaka Kato (Hozuki no Reitetsu)
Arts: Bamboo
Music Production: Flying Dog
Anime Production: WIT STUDIO (Attack on Titan)
Distribution: Shochiku
Planning, Production: Production I.G
Main Voice Cast:
Chise Hatori: Atsumi Tanezaki (Moe Nishinosono in Subete ga F ni Naru)
Elias Ainsworth: Ryota Takeuchi (Heroman in HEROMAN)
Ruth: Kouki Uchiyama (Banagher Links in Mobile Suit Gundam Unicorn)
Silky: Aya Endoh (Totoko in Osomatsu-san)
Angelica Barlei: Yuko Kaida (Marida Cruz in Mobile Suit Gundam Unicorn)
Hugo: Misaki Kuno (Hawk in The Seven Deadly Sins)
Source: "Mahou Tsukai no Yome" anime project official website, Twitter
Copyright © 2016 MAG Garden corp. All rights Reserved.