BACK-ON performs the newly written theme song "The Last One"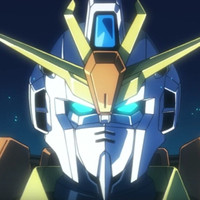 It is officially announced today that Gundam Build Fighters Try Island Wars, an all-new TV special episode of Sunrise's 2014-2015 TV anime Gundam Build Fighters Try, will be aired on TV Tokyo and its affiliates at 16:00 on August 21 (JST).
The story revolves around the members of the Try Fighters team who are invited as test pilots for Yajima Corporation's new battle system to the Nielsen Labs in a southern island. While waiting in the lodging facility till the bugs of the system are fixed, they meet Shia Kijima (Celestial Sphere), Minato Sakai (Build Busters), and Gyanko/Kaoruko Sazaki (Song Dynasty Vase) who are also invited as pilots. Then they are all involved in an unexpected mysterious event.
Gundam Info's official YouTube channel today also posted a 100-second PV featuring the newly written theme song "The Last One" by BACK-ON, who previously performed the 1st OP song "Cerulean" for the
TV anime series. Gundam Build Fighters Try was aired for 25 episodes from October 2014 to March 2015
as the sequel to the 2013-2014 Gundam Build Fighters.
"Gundam Build Fighters Try Island Wars" PV
Key visual
夏休み特別編「ガンダムビルドファイターズトライ アイランド・ウォーズ」テレビ東京系で8月21日放送決定! https://t.co/xHZFevSdTh pic.twitter.com/NvW1XIlH5P

— ガンダムインフォ (@gundam_info) 2016年7月12日
New MS for the TV special, Scramble Gundam
すでに情報解禁されているガンプラもありますが、本日お披露目、今回の目玉機体「スクランブルガンダム」です。敵か?味方か!? #g_bf pic.twitter.com/tsXKJDKW1Y

— ガンダムビルドファイターズトライ (@buildfighters) July 12, 2016
TV anime 1st OP song "Cerulean" MV
Source: Gundam. Info, "Gundam Build Fighters Try" official website
© Sotsu, Sunrise, TV Tokyo