Anno comments during recent press for film indicate renewed focus on final Eva Rebuild film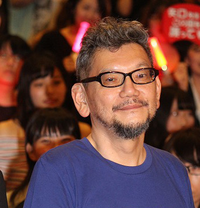 Hideaki Anno is coming off of the critical acclaim and box office success of Shin Godzilla, which has proven itself to be a unique take on the origin tale of the legendary movie monster, mixing Japanese current events with political intrigue. While the film has proven polarizing to filmgoers on the first watch, many observers agree that the film is still better than the 2014 Hollywod film.
During another recent wave of press for the film, Anno was asked about the status of the final Evangelion Rebuild film in Evangelion 3.0+1.0, which was originally slated for a late 2015 release but delayed owing to Anno's involvement in the production of Shin Godzilla. The final Evangelion film currently has no set date and his remarks regarding the status of the film are below and taken from Eiga.com:
I'll work hard [on it]. I mean, I'm already working hard [on it]
As for whether he'd consider helming another Godzilla film, he's personally finished and is leaving the decision up to Toho, according to remarks given to Oricon News via Yahoo! Japan, while in the previous Eiga interview, he also expressed interest in seeing a different director for a sequel, if Toho decides on such plans.
---
Humberto Saabedra is the Owner of AnimeNews.biz and a part-time recording engineer. He can also be found musing on things at @AnimeNewsdotbiz