The judges unanimously selected the 28-year-old author's work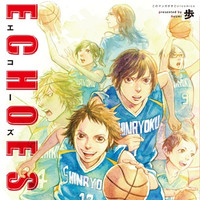 Japanese publisher Takarajimasha today announced the winner of its 7th Kono Manga ga Sugoi! (This Manga Is Amazing!) Grand Prix Award. The first prize went to 28-year-old artist Ayumi's transgender-themed manga ECHOES. It was chosen by the judges unanimously and its tankobon is scheduled to be published on December 10.
Takarajimasha has published the "Kono Manga ga Sugoi!" ranking guidebook every year since 2005 and the Grand Prix Award was established in 2010 to contribute to the discovery and development of potential young manga artists who are able to join the ranking in future.
The story is about the members of a female basketball team, based on some of the author's real life experiences. The author herself started feeling gender identity confusion in her body when she was three. Each members have their own problems and have been trying to grown up. The protagonist Sei has
a male mind in her body and has been confused and distressed about being transgender. Her teammate
Asuka has a misanthropy problem due to her past relationship with others, and the captain of the team,
Kaneko has been struggling to overcome guilt feelings about her past and the weakness in her mind.
Through the story, the author wants to deliver her message that various type of people can co-exist in
one community and her wish that the world will become a place where transgender people are no longer
treated as strange.
Cover illustration
Pages from the tankobon
Source: Takarajimasha press release