Smartphone game "BanG Dream! Girls Band Party" will be available in March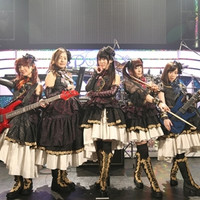 Roselia, a new five-member girls band from Bushiroad's media mix project BanG Dream!, joined the sold-out "BanGDream! 3rd☆LIVE Sparklin' PARTY 2017!" concert event held at Tokyo Dome City Hall on February 5. As secret guests, they performed three songs: "Soul's Refrain" (Neon Genesis Evangelion: Death & Rebirth theme song), "Hacking to the Gate" (Steins;Gate OP song), and their original song "BLACK SHOUT" in public for the first time.
Roselia members:
Minato Yukina (vocal): Aina Aiba (Tokoha Anjou in Cardfight!! Vanguard G: NEXT)
Sayo Hikawa (guitar): Haruka Kudo (Kyusaku Yumeno in Bungo Stray Dogs)
Risa Imai (bass): Yurika Endoh (Haruno Yoshikawa in Ace of Diamond)
Ako Utagawa (drums): Megu Sakuragawa (Ashe R. Sakuragi in Wagamama High Spec)
Rinko Shirakane (keyboard): Satomi Akesaka (Arsène in Milky Holmes)
"BLACK SHOUT" performed at "BanGDream! 3rd☆LIVE Sparklin' PARTY 2017!"
The characters will be featured in the upcoming game app "BanG Dream! Girls Band Party" to be available
in the middle of March 2017. The band's 1st single "BLACK SHOUT" will be released on April 19 and their
first solo concert is set for June 30 at Shibuya Duo Music Exchange in Tokyo.
Source: Bushiroad press release
© bushiroad