Osaka-born singer's new single "urar" will be available on January 24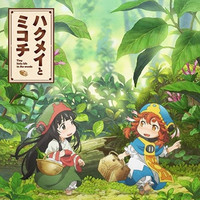 Lantis has released a five-minute full music video for "urar," the OP theme song for the TV anime adaptation of Takuto Kashiki's fantasy manga Hakumei to Mikochi to premiere in Japan today, performed by singer-songwriter Chima. This is her second anime tie-up song, following the ED theme "Hajimari no Shirushi" for the TV anime Grimoire of Zero in 2017.
The song itself is produced by 53-year-old J-pop singer Hiroshi Takano, as his first producing work for an anime theme song. The video is directed by Go Koyano, alongside Shunji Iwai (The Case of Hana & Alice, Uchiage Hanabi/Fireworks) as general director. Chima and Iwai have performed together fo a musical unit. The CD single is set to be released on January 24.
"urar" MV
CD jackets
◻︎◼︎新情報④◼︎◻︎
2018.1.24(水)発売!
ChimaさんがうたうOPテーマ「urar」のジャケットを公開
森をたのしそうに歩くハクメイとミコチは一体どんなおはなしをしているのでしょうか?
特典情報はこちらからチェック♪https://t.co/5Bfzy03RpV#hakumiko pic.twitter.com/pwZqELcMwY

— TVアニメ「ハクメイとミコチ」公式 (@hakumikotv) 2018年1月12日
Source: Chima official website
Copyright(C) CREATIVE OFFICE CUE.