Highly-anticipated sequel is set to be released in Japan on August 17, 2018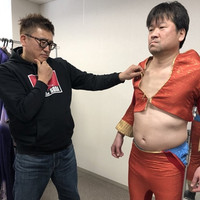 There has been a rumor that 48-year-old actor Jiro Sato, who was cast as Henpeita Takechi in the first film, will play the main heroine Kagura in the upcoming second Gintama live-action film instead of the first film's 19-year-old Kanna Hashimoto. Partly because it was officially announced on December 17 that he will join the second film as a different character, and he has admitted the possibility to play Kagura since then. Believe or not, director Yuichi Fukuda posted a photo of Sato trying on Kagura's costume yesterday.
Fukuda says, "It was a clothes fitting session for Jiro Sato-san. Though his size was checked beforehand, it was made much smaller. It must be remade from the first, an obvious mistake by the costume section!!"
佐藤二朗さんの衣装合わせなんですが、採寸したわりには、かなり小さく出来上がって来てしまい、イチから作り直しです明らかに衣装部のミスです‼️ pic.twitter.com/LAp77M8jjz

— 福田 雄一 (@fukuda_u1) 2018年2月12日
Sato also comments, "The only problem left is size. Yes, that is the only problem."
あとはアレだな、サイズのみだ。うん。問題はサイズのみだ。 https://t.co/mP6s9Ib1yX

— 佐藤二朗 (@actor_satojiro) 2018年2月12日
Seeing the photo, Kanna Hashimoto asked Fukuda: "It is funny enough already, I can't think of
any funny response. I want to see Jiro-san playing Kagura the most (laugh). By the way, is that
the costume that I am supposed to wear, isn't it...? Is that a previous one? Or a new one?"
既に面白くて、面白いリプなんて思いつきません。
私が1番、二朗さんの神楽を見たいです。笑
それにしても、その衣装、、私が今から着るって事ですよね、、?笑
前回の衣装かな?今回のかな?@actor_satojiro

— 橋本環奈 (@H_KANNA_0203) 2018年2月12日
Then Fukuda seriously answered: "Kankan, Jiro Sato has no intention to allow you to wear Kagura's
costumes this time. He plans to begin serious action trainings from tomorrow."
かんかん。佐藤二朗は、今回、かんかんに神楽の衣装を着させる気は一切ないようだ明日から本格的にアクション練習に入るらしい https://t.co/dyeC5YUntM

— 福田 雄一 (@fukuda_u1) 2018年2月12日
Highly-anticipated live-action sequel is set to be released in Japan on August 17, 2018
1st film's poster visual
(C)Hideaki Sorachi/Shueisha (C)2017 Movie "Gintama" Production Committee