The voice of Riko (Made in Abyss), Rizu Ogata (We Never Learn)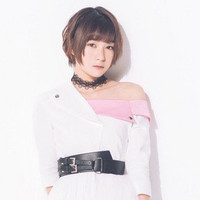 Nippon Columbia announced on July 10 that 19-year-old voice actress Miyu Tomita will release her solo singer debut single on November 13, 2019, two days before her 20th birthday.
She was chosen as a finalist in the first "Anison Star☆Tanjyo!" audition in 2014, then made her voice actress debut by playing Taihei Doma in his childhood in Himouto! Umaru-chan in the following year. Her first leading role was Yume Nijino in the Aikatsu Stars! TV anime (2016-2018), and she has also voiced Otako in Please Tell Me! Galko-chan (2016), Gabriel White Tenma in Gabriel DropOut (2017), Riko in Made in Abyss (2017), Sophie Twilight in Ms. Vampire who lives in my neighborhood (2018), and Rizu Ogata in We Never Learn: BOKUBEN (2019). To perform the OP song for We Never Learn, she formed voice actress unit Study alongside Haruka Shiraishi (Fumino Furuhashi) and Sayumi Suzushiro (Uruka Takemoto).
She posted a message to her fans on her official Twitter account:
"Miyu Tomita, I will be making a solo debut this time! I am really happy to have a wonderful start at my turning point when I will become 20 years old. My next dream is to be an artist who can push your backs. I hope I will be able to deliver such songs to you, so I'll be glad if you can follow me!"
この度、富田美憂、ソロデビューをさせていただくことになりました!
20歳になる節目に素敵なスタートを頂けて本当に幸せです。
次の夢はみなさんの背中を押せるようなアーティストになることです。そんな歌を届けられたらと思いますのでついてきていただけたら嬉しいです!#富田美憂ソロデビュー pic.twitter.com/uVvqxqkaMB

— 富田美憂 (@miyju_tomita) 2019年7月10日
---
Source: Nippon Columbia
©2019 NIPPON COLUMBIA CO,.LTD.