The first DVD volume is set to be released on October 18, 2019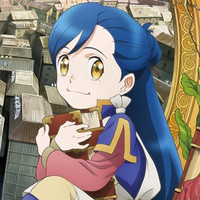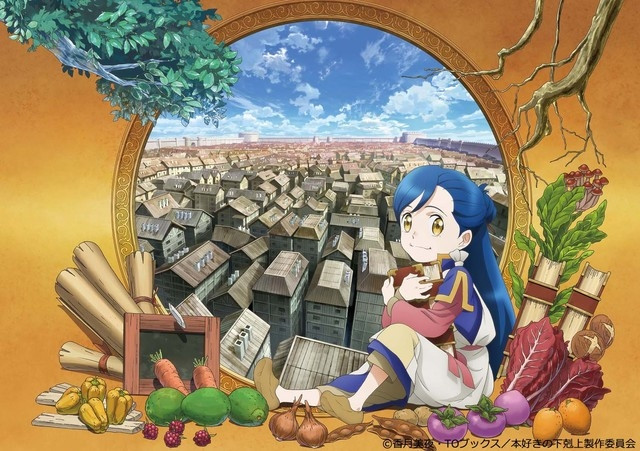 The official website for the upcoming TV anime adaptation of Miya Kazuki's "biblia fantasy" light novel Honzuki no Gekokujou: Shisho ni Naru Tame niwa Shudan wo Erande iraremasen (English edition title: Ascendance of a Bookworm) announced today that it is set to premiere on WOWOW on October 2, 2019, then on Tokyo MX on October 9 and BS Fuji on its following day.
Its DVDs will be released in five volumes from October 18 to December 27, 2019. Meanwhile, a Blu-ray box set including its all 14 episodes and bonus footage will be available on December 27, simultaneously with the fifth DVD volume.
✨BD&DVD情報✨
そして早くもBlu-ray BOX&DVDの発売が決定!!
DVDは10月18日(金)より全5巻で、Blu-ray BOXは12月27日(金)に発売予定です!!
是非是非チェックして下さい!!#本好きの下剋上 pic.twitter.com/IJJabmQlXl

— TVアニメ「本好きの下剋上」公式 (@anime_booklove) August 1, 2019
In addition, special clear files collaborated with the forthcoming TV anime Sorcerous Stabber Orphen will be distributed at Genco's booth (Hall A: No.1333) in the Comic Market 96 to be held at Tokyo Big Sight between August 9 and 12.
Clear file sample image: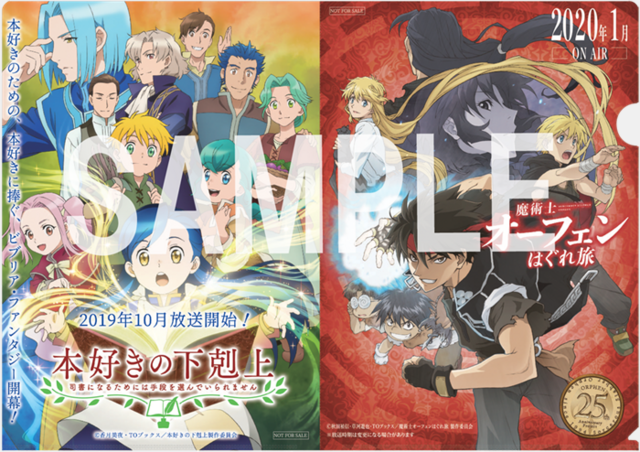 TV anime key visual: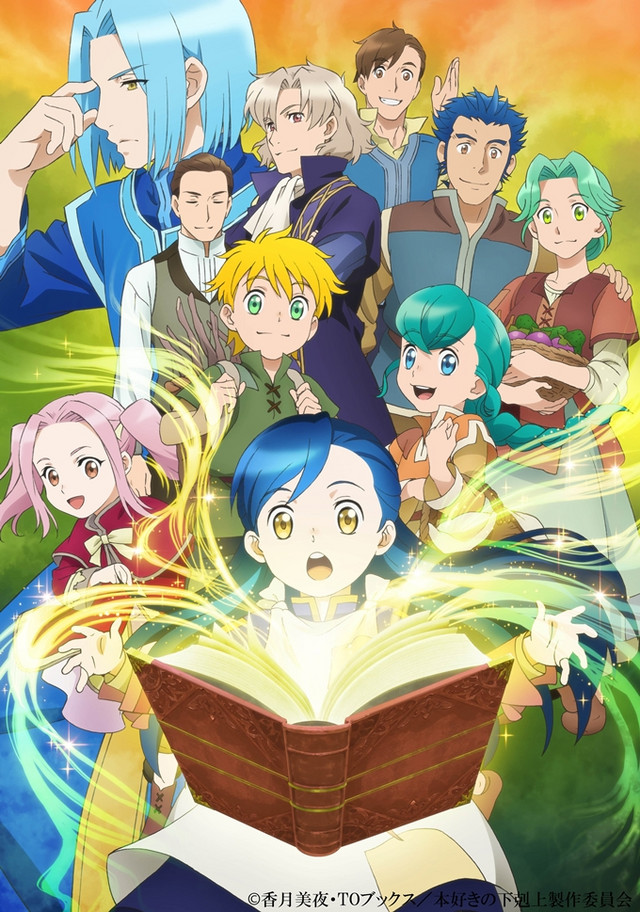 New CM:
---
Main staff:
Director: Mitsuru Hongo (Crayon Shin-chan, Outlaw Star)
Sub director: Yoshiki Kawasaki
Series composition: Mariko Kunisawa (Hatsukoi Limited, Magimoji Rurumo)
Character design: Yoshiaki Yanagida (Tribe Cool Crew), Toshihisa Kaiya (IGPX -Immortal Grand Prix-)
Anime production: Ajiado (Izetta: The Last Witch, How Not to Summon a Demon Lord)
Main voice cast:
Myne: Yuka Iguchi (Index in A Certain Magical Index)
Ferdinand: Sho Hayami (Maximilian Jenius in The Super Dimension Fortress Macross)
Myne's mother Eva: Fumiko Orikasa (Rukia Kuchiki of Bleach)
Myne's father Gunther: Tsuyoshi Koyama (Mercenary in Grimoire of Zero)
Myne's caretaker boy Lutz: Mutsumi Tamura (Kobayashi in Miss Kobayashi's Dragon Maid)
Benno: Takehito Koyasu (Mu La Flaga in Mobile Suit Gundam Seed)
Otto: Satoshi Hino (Ainz Ooal Gown in Overlord)
Mark: Tomoaki Maeno (White Blood Cell in Cells ar Work!)
Frieda: Aya Uchida (Kotori Minami in Love Live!)
Synopsis (from the novel's English edition introduction):
A certain college girl who's loved books ever since she was a little girl dies in an accident and is reborn
in another world she knows nothing about. She is now Maine, the sickly five-year-old daughter of a poor
soldier. To make things worse, the world she's been reborn in has a very low literacy rate and books mostly
don't exist. She'd have to pay an enormous amounts of money to buy one. Maine resolves herself: If there
aren't any books, she'll just have to make them! Her goal is to become a librarian. This story begins with
her quest to make books so she can live surrounded by them! Dive into this biblio-fantasy written for book
lovers and bookworms!
---
Source: Happinet press release
©Miya Kazuki, TO Books/"Ascendance of a Bookworm" Production Committee