Jam out with a new limited Halloween character and the return of Clan Battle and Tower of Luna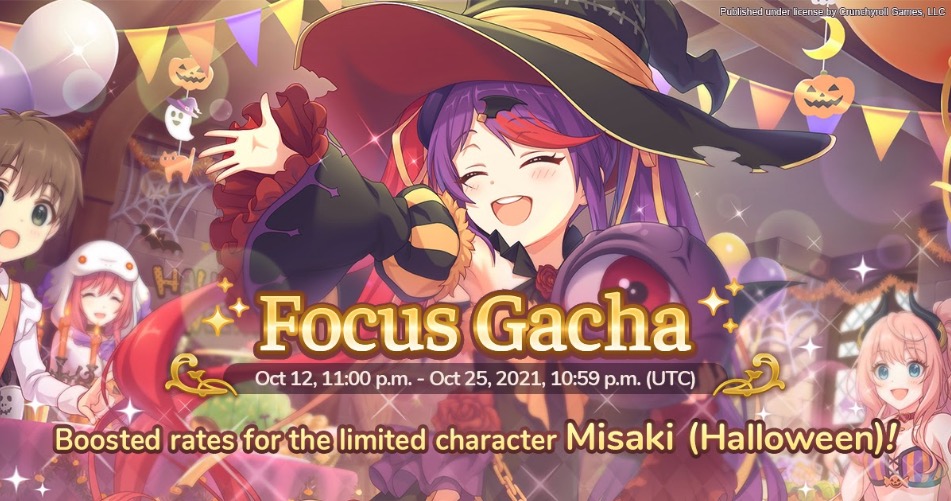 Heyas, Knights! Miyako may have finally gotten her pudding, but that doesn't mean the party has to stop there. In fact, we're just getting started! The Halloween festivities continue into October with a new character, the return of Clan Battle and Tower of Luna, and a whole lot more. Let's see what treats we have in store!
The October festivities keep going with another Halloween-themed character! This time, the "mature lady" of Lucent Academy is donning festive attire in the form of Misaki (Halloween)! With skills that'll charm anyone and magic attacks that can pack a punch, this mage is ready to spook the competition. Plus, check out her new Union Burst, Deadly Pumpkin Party! There ain't no party like a deadly pumpkin party, because a deadly pumpkin party don't stop (and it also lowers magic defense and inflicts curse and stuff, too). Misaki (Halloween)'s here to party - why not have her join yours?
Much like the previous Halloween-themed character, Misaki (Halloween) is a limited character, which means that she won't be added to the regular Premium Gacha rotation after her Focus Gacha ends. As a result, you'll want to make sure to take full advantage of her time in the spotlight. Don't miss this opportunity!
The Misaki (Halloween) Focus Gacha will be live from 10/12 23:00 UTC to 10/25 22:59 UTC. Please do not tell her we put "mature lady" in quotes.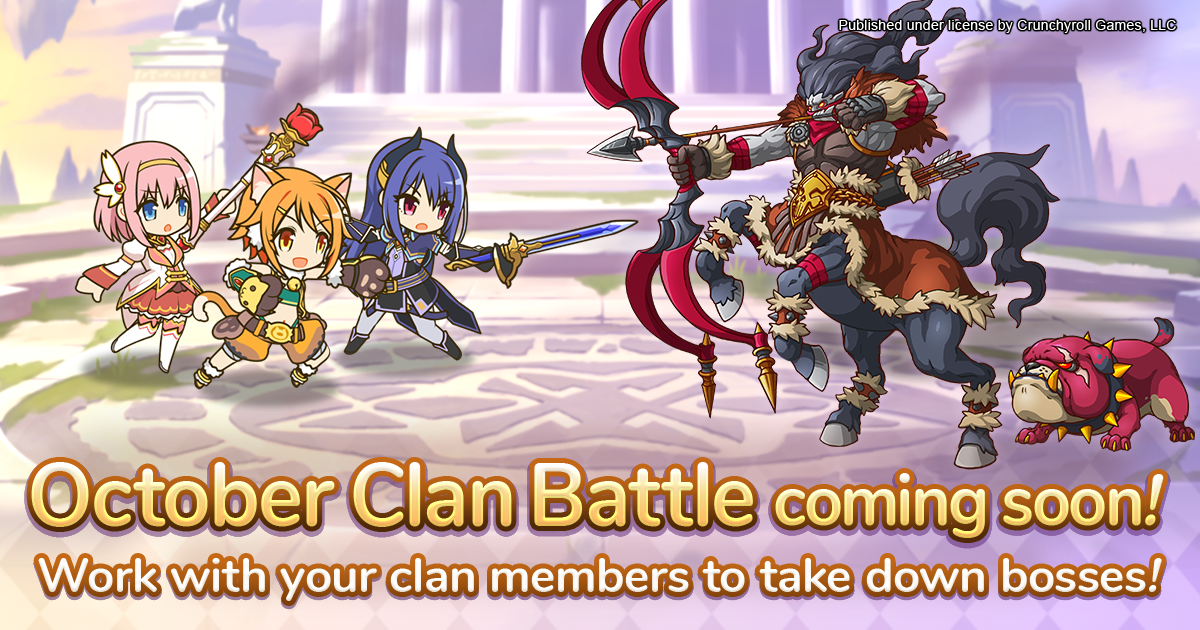 Gather around, Knights! It's time for Clan Battle. Work with the aid of your fellow clan members to take on monsters too powerful for adventurers to handle alone. The October Clan Battle features a gauntlet of five bosses, and you'll be able to do up to three clashes a day on whatever boss your clan's currently on, earning a clash for every 300 stamina spent. After the event is over, you'll earn precious Memory Shards, Clan Coins, and Jewels, depending on how well your clan did! The reward structure is the same as before, but you'll earn Io Memory Shards this time around.
New for this month's clan battle are new bosses (of course), but also a new 3rd difficulty tier starting from your clan's 6th lap forward. You wanted more challenge? We're giving you more challenge.
The October Clan Battle will run from 10/20 13:00 UTC to 10/25 7:59 UTC.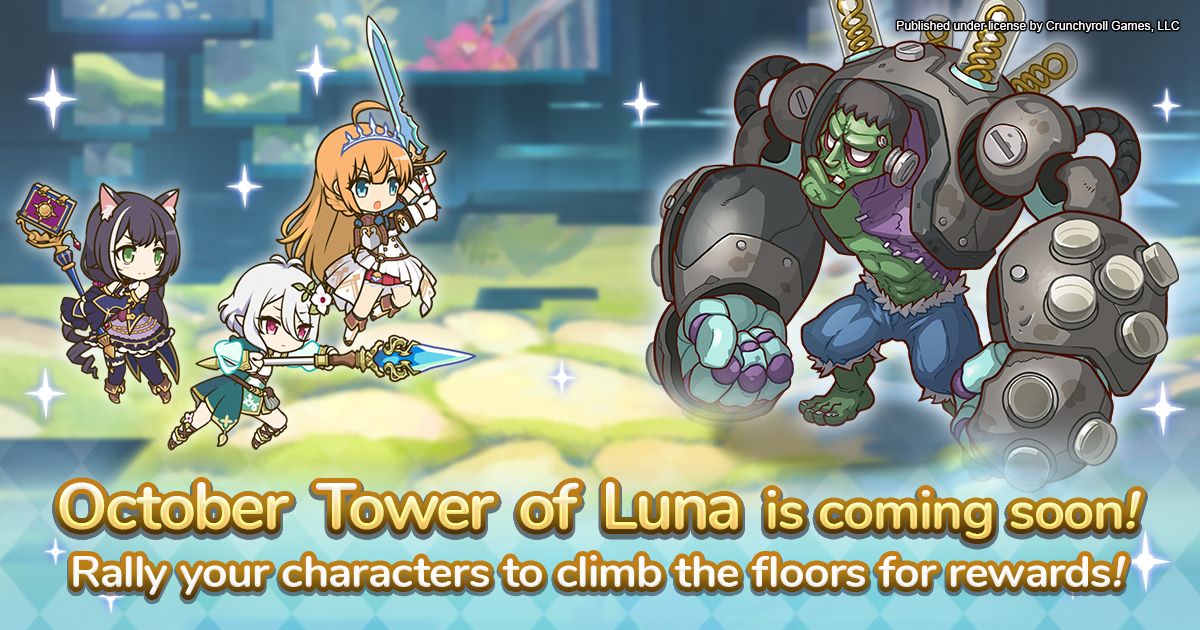 Prepare yourself to face a limited-time challenge again, as the Tower of Luna opens its doors once again for challengers to climb! The supercharged Dungeon is back again (and about time, too), and this time, it's in the mood with another 40 floors of unique monsters, shadows, and a new set of bosses to best, with plentiful rewards for your troubles. Don't worry, your progress from the last Tower of Luna event is carried over and you can continue the ascent from the floor you left off. Remember, your party of characters can carry over between floors (assuming none of them hit 0 HP), and you can reset your characters to full HP once a day. Can you make it all the way up to Floor 110?
The Tower of Luna reopens its doors for five days, from 10/13 13:00 UTC to 10/18 15:59 UTC. If you haven't done so already, you'll need to finish Main Story Quest 9-1 in order to access the Tower. We wish you luck, adventurers!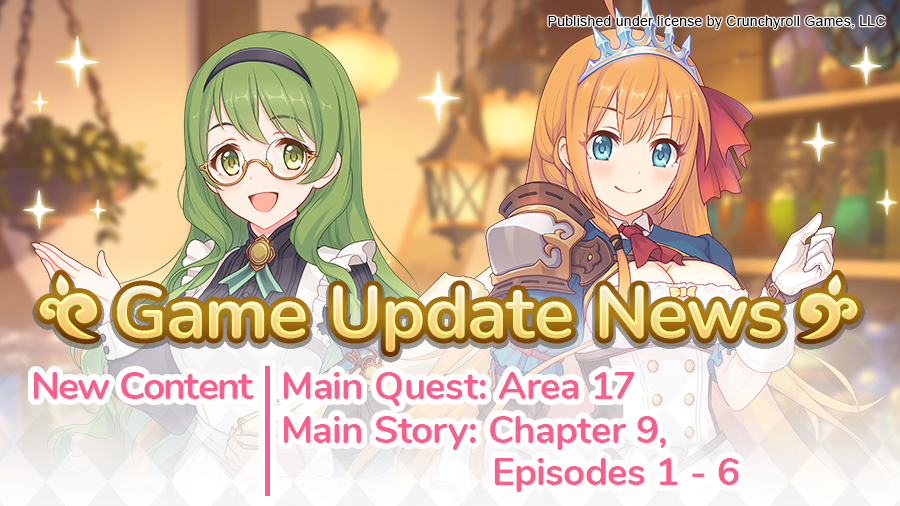 We've also got a new main content drop for you, too! Cross the frozen tundras and make your way to the Fides Ice Fields, featuring new enemies, new challenges, and new rewards for your troubles. Here, you'll find new equipment that can raise your units to a maximum of 4 equips at rank 11, as well as new hard stage nodes for the perpetually peckish Pecorine, the perpetually gazing Eriko, and the perpetually... uh, vampiric Illya. Clearing your way through Area 17 will also unlock new tidbits of the story, as you'll be able to unlock Episodes 1-6 of Chapter 9.
We'll also be increasing the level cap from 110 to 112. Prepare your potions and mana, because it'll be here before you know it!
The October content drop hits on 10/12 at 13:00 UTC.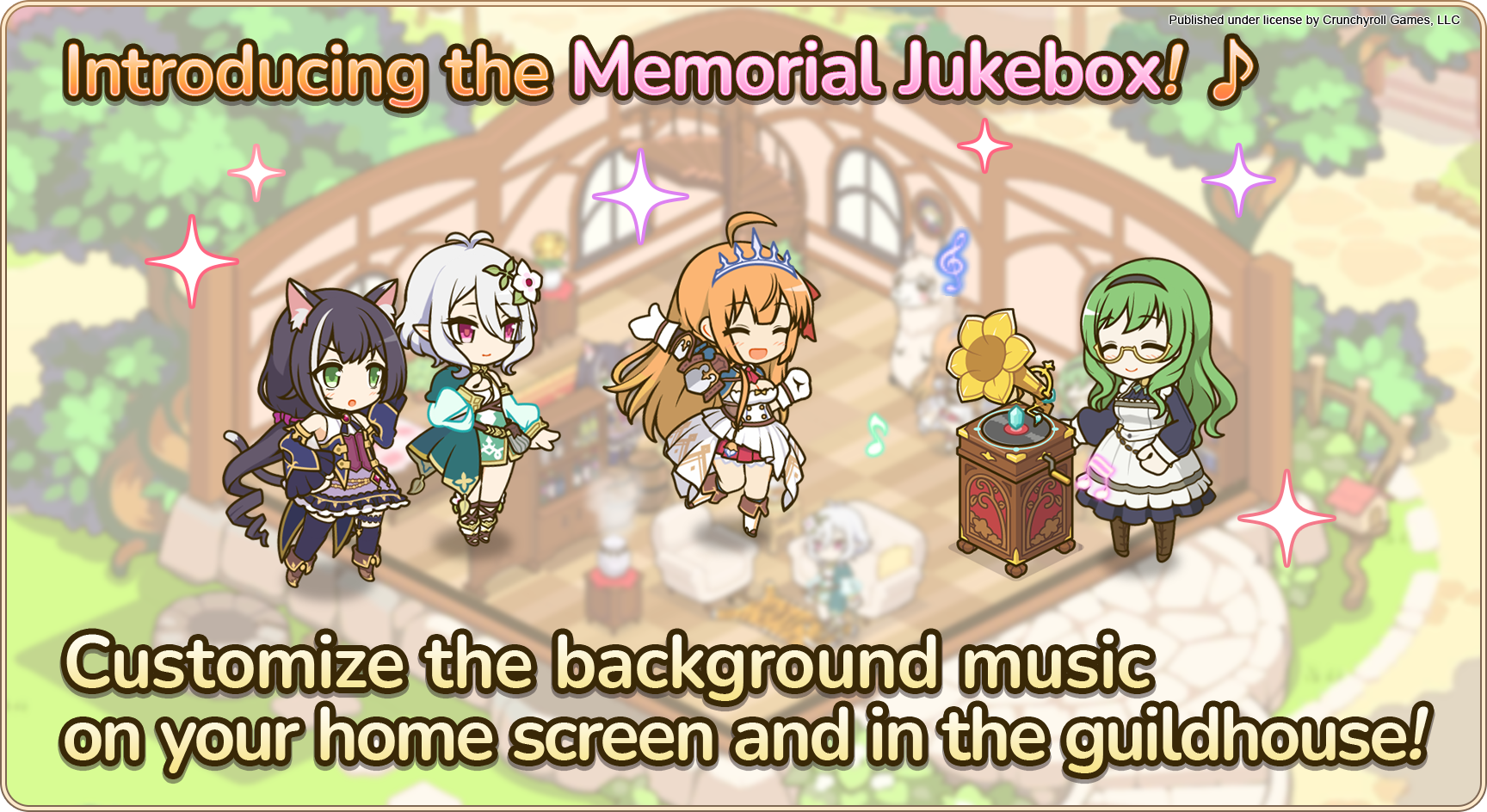 There's also a brand new customization feature coming, too - introducing the Memorial Jukebox! With this brand new item, you'll be able to customize the background music, both on your home screen and within the guildhouse. As much of a banger as Lost Princess is, you'll be able to get a change of pace on your home screen, as well as be able to pick the right song to match your guildhouse's vibe. It's time to become the jukebox lord and jam out to whatever tunes your heart desires.
The Memorial Jukebox is available for free in the furniture shop and you will be able to buy songs with rupies. The first 17 songs available are as follows:
Lost Princess
Connecting Happy!!
The Journey Begins
Forest Winds
Mesarthim
Hatsune's Perfect Present
Ziz
Smiley Contrast
Minotaurus
Little Lyrical Adventure
Alma
Little Adventure
Glutton
Trick or Pudding! The Promised Halloween Party
Jack-o-Pudding
More! Party Night for Two
Sparkling Ice Crystals
The Memorial Jukebox chimes in on 10/12 at 23:00 UTC.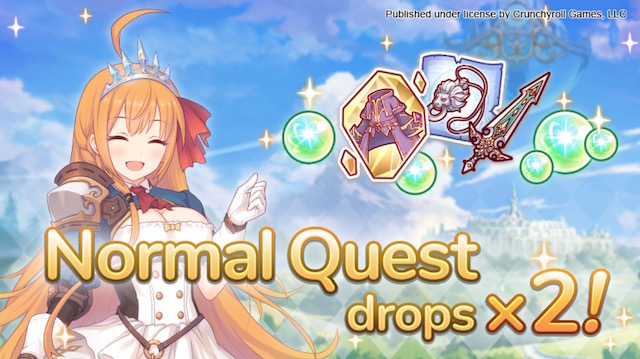 You know the deal - we're rounding out the update with some double drop campaigns to share! First off, double drops make their way to Normal Quests, meaning that you'll be able to find double the equipment, mana, and other items from Normal Quests during the campaign period. Sounds like a perfect opportunity to stock up on items from the new Area too, as things will be twice as nice (without being twice as ice).
The Normal Quest Double Drop campaign runs for six days, from 10/16 13:00 UTC to 10/21 12:59 UTC.
After getting your fill from double drops from Normal Quests, the double drops make their way onto Hard Quests. During the campaign period, you'll be able to feast yourself on double the amount of Memory Shards, equipment, and mana while completing Hard Quests. There is hardly a better time to drop into the harder difficulty.
The Hard Quest Double Drop Campaign also lasts for six days, from 10/21 13:00 UTC to 10/26 12:59 UTC.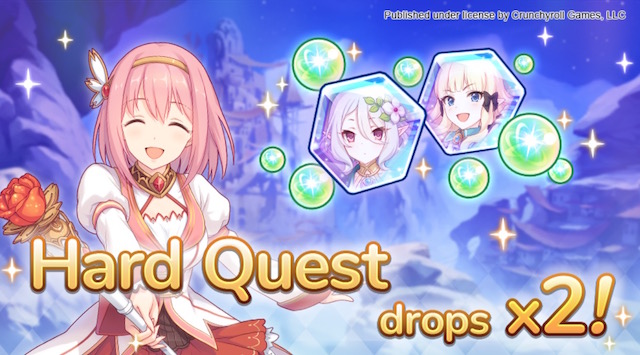 Included below is a summarized version of all the updates announced today, for easy reading and accessibility. Thank you for all your support, and we hope you continue to enjoy Princess Connect! Re: Dive!
See you in Astraea, Knights!
— Crunchyroll Games
*Note: All event details may be subject to change. Please check the in-game notifications at the start of the events for the full details.
Misaki (Halloween) Focus Gacha (10/12 23:00 UTC to 10/25 22:59 UTC)

Boosted rate-up for Misaki (Halloween), also available for redemption via character exchange points.
Misaki (Halloween) is a limited unit and will only be available during the Focus Gacha period.

October Clan Battle (10/20 13:00 UTC to 10/25 07:59 UTC)
Tower of Luna (10/13 13:00 UTC to 10/18 15:59 UTC)

Unlocked after completion of Main Story Quest 9-1.
Complete each floor for rewards.
Reset your teams back to full health daily.
Progress made during this month will carry over towards future Tower of Luna events.
Floors 71-110 and EX Floor 110 Unlocked.

October Content Update (10/12 13:00 UTC)

Main Quest Area 17 unlocked.
Level cap increased from 110 to 112.
Character equipment cap increased from 11-3 to 11-4
Chapter 9 of the main story unlocked, up to Episode 6.

Guildhouse Updates (After 10/12 23:00 UTC)

Memorial Jukebox will be added to the Guildhouse.

Allows you to customize the background music on your home screen and in the guildhouse.

Normal Quest Double Drop Campaign (10/16 13:00 UTC to 10/21 12:59 UTC)
Hard Quest Double Drop Campaign (10/21 13:00 UTC to 10/26 12:59 UTC)