Clan Battle, Tower of Luna, Guildhouse Improvements, a New Area… Everything is Here!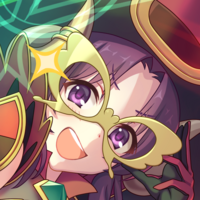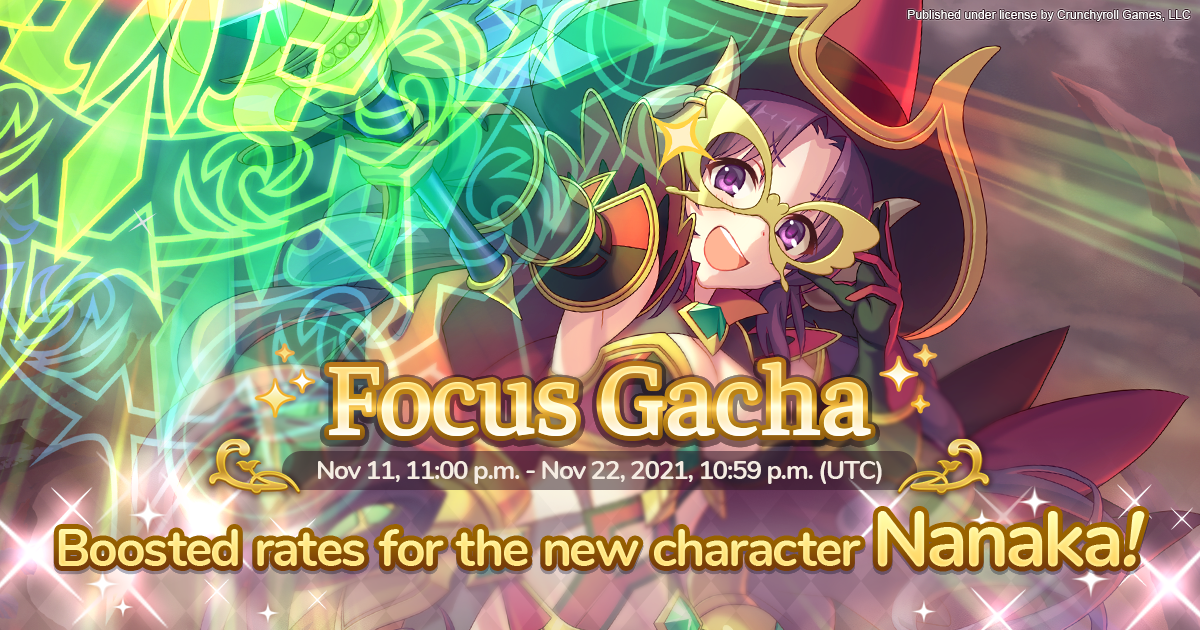 Heyas, Knights! It's early November, so you know what that means - leaves falling to the ground, colder weather approaching, and a bit of a lull in the tides. But we're not slowing down at all - in fact, November's probably one of the most jam-packed months of content for Princess Connect! Re: Dive yet! Let's leave no leaf unturned and heat it up with brand new reports to report, announcements to announce, and double drop campaigns to… campaign for, I guess?
Magical girl Nanaka is here! Voiced by Haruka Yoshimura, the last member of Twilight Caravan is ready to make her magical appearance. While she's definitely got a bit (read: a lot) of a geeky side to her, when it comes to shredding through enemies, Nanaka's toolkit will be a welcome addition to any magic team. Her Focus Gacha is the best time to recruit her to your party, so don't miss out on her big magical girl slash geeky gamer girl energy.
Much like any good anime blu-ray bundle, we're also including a great pack-in bonus for Nanaka's Focus Gacha! Mages are all the rage these days. Illya and Misaki will also see a boosted draw rate, meaning you're more likely to find other mature magic damage dealers as well. This is the perfect opportunity to add more characters that deal damage of the magic variety!
The Nanaka Focus Gacha will run for 12 days, from 11/11, 23:00 UTC to 11/22, 22:59 UTC.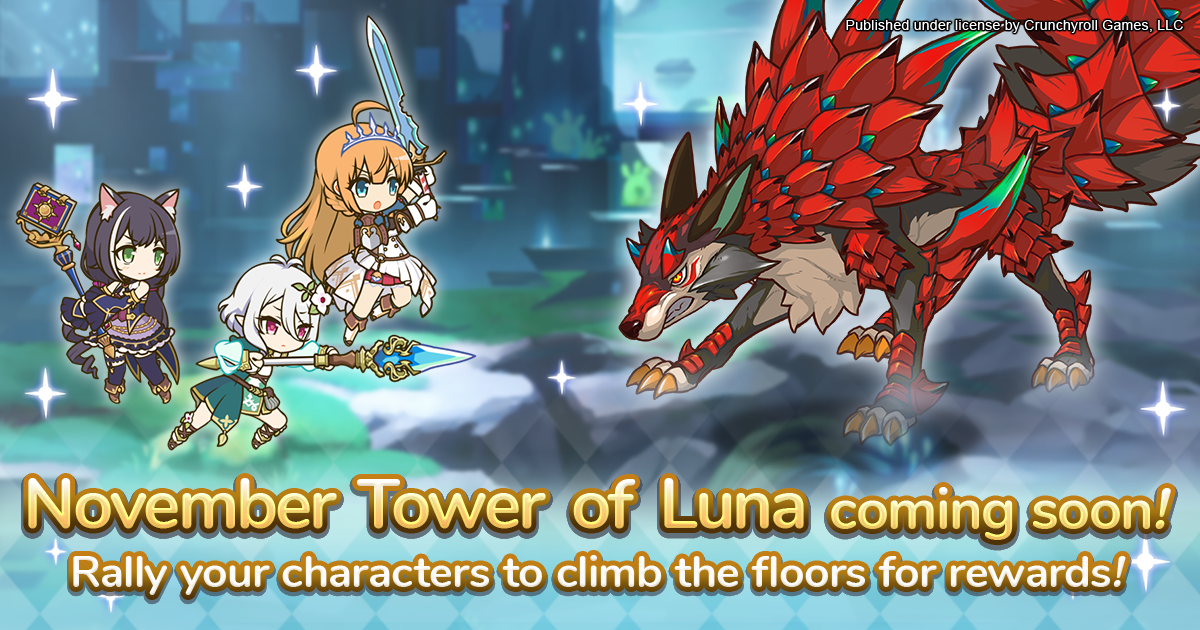 Get your hiking boots ready for another limited-time challenge, as the Tower of Luna opens its doors once again for challengers to climb! The supercharged Dungeon is back once again and this time, it's prepared a new set of 20 floors complete with unique monsters, shadows, and a new set of bosses to beat, with plentiful rewards for your troubles. Don't worry, your progress from the last Tower of Luna event is carried over and you can continue the ascent from the floor you left off. Remember, your party of characters can carry over between floors (assuming none of them hit 0 HP), and you can reset your characters to full HP once a day. Can you make your way up to the 130th floor and complete the EX mission?
The Tower of Luna reopens its doors for five days, from 11/10, 13:00 UTC to 11/15, 15:59 UTC. If you haven't done so already, you'll need to finish Main Story Quest 9-1 in order to access the Tower. We wish you luck, adventurers!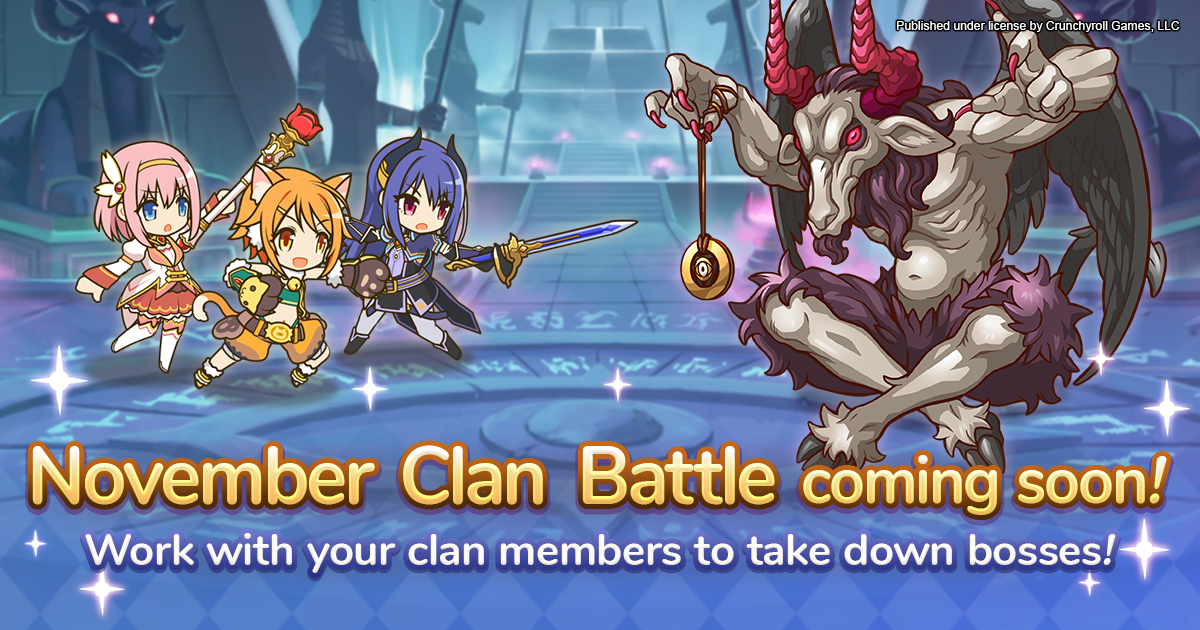 It's that time again, Knights - get ready for Clan Battle! Work with the aid of your fellow clan members to take on monsters too powerful for adventurers to handle alone. The November Clan Battle features a gauntlet of five bosses, and you'll be able to do up to three clashes a day on whatever boss your clan's currently on, earning a clash for every 300 stamina spent. After the event is over, you'll earn precious Memory Shards, Clan Coins, and Jewels, depending on how well your clan did! The reward structure is the same as before, but you'll earn Suzume Memory Shards this time around.
The November Clan Battle will run from 11/17, 13:00 UTC to 11/22, 7:59 UTC.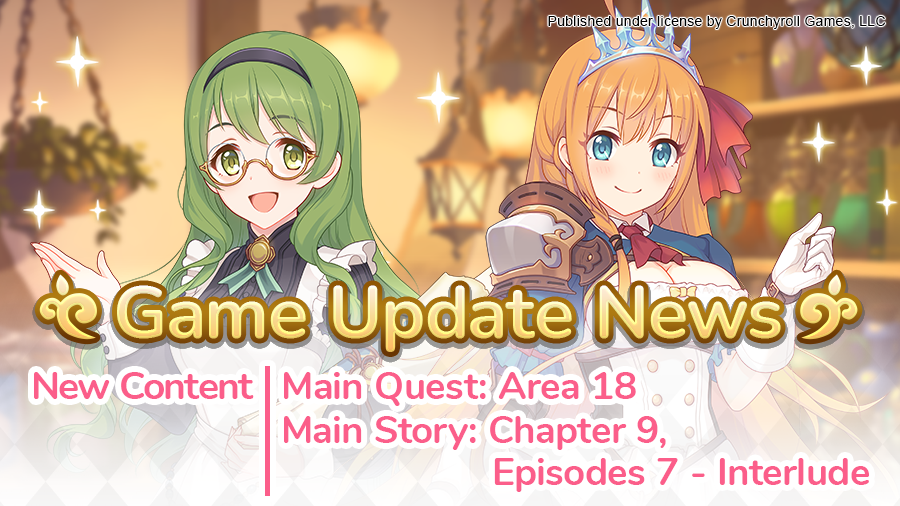 November also brings about a new main content drop for you, too! Cut your way across the greenery as you make your way through Phaethon Fields (North), featuring new enemies, new challenges, and new rewards for your troubles. Here, you'll find new equipment that can raise your units to a maximum of 5 equips at rank 11, as well as new hard stage nodes for Rei, Shiori, and Saren. Clearing your way through Area 18 will also unlock up to the end of Chapter 9 of the main story. (By the way, if you're not reading the main story, you are missing out. Highly recommended.)
We'll also be increasing the level cap from 112 to 115. Better start preparing that Mana and EXP potions, as this content will be here before you know it!
In addition, new BGM will be added to the Memorial Jukebox for further customization, and Memory Shards for Tsumugi will also be added to the Princess Arena Shop. This seamstress just knows how to tug at our strings.
The November content drop hits on 11/11 at 13:00 UTC.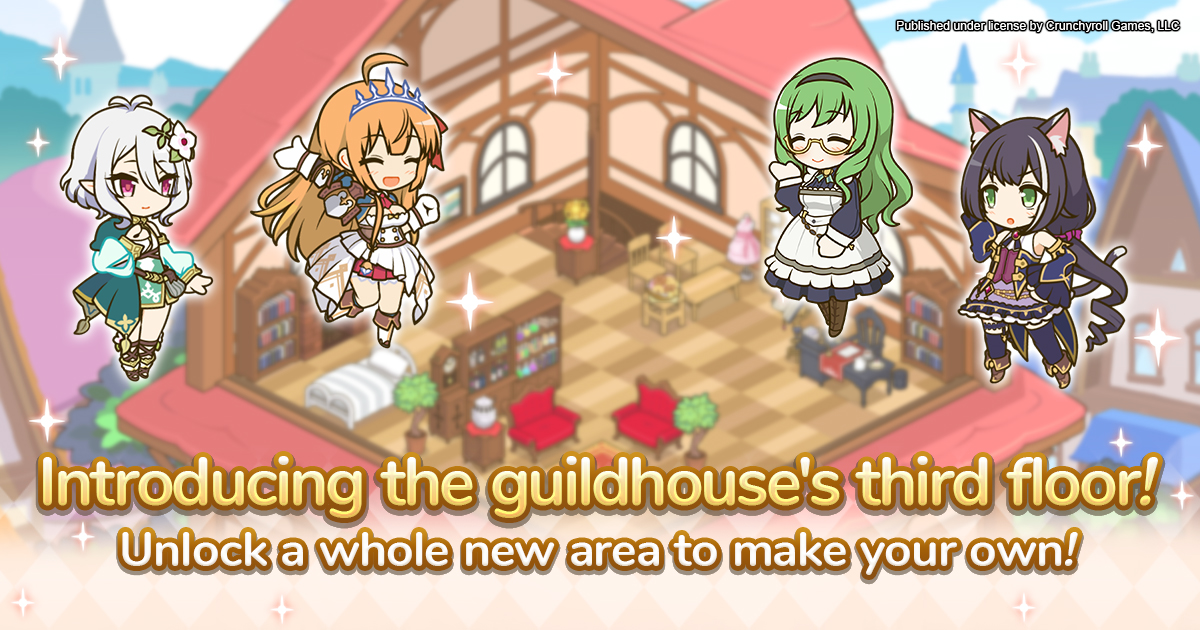 The Tower of Luna won't be the only floor you'll be ascending as the third floor of the guildhouse is also being unlocked in this update! With so many new characters and furniture to display and place, hopefully, this new floor raises the ceiling of what's possible with your own guildhouse. We're certainly looking forward to more of your creative designs with an additional floor to work with!
The third floor of the guildhouse will unlock after 11/16, 23:00 UTC.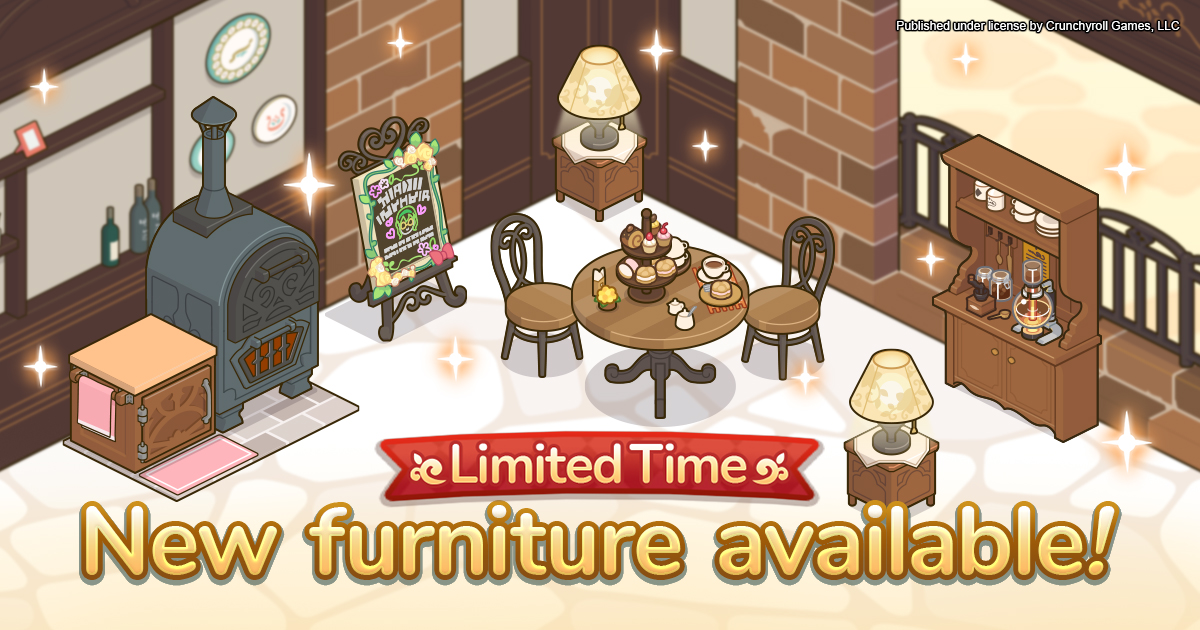 Speaking of customization, you're in for yet another treat! If you were a fan of our previous sets of blue or white furniture, you'll love our latest collection of brown rustic cafe-inspired furniture. Whether you want to order some pastries, tea, or even an omelet, this set is only here for a limited time so make sure to set up shop before it disappears!
This limited-time furniture set will be available starting from 11/11, 23:00 UTC, so be sure to make way to set up the cafe in your guildhouse. This furniture set will only be available until 12/11, 22:59 UTC, so make sure to put your order in before time runs out! The full list of cafe-inspired furniture is as follows:
Professional Oven
Cafe Coffeemaker Cupboard
Cafe Lamp
Wooden Cafe Table & Chair
Wooden Cafe Chair
Wooden Cafe Counter
Wooden Cafe Partition
Fancy Cafe Menu Board
Upward Wooden Ladder
Downward Wooden Ladder
Traditional Cafe Wall
White Stone Flooring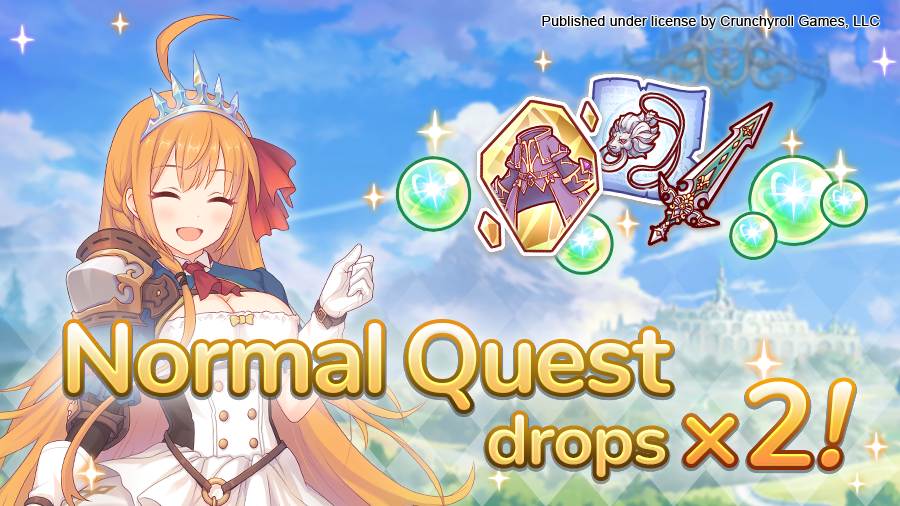 With so much content dropping in this update, you're sure to need Mana and the latest equipment for your heroines. Well, we've got you covered with another round of double events. During the Normal Quest Double Drop Campaign, you'll find twice the equipment, Mana, and other items when completing Normal Quests during the campaign period.
The Normal Quest Double Drop Campaign runs for six days, from 11/13, 13:00 UTC to 11/18, 12:59 UTC.
After filling up on the goodies in your cafe-inspired guildhouse and Normal Quests, it's time to head into the Hard Quest Double Drop Campaign, where you'll be able to get twice the amount of Memory Shards, equipment, and Mana while completing Hard Quests. It's hard not to get excited for all the drops you're about to see!
The Hard Quest Double Drop Campaign also lasts for six days, from 11/18, 13:00 UTC to 11/23, 12:59 UTC.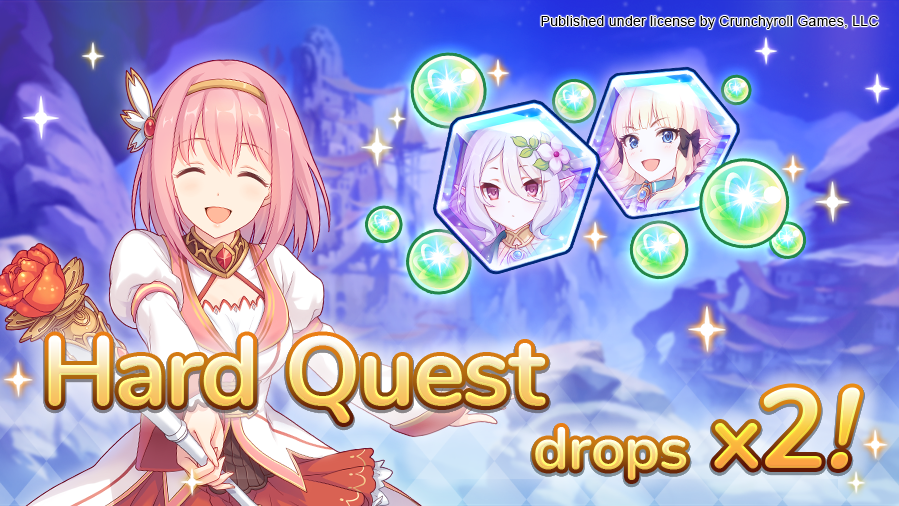 For easy reading and accessibility, included below is a summarized version of all the updates announced today. Thank you for all your support, and we hope you continue to enjoy Princess Connect! Re: Dive!
See you in Astraea, Knights!
— Crunchyroll Games
*Note: All event details may be subject to change. Please check the in-game notifications at the start of the events for the full details.
Nanaka Focus Gacha (11/11 23:00 UTC to 11/22 22:59 UTC)

Boosted rate-up for Nanaka, Illya, and Misaki.
Nanaka, Illya, and Misaki are available for redemption.

Tower of Luna (11/10 13:00 UTC to 11/15 15:59 UTC)

Unlocked after completion of Main Story Quest 9-1.
Complete each floor for rewards.
Reset your teams back to full health daily.
Progress made during this month will carry over towards future Tower of Luna events.
Floors 111-130 and EX Floor 130 Unlocked.

November Clan Battle (11/17 13:00 UTC to 11/22 07:59 UTC)
November Content Update (11/11 13:00 UTC)

Main Quest Area 18 unlocked.
Level cap increased from 112 to 115.
Character equipment cap increased from 11-4 to 11-5
Chapter 9 of the main story is fully unlocked.
Tsumugi Memory Shard added to Princess Arena Shop.
New BGM added to the Memorial Jukebox.

Guildhouse Updates

New limited-time furniture added to the Guildhouse Shop (11/11 23:00 UTC to 12/11 22:59 UTC)
Third floor of Guildhouse (Treehouse) unlocked (After 11/16 23:00 UTC)

Normal Quest Double Drop Campaign (11/13 13:00 UTC to 11/18 12:59 UTC)
Hard Quest Double Drop Campaign (11/18 13:00 UTC to 11/23 12:59 UTC)