Anime panels, posters, character goods, and more!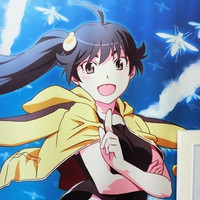 Gamers is a Japanese retail chain specialized in anime/manga/game-related character goods. Its headquarters store in Akihabara had held an exhibition named "Monogatari Series Museum" which featured the anime series based on Ishin Nisio's popular light novel series on the seventh floor from December 22nd, 2012 to January 6th, 2013. It was rather small to call "museum" in fact, but you could still find many interesting Monogatari stuff in the room.
Related:
"Sword Art Online" Exhibition at Kotobukiya Akihabara Store
"Hidamari Sketch" Exhibition at Animate Akihabara Store
*all of the photos were taken by Mikikazu Komatsu with the store's permission
The event advertisement
Gamers Akihabara store
Illustration on the elevator's door
The exhibition section on the 7th floor
Flags in the ceiling
"Bakemonogatari" panel
"Nisemonogatari" panel
"Nekomonogatari (Black)" panel
"Nekomonogatari (Black)" poster
Karen Araragi from "Nisemonogatari"
Anime scene panels
Original art for the end card
Illustrations for "Anime Bakemonogatari Official Guidebook"
"Bakemonogatari" girl's school uniform
"Nisemonogatari" Shinobu Oshino's parka
"Nisemonogatari" Karen Araragi's jersey
"Monogatari" series rare T-shirts
DVD/novel section
Character goods/pre-order section
© Ishin Nishio/Kodansha/Aniplex