Fashionable Otaku fanart by Japanese artist NEMOBRAND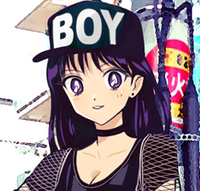 Just like how any anime fan fantasizes about characters in particular settings, NEMOBRAND asked "what if anime characters existed in real life?" and that's how his creative work started. There are many different techniques to bring anime characters to life, but his style captures familiar characters in a hip, urban environment by going out to the streets of Shibuya and Harajuku. The result produces a more realistic view than expected. Check out the examples below.
DISCLAIMER: None of the art presented is the property of myself or Crunchyroll. All characters, series and brands are tm and © their respective creators and corporate owners. All art is the creative property of their respective artists and not the official art of the original content. These are created out of respect to the original contents and there is no intention of business or sale intended.
Aisaka Taiga from ToraDora
Saotome Ranma from Ranma
Mizuno Ami from Sailor Moon
Hino Rei from Sailor Moon
Kinomoto Sakura from Cardcaptor Sakura
Chi from Chobits
Hoshino Ruri from Martian Successor Nadesico
Anime characters usually look out of the ordinary if transplanted to realistic settings, but they perfectly fit in the out-of-ordinary Harajuku-style background. Even their rainbow colored hair makes them look more believable when matched with Japanese street fashion in NEMOBRAND's fanart. He chooses characters from anime series that he watch and goes location hunting for spots where many fashion street snap shots for magazines are taken. He even uses clothing from actual brands for an extra layer of reality.
NEMOBRAND does not particularly see any connection in anime to street fashion, but does recognize more and more street kids of Shibuya and Harajuku enjoying anime as one of their hobbies. He feels as if fashion is trying to get more interconnected with anime with recent trends that he sees and fashionable otaku apparel is experiencing success. NEMOBRAND has not made any commitment to keep producing more work in this series, but when he does, he uses #MOESTREET when it's posted on Twitter and on his Tumblr page.
Fanart by NEMOBRAND
Illustrator / Graphic Designer