The new webcomic by Hiroyuki Takahashi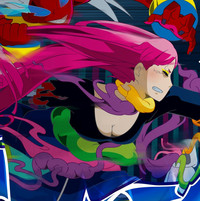 PREPARE FOR ZAP OUT! The first major battle between the main characters in HYPERSONIC music club and the evil Extra Dimensional Demon Girls finally reaches its climax in a shocking new story page by artist Hiroyuki Takahashi! See who wins the desperate fight below!
For those of you just joining us, HYPERSONIC music club is artist Hiroyuki Takahashi's first original webcomic and is exclusive to Crunchyroll (although you can read it here and here, too).
Our story is set in the year X85X, at a prison / school for young wayward cyborgs who are prone to partying and playing loud music when no one is looking. This time though, they may have gone a bit too wild, because now, a trio of creatures from beyond have arrived to spoil the fun. The fisticuffs have been flying back and forth for a few pages now, so let's see what happens next…
----
Music club wins this round! Although we're likely to see the price they've paid in our next update. There's only a few more pages left for Chapter One of HYPERSONIC, but big plans are in the works for more story and art to continue the saga.
MEANWHILE, here's some bonus art… Hiroyuki Takahashi's original pencils for our new page! One funny thing to note: LANYA originally lost her right arm earlier in the battle, but our busy artist mistakenly drew her left hand missing in his first draft. All that was fixed in the final version!
STORY RECAP! We normally post all the pages to date when we do a HYPERSONIC story update, but I think that this time, it might be better just to focus on the now-completed fight sequence. For the full story, you can always read everything here and here! Enjoy....
-------------------------
HELP SUPPORT HIROYUKI TAKAHASHI AND HYPERSONIC MUSIC CLUB! STUFF FOR SALE!
The amazing cover art for the "Makina Exclamation G" CD is reproduced on this limited-edition high-quality print by HYPERSONIC artist Hiroyuki Takahashi. The artwork is 11" x 17" size and is printed on gloss cover paper stock.
ALSO, we're offering the original "Makina Exclamation G" CD itself, 14-tracks of dance music mixed by DJ DEPATH in the best Japanese underground music tradition. To make it even better, the cover jacket is SIGNED by Hiroyuki Takahashi himself! Check it out! You can sample the album itself below!
From the artist of HYPERSONIC music club! Hiroyuki Takahashi's original cyber characters come to life in this deluxe full color 26 page illustration book. Now is your chance to own this visually stunning item, originally printed in limited quantities for sale at 2014 summer Comic Market in Japan.
From the artist of HYPERSONIC music club! Hiroyuki Takahashi reveals his unique creative process in this book which collects black and white sketches and line art for his original characters in a 64 page softcover book. Now is your chance to own this visually stunning item, originally printed in limited quantities for sale at 2014 winter Comic Market in Japan.
The amazing retro-game themed promo video for TORIENA and M7kenji's "Pulse Fighter" gets the deluxe treatment in this DVD-ROM containing a wealth of video and musical extras. Contains the full Pulse Fighter PV, rough cut, and outtakes, along with six bonus remixes of the "Pulse Fighter" song, and pixel data. Also includes a full color booklet featuring art by TORIENA herself. Exclusive from MADMILKY RECORDS. Compatible with PC and Mac. DVD package is signed by TORIENA herself!
MEME NOISE is the new EP by TORIENA featuring vocals by Kyun-Kun. Five tracks of stunning, futuristic chiptunes dance pop, including multiple versions of the title track. SIGNED BY TORIENA! Support the artist!
----
NOW, as we prepare to dive deeper into the world of HYPERSONIC next week, here are the main links to keep track of!
hypersonic-music-club.tumblr.com (All art, bonus features)
hypersonic-comic.tumblr.com (story pages only, presented in standard webcomic format)
HYPERSONIC music club on Twitter (Updates, RTs of cool Japanese stuff)
HYPERSONIC music club on Crunchyroll Manga
Hiroyuki Takahashi on facebook (The artist himself!)
STAY HYPERSONIC, FIND THE MYSTERY FREQUENCY, AND SEE YOU NEXT WEEK!
------
Patrick Macias is editor in chief of Crunchyroll News and Otaku USA magazine. He is also the author of Paranoia Girls webcomic.