An in-depth look at the director of Serial Experiments Lain, Ryutaro Nakamura.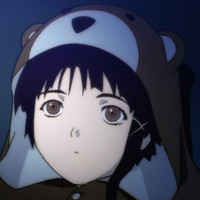 Creative spotlights are easily digestible overviews of a director or animator's body of work, style, and vision. My goal for these articles is to highlight some of the exceptional and possibly lesser-known creative voices in anime. I'm hoping these write-ups encourage people to explore more of what anime has to offer.
The spotlight for this week will be on Ryutaro Nakamura, the late director of the cult classic, Serial Experiments Lain.
Ryutaro Nakamura was a key figure in anime who gave us many imaginative and insightful shows all the way until his untimely passing in 2013. Though he will always be remembered for his monumental cyberpunk work, Serial Experiments Lain, his portfolio was that of a brilliant creator; an individual who challenged the animated medium with his masterful visuals and engrossing narratives. He was a director who was never complacent with one style of presentation, which is the best way to summarize the direction of his expansive career.
Despite being known for denser, philosophical works like the aforementioned Lain and Kino's Journey, many of Nakamura's earliest productions were colorful children's fantasies. Starting his career as a Madhouse animator, he worked under the great Osamu Dezaki doing in-betweens and key animation. It wasn't long before Dezaki recognized his talent for using animation to conceptualize and express more abstract ideas. With one of anime's pioneers singing his praises, this was already a sign that Nakamura held great creative potential.
Around the mid-80s, Nakamura made the switch from animating to directing. He went freelance for a period of time before joining Triangle Staff, a studio founded by ex-Madhouse staff. There, he made his mark on the industry by directing children's anime, a couple of which were adaptations of writer-poet Kenji Miyazawa's stories. Coincidence or not, Nakamura was an ideal fit for adapting Miyazawa's literature into accessible pieces of animation.
While many modern anime fans know all too well the struggle of adapting light or visual novels, Nakamura had no difficulty transitioning Miyazawa's literature into visually poignant animation. With his roots as an animator, and a student of Dezaki's style of limited-animation, he graced the screen with adaptations of Miyazawa's The Twin Stars and The Life of Budori Gusko. Through his commanding use of visuals and color, The Twin Stars was a short 30-minute film driven almost entirely by its visceral strength. At its core, a simple tale carrying Miyazawa's key messages of moral obligation, the film was a showcase of Nakamura's ability to tell a story using stylized character designs and long takes accompanied by the beautiful music of Yoshihiro Kanno.
During the late-90s, Nakamura's career shifted when producer Yasuyuki Ueda approached him with the scenario for Serial Experiments Lain as well as Yoshitoshi ABe's concept artwork and Takhiro Kishida's character designs. Intended to be a multimedia project spanning TV anime, video game, and CD, Lain was an ambitious science fiction work born out of the turn of the millennium. Created during a time period where the internet was starting to become more widespread, Lain encapsulated a lot of the fear and uncertainty surrounding the prospective technology.
Although there's a myriad of interpretations about what Serial Experiments Lain is truly about, Nakamura has stated before in an interview that he feels the story of Lain is about examining the relationships between the self and the world. From his view, he wanted Lain to be a show that would resonate with youth audiences, exploring the heroine Lain's disconnect with the real world and how she found her identity by retreating into the virtual world of "The Wired."
There's no shortage of anime these days with plotlines about ordinary protagonists being drawn into video game or fantasy worlds. However, what elevates Serial Experiments Lain above that ilk is Nakamura's approach to expression. There are many moments in the anime which feature long takes without any dialogue. The only sound that can be heard during these recurring scenes is the droning of power cables. Nakamura approached the Lain anime with sound being more important than the script. He wanted to take a more existentialist approach to create an interpersonal work where a young girl solemnly searched for herself amidst the ubiquitous virtual network connecting all human beings.
Serial Experiments Lain may be a work with some dated digital animation, but its core themes are absolutely timeless. Especially with our lives revolving around the internet, social media, and digital technology, Lain remains as relevant as ever. Nakamura may have taken a darker turn in his career (perhaps due to Chiaki J. Konaka's influence), but he never abandoned the thoughtfulness behind his own artistic endeavors.
Post-Lain, Nakamura directed another cult classic anime, Kino's Journey. Once again displaying his proficiency with transitioning novels to animation, he brought author Keiichi Sigsawa's grim fable to life through his experimental visual style. Adapted in a non-linear manner, the anime follows the heroine, Kino, and her talking motorcycle companion, Hermes, as they travel through fantastical towns and environments. Many of their encounters are intended to be parables of humanity's vices or flaws that exist within real-life organizational systems. Kino's Journey is not subtle in the least about its social satire, but the anime is grounded by Nakamura's directional choices. He poses these exaggerated stories of people's failures as think-pieces about human nature, likening the anime to a dark fairy tale as opposed to a realistic depiction of humanity.
Though it's unfortunate that Ryutaro Nakamura had to leave us so soon when he easily had another decade of brilliance ahead, the legacy that he left behind on anime will not be forgotten. The impact that Serial Experiments Lain had on not just anime, but on our perception of the world as a whole is unsurmountable. Nakamura's works are a must-watch for anyone who is interested in the history of the medium or more visually-driven anime.
Let us know your thoughts about Ryutaro Nakamura and Serial Experiments Lain in the comments below!
----
Brandon is a Brand Features Writer for Crunchyroll and also writes anime-related editorials on his blog, Moe-Alternative. Hit him up for a chat on his Twitter at @Don_Don_Kun!