Top 10 Figure Announcements at winter Wonfes 2018 according to Crunchyroll Social Media Coordinator: Drea!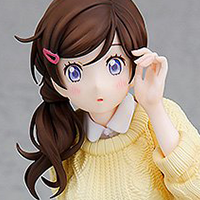 Wonderfest only comes twice a year, but every time it's a wild weekend of announcements that leave anime fans eagerly awaitingt the moment figures from their favorite series are available for preorder. We watch the newsfeed update, clenching onto our wallets with a sense of excitement and dread as the list of figures we need to preorder gets bigger and bigger. As always, Wonderfest delivered some really awesome figures over the weekend and I'm here to provide you with some updates that will not only make you shed a tear for the amount of money you'll be dropping on these preorders, but will give you an extended recap of some of the things you can look forward to from WonFes '18 Winter!
TOP 10 LET'S GO!
(It's a top 11, I couldn't choose)
11) Green (Pokemon)
Everyone's first rival is back and ready to challenge you to a battle! Bring home Green & eevee to relive your very first Pokemon game and how many times it took to defeat Brock with your charmander.
10) Kino & Hermes from Kino's Journey
Kino & Hermes fresh from one of my favorite anime of 2017, ready for an adventure...on your shelf.
9) Natsume & Nyanko sensei from Natsume Yujin-cho!
Natsume and Nyanko sensei have amazing detail work, the set looks amazing. We've gotten really pretty Natsume figures before, but this is a something I'd definitely save a shelf for in my display case.
8) Tanya von Degurechaff from Saga of Tanya the Evil
Make your enemies tremble with fear when you preorder this Tanya figure. LONG LIVE TANYA, say f*** you to Being X and immortalize Tanya for all to see on your very own bookshelf or desk at work ~
7) Nanachi (Made in Abyss)
Nanachi deserves the world. Keep Nanachi safe from the horrors of the Abyss by giving them a place on your shelf ~
6) Okabe Rintaro (Steins;Gate)
Deceive your other self. Deceive the world. That is what you must do to reach the Steins Gate. Good Luck. El Psy Congroo. (The Mayuri on my shelf could use some company)
5) Kamina (Tengen Toppa Gurren Lagann)
ROW ROW FIGHT THE POWER with your bvery own Kamina nendoroid! Believe in the nendo that believes in you and give honor to an iconic hero by staring at a figure bearing his likeness!
4) Akari Kawamoto (March Comes in Like a Lion)
Akari resonates with a quiet strength I yearn for. This figure not only looks great, but Akari herself getting a figure is enough reason to offer her a new home on your shelf.
3) Sakura Kinomoto Nendoroid & Figure (Cardcaptor Sakura: Clear Card)
Sakura captured our hearts years ago, her new clear card nendoroid & figure are capturing it all over again! Clear Card is a series that captures the heart of the original Cardcaptor series with a refreshing storyline that brings the characters we love back to life in a way that reignites love for the series. A must have for any Cardcaptor fan!
2) 02 (DARLING in the FRANXX)
Save a spot for 02 on your shelf, Darling ~ 02 is one of my favorite characters of this season, so it's amazing to see a figure of her going up for preorder soon! Get that preorder in ASAP, she's a very popular pilot ~
1) Rin & Nadeshiko Nendoroid (Laid-Back Camp)
Your favorite cozy campers are here and ready to go camping with you in nendoroid form! Bring Rin & Nadeshiko on your next camping trip and make sure to bring lots of blankets ~
Those are the top 11( I couldn't choose just 10) figures, I'm excited for!! Let me know in the comments if there are any you think I snubbed that deserve the spotlight!