Would you like a side of love or desire with that butt juice?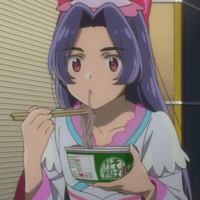 Good morning! Azuma Sara, here, dish! I'm on a very important mission today! I've got some great news for all of you, dish. Haven't you heard? A new cafe opened up at the Tokyo Skytree, and it's based on my show Sarazanmai, dish! What's that? Sarazanmai is already over, dish? As sad as it is to say, my show did end recently. Luckily for us, the cafe is still open for a few more days, dish! That's right, everyone who enjoyed Sarazanmai can experience the cafe, and everyone who has yet to catch up to the finale still has time to join in on the fun! I can't make my appearance in public just yet after the fiasco at the meet and greet, so I've sent a special kappaspondant out into the field to report on the cafe. Let's all wish my friend Danni "Good sarakku!" on her report, dish!
Good sarakku!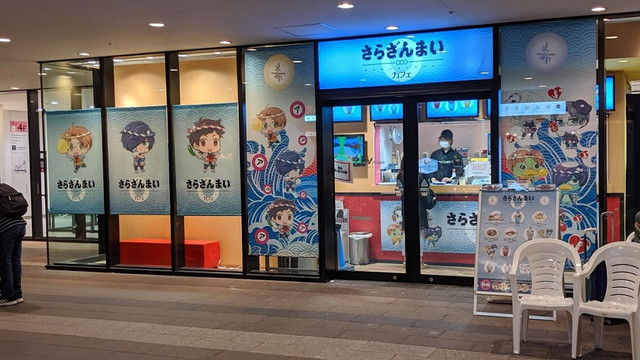 Thank you, Sara! It's always a pleasure to make your aplatence. I have a lot of good memories of Asakusa from my first trip to Japan, and have been a diehard fan of Kunihiko Ikuhara's anime for a long time now, so Sarazanmai has been an utter delight for me to watch this past season. I was lucky enough to be staying near Asakusa when the finale aired and took the opportunity to see some of the sights from the show, including the massive Skytree tower standing just a short walk from some of the show's most iconic locations. One of the cafes inside had been retrofitted into a Sarazanmai cafe, and at Sara's behest, I dropped in for a report!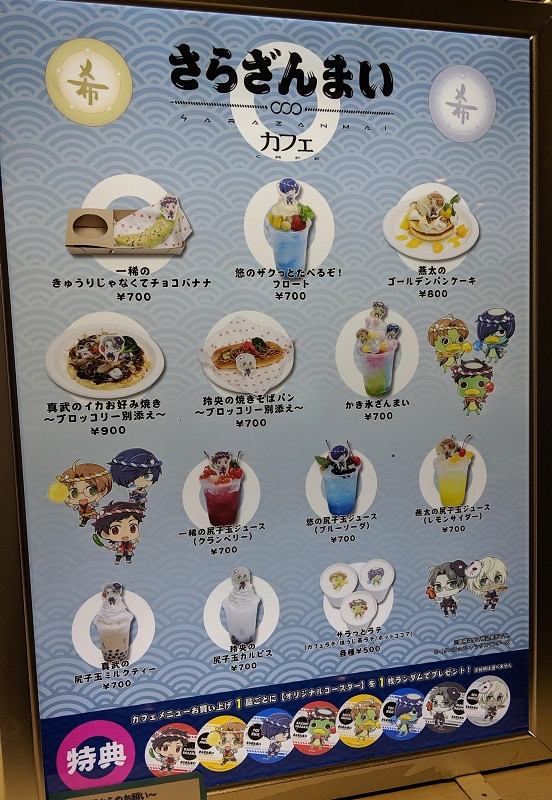 The location turned out to be rather small. Most of the seating was outside, and there were unfortunately few decorations and no memorabilia to appreciate. On the upside, there was no line, so I was able to just walk in and order as soon as I decided what I wanted from the menu. Speaking of which, the menu looked as humorous as it did tasty. On top of dishes like Enta's Golden Pancakes and a chocolate banana designed to look like a cucumber, there was an entire selection of soft drinks that all had the word "butt" in the title and either gelatin or tapioca shirikodama pellets inside (I'll never quite look at bubble tea the same way again).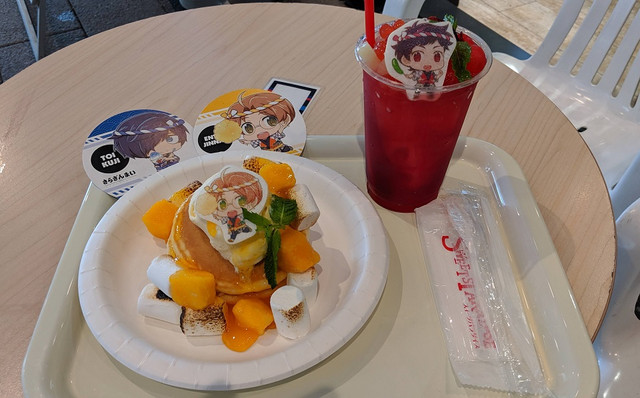 I eventually settled on an order of Enta's Golden Pancakes with Kazuki's Cranberry-flavored butt juice to drink. Each order came with one random special coaster, and I was lucky enough to end up with the "never did anything wrong" duo of Enta and Toi. My food came out rather quickly, and I took a seat and went to work. Both items looked just as delicious in person as they did on the menu -- a true rarity in the food industry.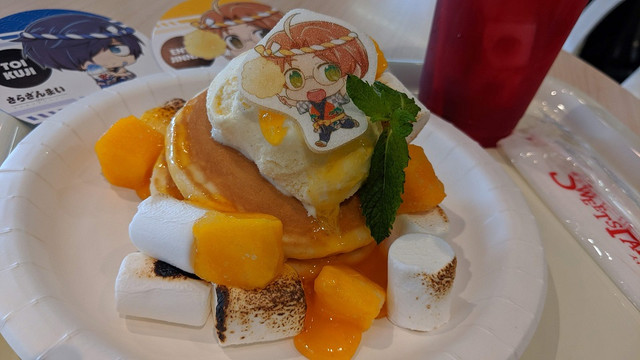 Enta's Golden Pancakes were very light, fluffy, and delicious on their own, and all the added flavors complimented them well. Where I'm from we only put butter and syrup on pancakes, but as it turns out, vanilla ice cream makes a pretty good pancake topping! Placed all around the pancakes was an assortment of peaches and toasted marshmallows, which were utterly delicious. Unsurprisingly, they were fantastic pancakes. If I had to make one criticism, I wasn't a fan of the peaches. I don't know whether it was intentional or not, but they were practically frozen, which I thought robbed them of some of their flavor. The tiny edible Enta on top was cute, though, even if eating him felt pretty weird.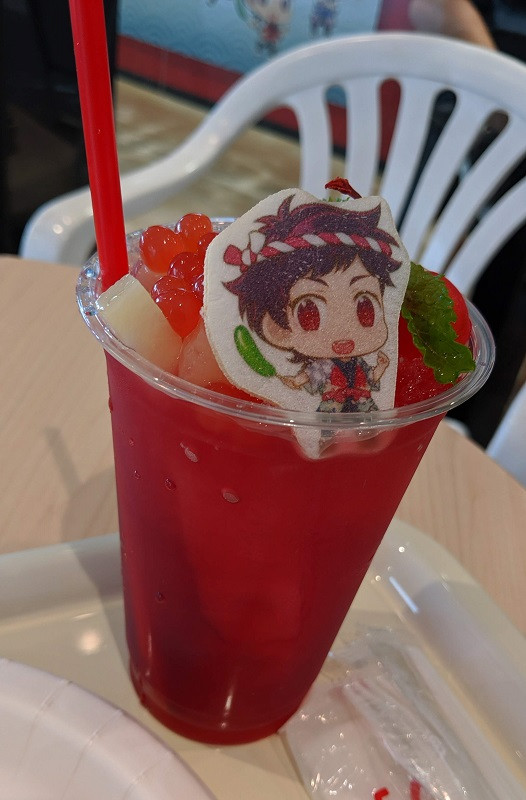 Kazuki's cranberry butt juice was pretty dang delicious as well. It tasted like regular cranberry juice, but thankfully all those extra garnishes weren't just there to look pretty. In addition to the tiny pieces of fruit that had been placed in the drink, it was filled with tiny "shirikodamas" that were each like tiny concentrated pellets of sweet, tangy flavor. As soon as I'd finished draining my glass I was digging around through the ice looking for any leftover pellets. And of course, there was a tiny edible Kazuki placed on top. The Golden Duo were soon reunited.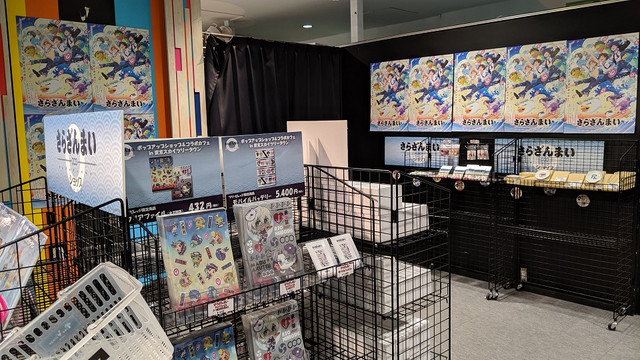 After finishing my meal, I went to check out the special Sarazanmai goods being sold next door. While not particularly wide, the selection was rather standard for anime goods. An assortment of keychains, acrylics, clear folders, cups, and hand towels were all being sold. The most unique items I found for sale there were the tiny plates being sold, my favorite of which was easily the one brandishing the character for "butt" on its face. I may or may not have walked out of the store that day having bought a butt dish, dish.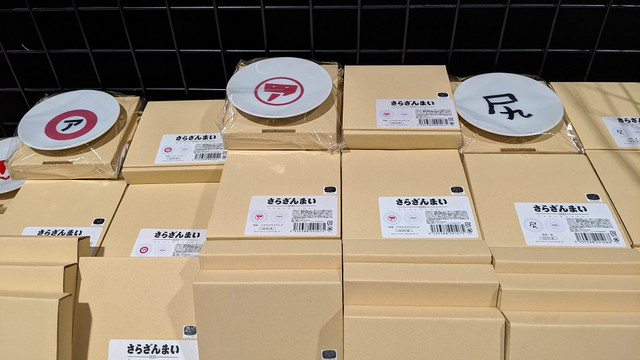 All in all, I was rather satisfied with my trip to the Sarazanmai cafe. While it's true that most of the anime-themed cafes I've been to before had more in the way of decorations for fans to immerse themselves in, the food was above and beyond what I'm used to receiving at themed cafes. ¥1500 for the entire meal seems like a pretty reasonable price too, all things considered. The cafe is only open through July 12, so if you enjoyed Sarazanmai this past season and find yourself in the Asakusa area before then, drop in for a bite! You're sure to have an otterly good time.
Which of these dishes would you most love (or desire) to try? Let us know in the comments below!

-----
Danni Wilmoth is a Features writer for Crunchyroll and co-host of the video game podcast Indiecent. You can find more words from her on Twitter @NanamisEgg.
Do you love writing? Do you love anime? If you have an idea for a features story, pitch it to Crunchyroll Features!