Let's celebrate Kyoto Animation by exploring the unique strengths of some of their very best productions!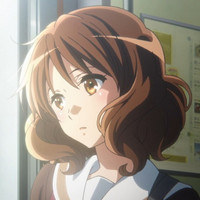 This article is part of Crunchyroll News' KyoAni Month celebration. Check out the rest of our KyoAni features HERE.
When we discuss the anime that most appeal to us, we often default to discussing them in pure narrative terms — the exciting events that transpired, the character turns that most shocked us, or whatever else felt momentous and novel over the course of the narrative. This is understandable; it's much easier to retell a story than to convey a production's atmosphere or aesthetic appeal. And for most people, a narrative elevator pitch is generally a useful way to determine whether something will appeal to them. As human beings, we love stories — and distilled into their most elemental format, stories are a progression of plot events, a journey from one point to another.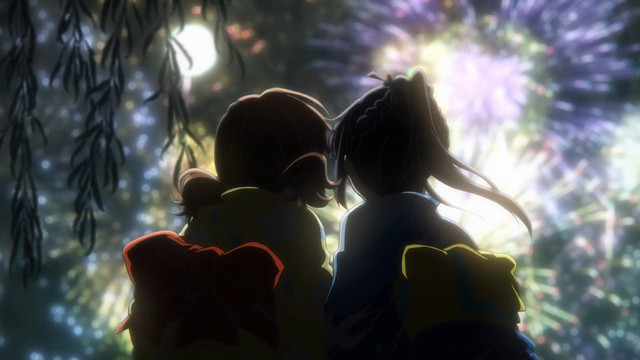 Unfortunately, this method of describing anime is not particularly useful for capturing the appeal of Kyoto Animation's productions. As a studio lauded for their collaborative atmosphere and progressive labor practices, Kyoto Animation's productions are always, like all great, cohesive art, more than the sum of their parts. Their power resides in how their directors, storyboarders, and animators capture the experience of truly living inside a moment. The skew of the dying sunlight, the distant hum of traffic, the particular glimmer in a person's eye — it is these tiny, indescribable details that turn narrative beats into lived experience, and it is these things that set Kyoto Animation apart within the anime industry.
As someone who's always been more inspired by tone, themes, and individual characters than strict narrative beats, Kyoto Animation is more than an inspiration to me. Through their works, the studio has taught me to better understand what moves me within art, and the incredible power of capturing a single convincing, emotionally rich moment. Kyoto Animation's works have expanded my understanding of what art should strive for, and the myriad ways a talented, passionate team of artists can elevate narrative into astonishing beauty and emotional catharsis. As we celebrate this very special studio, today I'd like to share how just a few of their productions embody that power for me.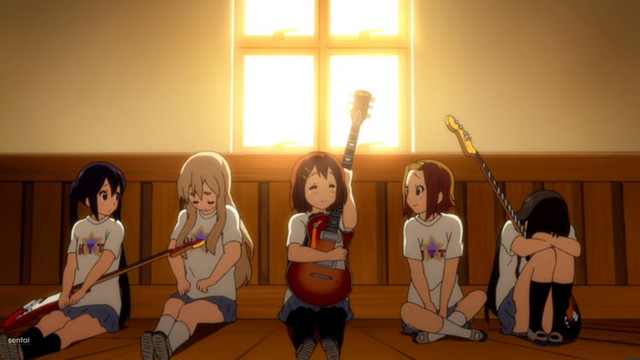 K-On!: The Beauty of a Warm, Sunlit Room
Before watching K-On!, I didn't really understand the appeal of slice-of-life anime. I could get into them if their joke density was high enough, but it rarely was — generally, they were more "pleasant" than actively funny, leaving me mostly bored. But watching K-On! made their appeal seem completely obvious — through its beautiful, inviting backgrounds, charming characters, and playful, restless animation, it felt easy to join in the warm, relaxing atmosphere of an after-school band club.
Naoko Yamada has since gone on to become one of the premiere anime directors of the 21st century, but even her very first show demonstrated the mastery of atmosphere and reverence for quirky, incidental character moments that give her stories such life. For me, K-On! embodies the holistic approach to writing, directing, animating, and scoring that can make anime so uniquely powerful. It contains a warmth and kindness that is reflected in its every aspect, a gentleness that makes it easy to wrap around yourself like a snug blanket.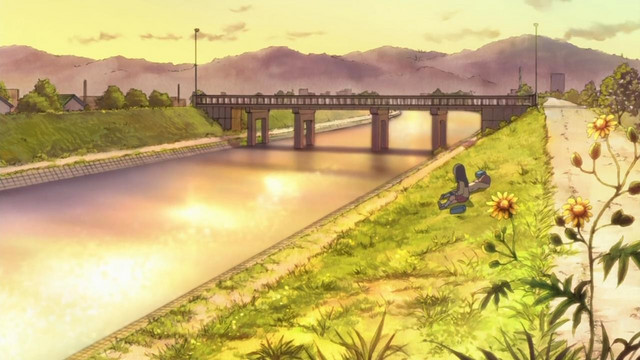 Nichijou: The Magnificence of a Joke Fully Told
There are no shortage of anime that tell lots of jokes, but I don't think I've ever seen a show that commits to its jokes as fully, creatively, and energetically as Nichijou. Just as Kyoto Animation's overall portfolio demonstrates the importance of cohesive, inspired execution in elevating base narrative substance, so does Nichijou specifically demonstrate that when it comes to comedy, execution is everything. Nichijou's diversity of visual styles and fluidity of movement is incredible, and the show is incredibly generous in terms of where it flexes its powers — it will dedicate gorgeous, energetic animation to the silliest of ideas, resulting in transcendent moments like a school principal suplexing an angry deer.
Hyouka: The Complexity of Our Ever-Changing Youth
Among all Kyoto Animation productions, I'd name Hyouka as the one with the strongest, most ambitious script. Its characters evolve in countless subtle ways across their adventures, and the show catalogs all these changes with empathy and grace. Hyouka's subtle, everyday mysteries act as a mirror for these changes. After all, it is the things we do every day, rather than the things we do under exceptional circumstances, that reveal who we really are. The show sees its cast as a set of uncut jewels, jagged and complex, but with a vibrancy and intensity that makes our every action reveal fascinating new sides of the whole.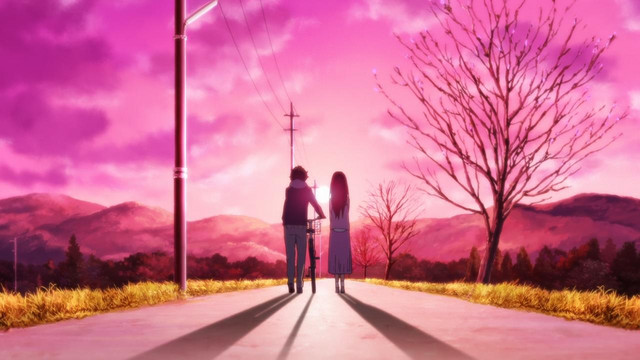 Hyouka embraces this marvelous human complexity, putting one of the studio's most elegant pieces of source material in the hands of one of anime's greatest directors: Yasuhiro Takemoto. As demonstrated in works like the exceptional Disappearance of Haruhi Suzumiya, Takemoto has a masterful ability to convey the desperation, intimacy, warmth, and coldness of youth with equal grace. I've never seen a character drama quite like Hyouka, and it's likely I never will again — like so many other brilliant creative voices, Takemoto was sadly lost in the Kyoto Animation fire.
Violet Evergarden: The Power of Animation for Feelings of Every Size
Though I've talked a great deal about how Kyoto Animation is able to convey intimate, subtle moments through animation, their productions are equally comfortable with grand, climactic displays of vivid emotional drama. Violet Evergarden is an unabashed melodrama, proud of its massive feelings, and glorious in its realization of them. Animation, with its exaggerated movements and fantastical art design, is a perfect fit for sentimental romance and larger-than-life-heroics. Constructed as a series of rambling vignettes, Evergarden explores the winding roads of human connection with a traveler's eye and a painter's insight, showering its stories in the visual glory they deserve.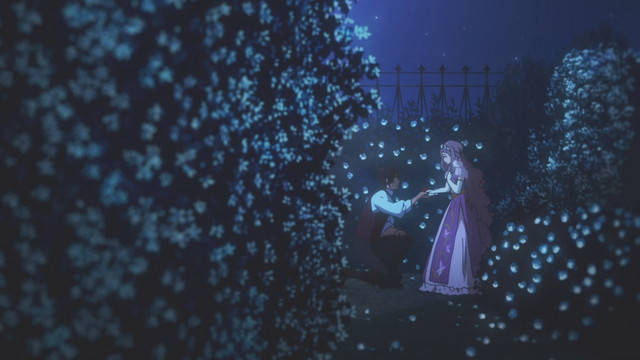 Liz and the Blue Bird: What Animation Can Truly Do, and Why It Matters to Me
So much of what we feel remains forever unsaid, constrained in half-finished sentences and nervous gestures, or swallowed behind our anxieties and pride. Much of Kyoto Animation's work feels like a tribute to these feelings, and to the moments we couldn't describe even if we wanted to. How do you describe the color of the sky at the moment you realize your crush loves someone else? How can you articulate the pain of feeling jealousy and pride at a friend's success all at once, or the unique tension of the day you realized you were no longer happy with your current self, but not yet ready to change?
Liz and the Blue Bird feels like Kyoto Animation's most perfectly realized tribute to the beauty of such feelings, and the many other feelings that are beyond our capacity to articulate but not beyond their ability to capture in music and movement. From its first moments, Liz illustrates the full sensory experience of moving past your youthful self and the anxiety of deciding who you truly want to be. The film's illustrations of unrequited love, anxiety, social disconnection, and pride all ring true to my own experiences. And its compassionate focus on the intricacies of these feelings, and of human connections on the whole, is what makes anime mean so much to me.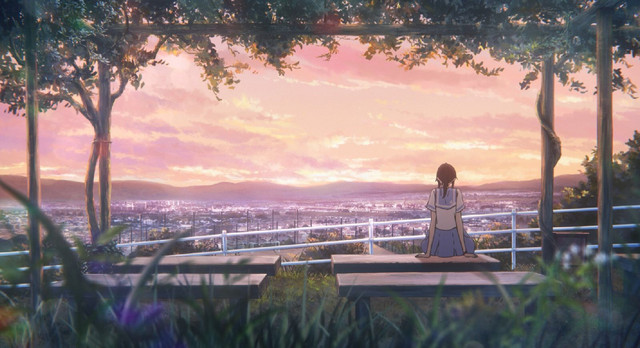 Liz and the Blue Bird is an incredible artistic achievement, and perhaps the greatest example yet of Kyoto Animation's unique approach to art and storytelling. And for me personally, more than the specifics of its narrative, its fundamental artistic priorities feels like a firm validation of all the things I care about in anime — the ephemeral, indescribable strands of human connection, the quiet of loneliness, the power of a single kind gesture to light up your life. Kyoto Animation's brilliant works have consistently assured me that it is okay to be a person like me and to love the things that I love in art.
I cannot begin to pay back the kindness and sense of belonging they have offered me, or the countless times their works have kept my spirits up and rekindled my love of art and animation. I can only offer my heartfelt condolences for the artists we've lost, and pray for a swift recovery for their whole team. Kyoto Animation's gifts are too generous to remain with me. My only hope is that they continue creating such moving works, and to share these gifts with many generations to come.
What Kyoto Animation productions have meant the most to you? Please feel free to share your own experiences with this one-of-a-kind studio's work!
---
Nick Creamer has been writing about cartoons for too many years now and is always ready to cry about Madoka. You can find more of his work at his blog Wrong Every Time, or follow him on Twitter.
Do you love writing? Do you love anime? If you have an idea for a features story, pitch it to Crunchyroll Features!